Reflections of the Prize-Winners of the 1st Day of the World Youth and Juniors SAMBO Championships in Tbilisi
Personalities
13 October 2018
Aleksandr Solomahin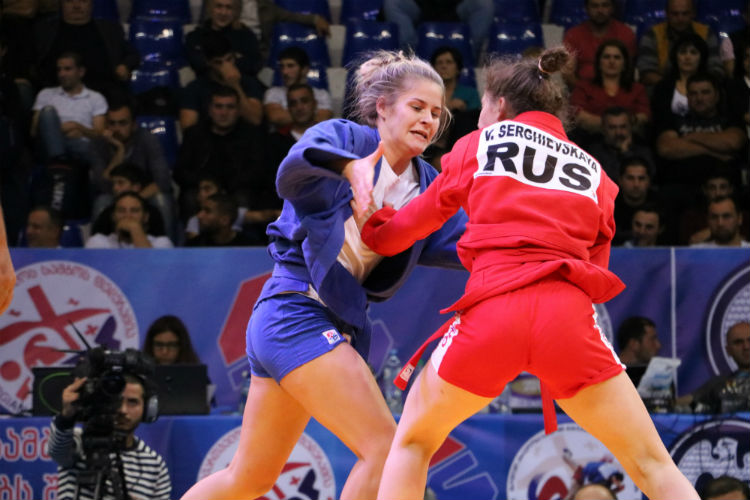 Giorgi MEKHRISHVILI (Georgia), a gold medal winner in the up to 48 kg weight category among youth (M).
- Victory does not come by itself. In order to win the championships, me and my team had been practicing hard at the training camp. The finals turned out to be very difficult, the Armenian athlete proved to be a strong contender with very fine techniques. I previously faced him at the European Championships, but that time I lost. Now I managed to even the score.
As I was coming up to the mat, I did not prepare myself to fight against someone personally, though, I was just determined to beat any opponent. Now I've got a feeling that is hardly possible to describe in words. But I can say that there is nothing better than this feeling.
Zoe Soraya Klunder (the Netherlands), a bronze medal winner in the up to 65 kg weight category among youth (W).
- I am happy that I've been able to win the bronze medal, this is my first great achievement in SAMBO. Of course, everyone longs for the gold, but last year I had only taken the fifth place, this time I ranked the third, and this was a success, because I'd set the main goal for myself, to improve my previous result. I think this win was made possible due to the support of my coach, my family, and all my friends. I was engaged in SAMBO since 13, now I am already 17, and this award is my highest achievement to date.
I want to point it out that the Dutch national team demonstrates constant progress in their results at international SAMBO tournaments. This sport is gaining more and more popularity in our country, and the national federation is working very actively, which brings positive results.
Anastasiya MATSIUSHKA (Belarus), a gold medal winner in the up to 56 kg weight category among juniors (W).
- My victory in the finals is very dear to me. At such moments, you realize that you are worth something, that 13 years of your career in sports had not been not wasted and bore their fruit.
Probably, motivation and character are the main things that an athlete should have in order to win in any sport. Given the fact that for me it was my last junior competition, my motivation was sky high.
Now, my goal has been achieved, and there's a new challenge ahead of me, to graduate from my university, and to build my professional career, most likely in law. I wish to protect the weak and help other people.
Enkhchimeg TSERENDULAM (Mongolia), a gold medal winner in the up to 68 kg weight category among juniors (W).
- At the past Youth World Championships I failed to win and ended up the second. Now I've won the gold and I`m very happy indeed. I think I've managed to notch up a convincing win largely due to my active training, both indoors and outdoors. This is my secret of success.
Askar YESPUSSINOV (Kazakhstan), a gold medal winner in the up to 48 kg weight category among juniors (M).
- I am utterly happy that I managed to win and become a world champion. I performed at the World Youth Championships for the fourth time, and I managed to win the gold medal only in Georgia. A year ago, in Serbia, I lost in the finals to a Russian sambist. Then I was practicing really hard, aiming at being the first, and eventually it bore fruit. I want to thank my coaches, family and friends for their support.
I think that my win has become possible due largely to my accumulated experience coupled with an efficient mental training. Even before the start of the fight, I felt myself like a winner.
Next year I will have one other chance to perform at the World Youth Championships, and after that my transition to the adult level should be complete. I am gradually getting into this, as I try to participate in major international SAMBO tournaments in order to feel this level beforehand.