Reflections of the Winners of the 2nd Day of the World Cadets SAMBO Championships
Personalities
7 December 2018
Aleksandr Solomahin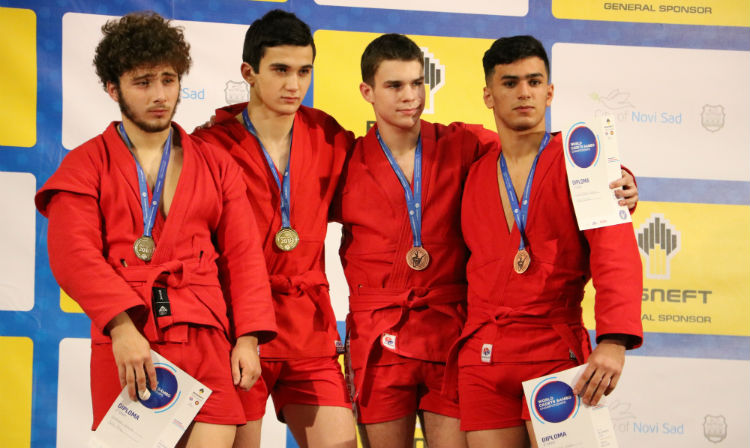 The second day of the World Cadets SAMBO Championships held in Novi Sad, Serbia, on December 5 is over. On this day, the athletes competed for 5 sets of medals among girls and 5 sets of medals among boys. The medal winners of the tournament shared their emotions and impressions in their interviews to the FIAS website. The general sponsor of the tournament is The Rosneft Oil Company.
Guzal AYUPOVA (Kazakhstan), a bronze medal winner in the women's 48 kg weight category:
- I am very pleased with the result, even though I was willing to reach the finals. I've lost in the semifinals on points, lacking a bit in "physics", I guess. Now I understand what I need to work on further, and I'll try very hard.
Serhii NEBOTOV (Ukraine), a gold medal winner in the men's 66 kg weight category:
- For the finals, I had no tactics as such, and I managed to win owing to my concentration and support of my national team. On my way to the finals, I succeeded to outstrip athletes from Armenia, Cyprus, and Moldova. I have never been matched against a Russian sambist before, so I had no idea what to expect from him. Nonetheless, through the entire tournament I was feeling quite confident, as I had been practicing a lot in the run-up. At the training sessions, I had been focusing on improving my weak points. Now a new goal is ahead, a victory at the World Youth Championships.
Stavros DOUMAS (Greece), a bronze medal winner in the men's 66 kg weight category:
- For the first time in my life I succeeded to win a medal at the World SAMBO Championships, and I am immensely happy. I am also a Balkan champion in judo. Both of these martial arts appeal to me, and I am glad that now SAMBO has a real prospect of becoming an Olympic sport as well. Of course, I dream to perform at the SAMBO Olympics, that would be awesome! Perhaps this would happen in 10 years, when I will be in the prime of my sporting age.
Nina MISHINA (Russia), a gold medal winner in the women's 65 kg weight category:
- I contrived to win ahead of time by submission hold, though it was not my signature move. Rather, on the contrary, it came possible to apply a technique that previously failed to work against my other opponents.
My journey to this victory was rather long - first I won at the Oblast tournament, next, at the tournament of Volga Federal District, then at the Russian Championships, so that today I could win the gold of the World Cadets Championships.
As I was realizing that I represent not only myself and my team at these competitions, but also the honor of Russia, added a great deal to my motivation, and I was fighting to the best of my abilities. Throughout the whole tournament, I was feeling the support of my team, and of the whole country. I am very grateful to my beloved coach and to my grandfather, who rooted for me.
And, of course, I am very happy with the decision of the International Olympic Committee to grant provisional recognition to the International SAMBO Federation. This is a very big step forward, as now SAMBO approaches a new level.
Elizabeth KOVALYOVA (Israel), a bronze medal winner in the women's 65 kg weight category:
- I am very excited at the thought that I've managed to win the first medal for the Israeli team at such a grand-scale tournament. On our trip down here, we thought that technically we could win a medal, though, of course, we were not completely sure of that. And when it did happen, the whole team was incredibly pleased with my success. We girls did a bit of shouting and hugging all together.
Ahead of me is the International Cadets Tournament in memory of Alex Nerush that will be held in Israel early next year. I also plan to perform at the European Youth SAMBO Championships and at the World School Championships. And the most cherished dream of mine is to get an opportunity to perform at the Olympics. The first step has already been taken, and now all the sambists hope that the progress won't stop.
Oxana DIACENKO (Moldova), a gold medal winner in the women's +70 kg weight category:
- For 10 years I have been engaged in martial arts, and this time I was intensively preparing for the World Cadets SAMBO Championships. Every time I went on the carpet, I psyched myself up for treating this combat as my last one, for you can never underestimate your opponents, one must respect them, too. Perhaps, this is my secret. Well, and, of course, the support of my family and my team, which I felt all through the event, played a very important role, too.
Irakli DEMETRASHVILI (Georgia), a gold medal winner in the men's +84 kg weight category:
- Through the championships, and especially in the finals, I was feeling a little anxious, but fortunately, I overcame it. I think that I managed to win largely due to the skills that I'd acquired while practicing chidaoba, the Georgian national wrestling. In the finals, I succeeded in performing my signature move that turned out to be victorious for me and allowed me to win the gold medal. This is my first medal of such a high level. But I am not going to dwell on this, with the World Youth Championships coming up.
Chevlle FRANSEN (Netherlands), a bronze medal winner in the women's +70 kg weight category:
- I view my medal as something truly amazing. I am only at the start of my career in SAMBO, and the bronze of such a grand-scale tournament is something incredible. Apart from SAMBO, I also practice judo. Of course, these sports have many differences, including those in athletic uniform. Myself, I prefer sambist outfit, as an athlete feels by far more comfortable and unrestrained in shorts. I do hope that sometime in the future I will be able to perform for the Netherlands national team at the Olympics, and exactly in shorts.