What winners and medallists of the 2nd day of the 5th Asian Indoor & Martial Arts Games were talking about
Personalities
26 September 2017
Sergei Grishin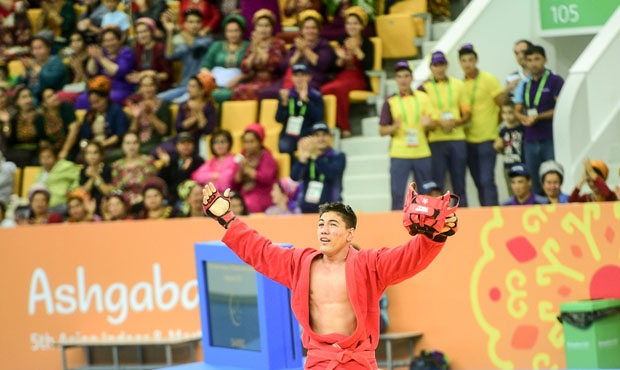 Kerimberdi DOVLETOV (Turkmenistan), winner in the under 62 kgs weight category among men in combat SAMBO
– No wonder it was difficult to win, this was the finals. Comparing to the Asian Championships, when I also won the gold medal, I can say that here, at the Asian Games, it was even more difficult. I guess not because of the opponents' level of technical skills, but rather because of the number of fights. My way to the medal in Ashgabat turned out to be a longer one. But it makes the victory even sweeter, doesn't it? And I can safely say now that my dream has come true.
Gulnur YERBOLOVA (Kazakhstan), silver medallist in the under 52 kgs weight category among women:
– A silver medal is rather a consolation prize for me, because I really expected it to win a gold medal. A small flaw in my technique prevented me from winning the fight. There are also some shortcomings I have to deal with through sharpening my skills and techniques. To be honest, I`ve lost not because I made a mistake or took unnecessary risks, but because my opponent was actually stronger. However, I'm not upset, because the Asian Games are a milestone on the way to the World Championships in Sochi. So, from now on, all I have to think about is the World Championships.
Irina KULAKOVA (Uzbekistan), bronze medallist in the under 64 kgs weight category among women:
On my way to the finals, I had to face an experienced sportswoman – a multiple Asian champion, she was also silver medallist at the World Championships in Sofia. However, this is not an excuse. I lost and I have some things to work on. The Asian Games for the most part are yet another test of strength and skill. This is a kind of a "dress-rehearsal" before the World Championships. Now I have a better understanding of flaws in my technique and shortcomings I have to overcome. I am working on it. 
Maksat MUSABAEV (Kyrgyzstan), bronze medallist in the +100 kgs weight category among men in combat SAMBO:
– I take my bronze as a defeat. I have won the Asian Games a number of times and have become the World Championships bronze medallist as well.  Frankly, I was a bit confused, because I did not know anything about my opponent from Turkmenistan. I haven't fought him before, I haven't seen him fighting as well. This must be the very reason of my loss on points.
[Photogallery] SAMBO at the Asian Indoor and Martial Arts Games. Day 2 (Ashgabad, Turkmenistan)