SAMBO in Minsk City Hall
Competitions
8 November 2012
Sergei Grishin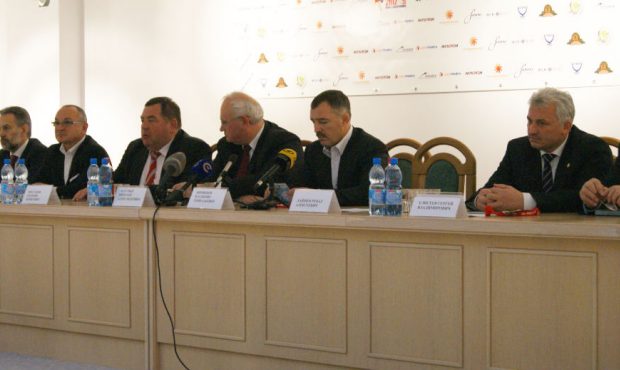 Press conference devoted to the World SAMBO Championship was held in November, 8 in Minsk on the eve of the first competition day of this sporting event. The event for the press was held in Minsk City Hall. Let us point out that the image of the Hall for Minsk people is associated with independence, richness and power. Therefore the place for the press conference on the eve of the World SAMBO Championship was chosen not by accident. This is exactly what SAMBO which now storming the sacred Olympic heights is striving for.
Belarus is a hearty and hospitable country and it was reflected on the representative and wide range of the participants of the press conference. The hosts of the planetary SAMBO forum were represented by Nikolay Ladutko, mayor of the city of Minsk, and Vladimir Yaprintsev, President of Belarusian SAMBO Federation. There were Vasily Shestakov, President of FIAS, Anrey Kliamko, Sergey Eliseev, Rumen Stoilov, Vice-Presidents, and Mikhail Tikhomirov, Honoured President among the representatives of the International SAMBO Federation.
The organisational issues of the Championship, results of the FIAS Conference held on the eve, vector of the worldwide SAMBO development, questions thereon and many others were definitely asked by the journalists. But the main question was about them – those people whom everything in SAMBO is made for – the sportsmen. Everybody wanted to know who of them deserves the medals most of all and what the hot team race will end in.
The Chiefs of the modern SAMBO were united at this point and Vasily Shestakov, President of FIAS, delivered the common opinion thoroughly and precisely, "I being the citizen of Russia of course cannot but support the Russian SAMBO practitioners. But being a person who supports SAMBO I want the even greater number of countries to win medals of the Championship. It will be right for SAMBO, for the international SAMBO."
The issue of impartial judging arises naturally next to the medals issue considered. "Every battle is recorded in the modern SAMBO and in the event of controversial moments the representative of the team always may raise a protest which will be immediately considered by the control of judges. So we strive for impartial judging and do not let corruption in SAMBO", Rumen Stoilov commented on this tricky question.
In conclusion of the press conference Vladimir Yaprintsev pointed out, "SAMBO is a beautiful sport, many famous people, politicians, scientists, public figures passed the school of this martial art. I am proud of being a SAMBO practitioner. And I would like to wish good luck to all the SAMBO practitioners who will come to the mats of the Minsk Sports Palace these days. And the strongest will as usually win, i.e. the one who trained more and who longs for this particular win most of all."
Well, tomorrow we will start to know the names of those who trained correctly and who can dream and wish to reach one's own dream properly.
Natalia Yukhareva, www.sambo.sport