Live broadcasts of the "Kharlampiev Memorial" and voting for the best duel meets on FIAS website
Competitions
20 March 2013
Sergei Grishin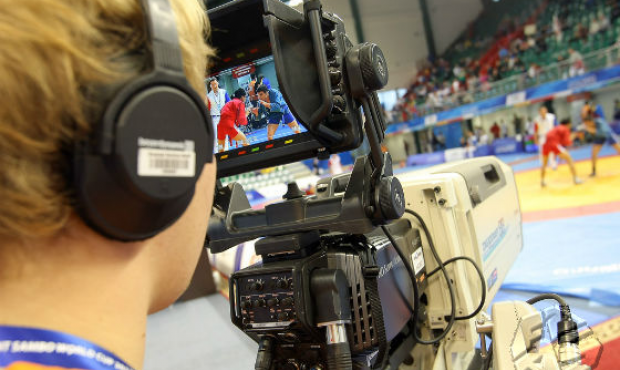 There are only a few days left until the start of the World Cup "A. Kharlampiev Memorial" Stage in Moscow. More than 200 SAMBO athletes from 26 countries are gathering in the Russian capital these days to compete for the title of the best. The fans, in their turn, are concerned about the way how to get the dearest invitations to the stands of the Igrovoy Hall of the CSKA sports complex. The arena, where SAMBO battles will be held on March 23-24, are designed only for 1100 seats and it is wide from being the truth that its capacity is enough for everyone. In this situation FIAS website once again comes to the rescue and organizes online video broadcast of the tournament. However, this time it is not simple one but with the interactive service.
FIAS website population will be able to watch both competitive days in full. Both on Saturday and Sunday, live broadcasts from the Hall will begin by showing preliminaries at 10.00 by Moscow standard time. You will be able to assess the fighting techniques of the representatives of different SAMBO schools from all over the world. After the break, the online broadcasts audience will watch the opening ceremony and the finals (at 18.00 on the first day) and only the finals (at 18.00 on the second day). That's just at that time the announced interactive service will work.
During the early part of the evening program on a special page of FIAS website video broadcast there will appear a form for online voting for the best fights. SAMBO fans will be able to support their favorites and vote for the most interesting, in their opinion, final battle in real-time. As a result of the voting the duel meets that continue virtual fight among themselves will be determined. 3 duel meets per competitions among men, women and combat SAMBO which gain the greatest number of the audience sympathies, will continue participating in the voting. Determining the best of the best will last until mid-April.
Help your favorites to gain a victory! Be active, since it is you who define the best!
Aleksandr Solomakhin
www.sambo.sport