A Monument to the Founder of SAMBO, Vasily Oschepkov, was unveiled in Vladivostok
Competitions
12 September 2012
Sergei Grishin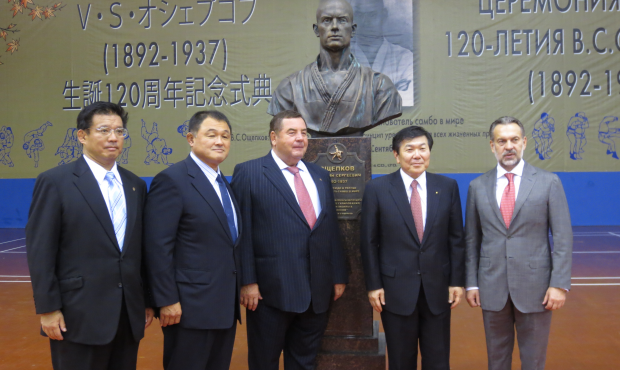 On September 9 in Vladivostok (Russia) in Olimpiets Sports Complex a solemn ceremony was held in the memory of Vasily Sergeyevich Oschepkov, the founder of SAMBO Russian sport and unique self-protection system, one of the first Russian Japanologists and the first Russian to get Master's degree in Kodokan Judo.
The ceremony coincided with Vasily Sergeyevich's 120 birthday anniversary. On this day in the hall of Olimpiets the Japanese judo representatives and Russian SAMBO representatives solemnly unveiled a bust monument to the famous wrestler and coach which after a while will be placed next to the Sports Complex for everyone to see.
FIAS delegation during these celebrations, important for development of combat sports in Russia, was represented by the President Mr. Vasily Shestakov and Senior Vice-President Mr. Andrey Klyamko.
Among the high-ranking guests there were also present participants of APEC Summit, which was held during those days in Vladivostok. The Japanese part was represented by the Chairman of the Solidarity of International Judo Education organisation, an Olympic Champion and a World Champion Mr. Yasuhiro Yamashita, by a member of FIAS Executive Committee Mr. Nobuyuki Asai and the President of Mitsui Company Mr. Masami Iijima.
At the first glance one might think that the Japanese delegation included only judo representatives, yet actually all of its representatives were big SAMBO amateurs, which specifically in Japan is currently developing very actively. The Japanese team is already preparing for performance at Universiade 2013 in Kazan and, knowing the level of Judo development in Japan one may expect that the representatives of the Land of the Rising Sun won't leave the students' forum with just one medal. And such an increase of interest in SAMBO in Japan happened specifically due to the activities of Mr. Yasuhiro Yamashita, who respects this combat sport and expects it to have a great future in the modern sports world.
As part of the celebration activities the young judoists were given a unique opportunity. The legendary judoist Mr. Yasuhiro Yamashita shared his wrestling secrets with them during a master class for young sportsmen.
On commenting the event that took place, Vasily Shestakov said: "FIAS poses ambitious objectives to itself, in next couple years we're planning to enter the Olympics family. And I am convinced that for us, SAMBO amateurs and fans, a dignified response to what Vasily Sergeyevich, in whose memory we are gathered together today, accomplished would be to achieve the goal stating that our Russian SAMBO, which is already international, in time would be honoured with the distinguished title of Olympic sport".
Photo material for http://sambo.sport was kindly provided by a member of FIAS Executive Committee Mr. Nobuyuki Asai.