International SAMBO Federation and International Working Group on Women and Sport partnership
Official
5 April 2017
Sergei Grishin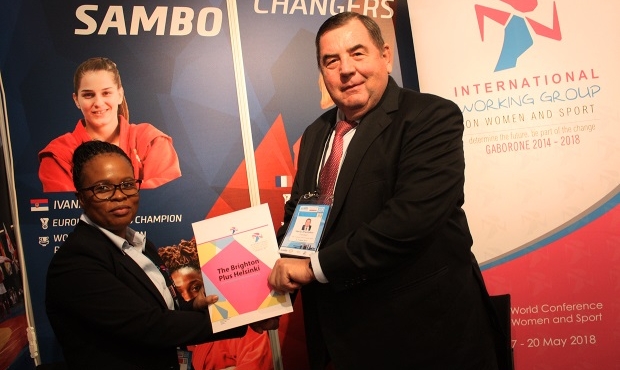 International SAMBO Federation (FIAS) has become partner of international organization which deals with Women in sport. International Working Group on Women and Sport (IWG) is International organization from Gaborone, Botswana, dealing with gender equality and women presence in sport in all levels, forcing initiatives to promote physical activity, offering men and women equal opportunities in the sport arena and enlisting men as allies in the fight for gender equality.
On 4th April 2017 during Sportaccord Convention, it was organized the ceremony of signing the agreement between two parties, which means that FIAS has signed and adopted Brighton Plus Helsinki 2014 Declaration on Women and Sport. Declaration was signed by Ms. Game Mothibi, IWG Secretary General and by FIAS President, Mr. Vasily Shestakov.
FIAS Women Commission has been working closely with SAMBO athletes and administrators to identify what could be done to enhance the female sport. The Commission's chairperson, Monique Athanase, has joined global sport leaders in a meeting of the International Working Group on Women and Sport in Botswana last October. Monique was also in talks with the organization for FIAS to join other sport entities as a signatory of the Brighton Plus Helsinki 2014 Declaration on Women and Sport.
The most important highlight of this partnership for FIAS is to clearly step forward in work towards gender equality and equal participation of women and girls in SAMBO at all levels and roles: as athletes, coaches, referees and executive officials. Representing SAMBO, FIAS launched the gender equity campaign "Share Your Story", where female sambists are encouraged to share their sporting challenges in their social media pages.