The first-ever medals of the World Sambo Championship among cadets and all the results of the first day of competition
Competitions
5 December 2014
Sergei Grishin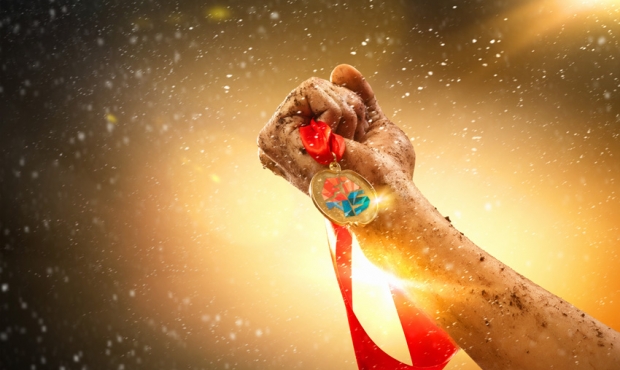 The first medals of the first-ever world Sambo forum among cadets were awarded today at the Spyros Kyprianou Athletic Centre in Limassol. On the first day of competition, samboists aged 14-16 years in ten weight categories came to fight for their world medals on the mat in Limassol. Read about some of the champions, their victories and emotions in today's report from Cyprus.
My victory is for my sister
Alexander Pshenichnikov of Russia came through his final in the 42 kg weight category with confidence: an oblique grip and inside hook, as well as constant unending attacks, brought him victory in a match with Nicola Pektaski of Bulgaria. "My coach shouted at me: "Don't suffer." That means don't give in and fight your fight, the oblique grip is my favorite. By the way, my coach is also my dad, but my win is for my little sister Elizaveta. She's only 4 years old, but she already knows that I'm fighting in the world competition. I'm very proud that has brought this medal for my family and my country: the coat of arms on my Sambo jacket is in honor of my Russia."
The shortest final match — 16 seconds
It took only 16 seconds for Russian Nasiba Ibragimova to decide the outcome of the final in the 52 kg weight category. A knee bar over the back throw and a lightning-flash painful hold in the partere made her a world champion in Sambo. "I didn't think things would turn out this way, but I'm very glad it all happened so fast. I came here for a gold. I'd like to dedicate this medal to my personal trainer who seconded me today. Why her and not my senior coach? I don't know, I'm very relaxed around her. And being calm is the most important thing for me."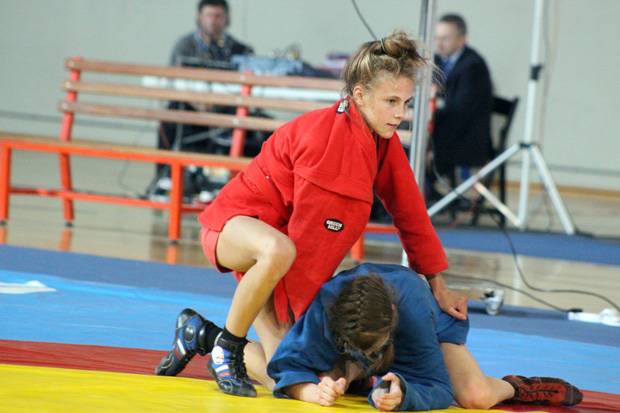 My goal is to win the Olympic Sambo gold
Ukrainian Alla Beheba, who looks like a rhythmic gymnast and has a level of understanding of combat of a mature adult samboist, talked about her goals in the sport after winning the final in the 38 kg weight category: "My goal is to win an Olympic gold medal in Sambo. I believe it will be possible, I'm sure of it. "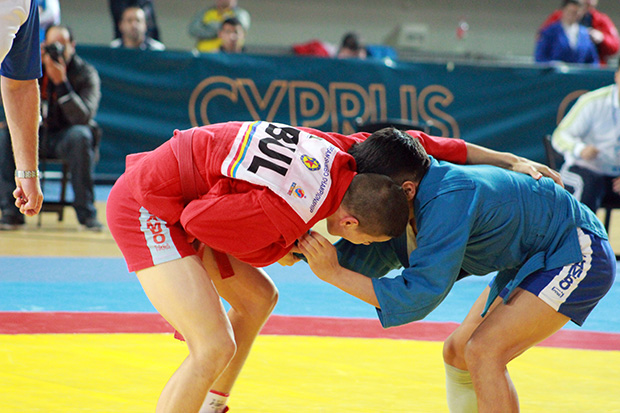 He beat his friend today
Bulgarian Bozhidar Temelkov won by a hair with a final score of 1:1 in the 60 kg weight category against his friend, Kazakh Sunggat Zhubatkan. "He's a good friend of mine. He beat me in a judo tournament just 10 days ago, and now it was my turn. I hope, and I'm even certain that our friendship won't suffer from the confrontation on the mat (the score from personal matches is now 1:1). I'm really glad I won today and became a world champion. This is a serious title, it's my first. And I'm sure all my friends and family are happy today. What do I think about judo? I enter judo tournaments, but of course I prefer Sambo. It's richer – the throws with leg clinch and painful leg locks. There's no comparison between these two martial arts. Sambo is totally awesome."
Women, 38 kg                                        
1. BEHEBA Alla UKR            
2. VASILEUSKAYA Karalina BLR                    
3. SALIMIANOVA Liliana     RUS                    
Women, 44 kg                                                
1. SHIGAROVA Irina RUS                    
2. BEZATOSNA Anastasiia UKR                    
3. STARALAUNIKAVA Anhelina BLR                    
3. KASPARAVICHUTE Gitana LTU                    
Women, 52 kg                                                    
1. IBRAGIMOVA Nasiba    RUS                    
2. DOBREVA Yoana BUL                    
3. SULEIMEN Ainur KAZ                    
3. MGELADZE Nino GEO                    
Women, 60 kg                                                        
1. KHOMIAK Kateryna UKR                    
2. BIAHANSKAYA Yana BLR                    
3. ANISIMOVA Valeriya    RUS                    
3. KATIC Ena FRA                    
Women, 70 kg                                                   
1. BONDARENKO Valeriya RUS                    
2. MOSKALOVA Kateryna UKR                    
3. KANTSAVAYA Darya BLR                     
3. BORISOVA Boryana BUL                    
Men, kg                                                        
1. PSHENICHNYKH Aleksandr RUS                    
2. PETKASKI Nikola BUL                    
3. YESPUSSINOV Askar KAZ                    
3. MAMAJONOV Ulugbek UZB            
Men, 50 kg                                                    
1. ROMANIUK Valerii RUS                    
2. GRIGALASHVILI Saba    GEO                    
3. KUANDYK Shadiyar KAZ                    
3. VASILEUSKI Yaraslau    BLR                    
Men, 60 kg                                                        
1. TEMELKOV Bozhidar BUL                    
2. ZHUBATKAN Sunggat     KAZ                    
3. CHITAURI Tengizi GEO                    
3. MOKHOV Aleksandr UZB                    
Men, 72 kg                                                    
1. GRIGORIAN Aram RUS                    
2. APANASEVICH Aliaksandr BLR                    
3. KEVKHISHVILI Goga GEO                    
3. SODIKOV Jasur UZB                    
Men, 84 kg                                                    
1. SHUMILOV Gleb RUS                    
2. PAPADOPOULOS Konstantinos GRE                    
3. ISTSENKO Aleks EST                    
3. SAURI Omar GEO