The first ever Japanese Russia's President Vladimir Putin SAMBO Cup took place!
Competitions
4 February 2013
Sergei Grishin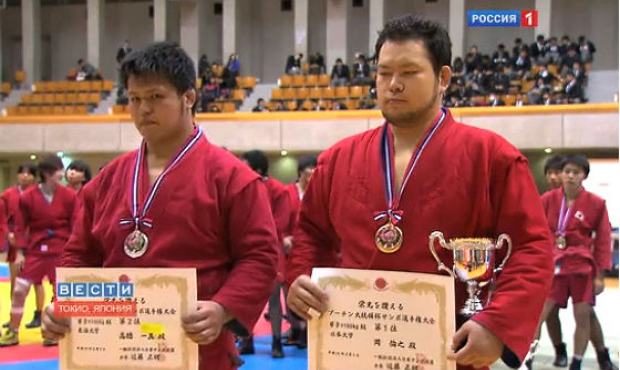 Last weekend in Japanese city of Saitama the National Championship among Students which bore the fine name of "Russia's President Vladimir Putin SAMBO Cup" took place. The origin of this tournament traces its roots to the meeting which was three years ago, the meeting of two great friends – Vladimir Putin, Russian President and Yasuhiro Yamashita, Judo legend. It is thanks to Russia's Chief executive's good graces that the story began, he expressed the wish for Japanese SAMBO practitioners to participate in the Universiade in Kazan and also to develop SAMBO in Japan.
And it continued thanks to the support and hard work of Yasuhiro Yamashita, his assistant, Nobuyuki Asai, a member of FIAS Executive Committee and Massaaki Condo, the President of SAMBO Federation in Japan. The February tournament became the main stage of evaluations to participate in the Universiade-2013 for SAMBO practitioners of the Land of the Rising Sun.
150 athletes – in the past mostly judo and freestyle wrestlers, and now of course, SAMBO practitioners – took part in SAMBO tournament. Participants performed in 9 weight categories but following the results only 7 out of 150 athletes joined the team which will defend the colours of Japanese flag in Kazan.
Commenting on the last SAMBO tournament, Yasuhiro Yamashita said: "Judo which I practiced and now I am going about its development in the world, is very close to SAMBO both in holds technique and in spirit. So I am sure that the development of SAMBO in Japan will make a difference for both judo wrestlers and SAMBO practitioners. And since, in my opinion, sports – is the best diplomacy, I'm sure it will bring our nations together and strengthen Russian and Japanese friendship".
The first SAMBO medals in Japan are played and presented, the student team for Kazan is formed, preparations for the Universiade and the attempt to write Japanese names in the chronicle of the world student sports are ahead.
To make this dream come true several international training camps are provided even now. The first of them will be held in Moscow, after the World Cup – A. Kharlampiev Memorial. And the second is scheduled for May, the most experienced judges and coaches who will give a series of seminars for athletes, coaches and judges in Tokyo are preparing for Japanese voyage.
There is a backlog, the plans are set up, and the Japanese know what to strive for. And the test is not far off: less than in six months, in July, Kazan expects its students.
Natalia Yuhareva
www.sambo.sport