Congratulations to Rio Olympic judo champion Beslan Mudranov
Personalities
8 August 2016
Sergei Grishin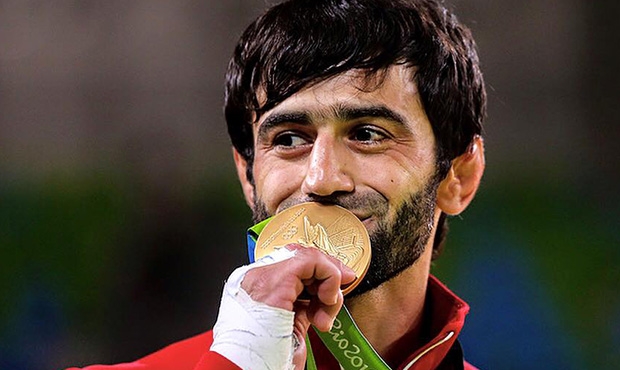 Russian Beslan Mudranov won the gold medal of the judo tournament in Rio on Saturday in the 60 kg weight category. Beslan began his sports career in SAMBO — he was a silver medalist at the 2007 World SAMBO Championships. The whole SAMBO family congratulates Beslan on his Olympic gold. In today's article, we will talk a bit about him and his sports journey to the most cherished medal of his life.

Victory by Beslan Mudranov | © news.sportbox.ru
How it all began
Baksan is a city in Kabardino-Balkaria, Russia, where the future champion of the XXXI Olympic Games now being held in Rio de Janeiro was born on July 7, 1986. Beslan's father, Zaur Mudranov, says: "I must say there wasn't much choice in Baksan at that time, and they first tried Greco-Roman wrestling, but didn't like it. Then a SAMBO group started, and coach Sultan Oshkhunov arrived from Maikop. They were lucky to have him as a coach. He correctly developed the training and education process. Sultan saw Beslan's talent and advised him to go to Maikop, and that's where it all started," Zaur says.
In 2007, Beslan won the silver medal at the World SAMBO Championships in the 52 kg weight category. He moved to judo in 2008, winning the Russian championship.
About his brother
Aslan Mudranov, Beslan's brother, decided to stay in SAMBO, and now he's a champion of Russia and Europe. "I'm not very good at judo — it has different rules — but now I'm dreaming even more that some day SAMBO will become an Olympic sport. It's a shame that SAMBO isn't part of the Olympic Games program. But I'm happy for my brother," says Aslan, who came to Rio to support Beslan.
About his personal trainer, Rudolf Baboyan
Rudolf Baboyan, Beslan's personal trainer, is Vice President of the All-Russian SAMBO Federation and an Honored Coach of Russia. "I think that without his support, this wouldn't have happened. He's doing a lot for me and our whole judo school, and he treats every athlete like his own child. Many thanks to him for being here with us. I'm proud to be training with him. I'd also like to thank Ashot Markaryan (two-time world SAMBO champion, Honored Master of Sports of Russia), who is actively helping us in sports and in life in general. Thank you very much," Mudranov said, speaking about his coach in an interview after winning a gold medal in the 2014 European Judo Championships.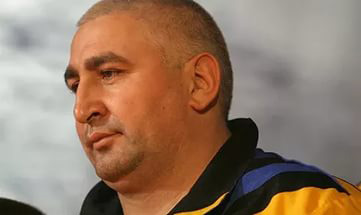 About his idols
I'm a big fan of Murat Khasanov, an eleven time world SAMBO champion. I was lucky enough to go with him to competitions and train in the same gym. Armen Bidzhosyan and Shatby Alkhaov also trained there. They were all great masters of their sport. I've always admired them.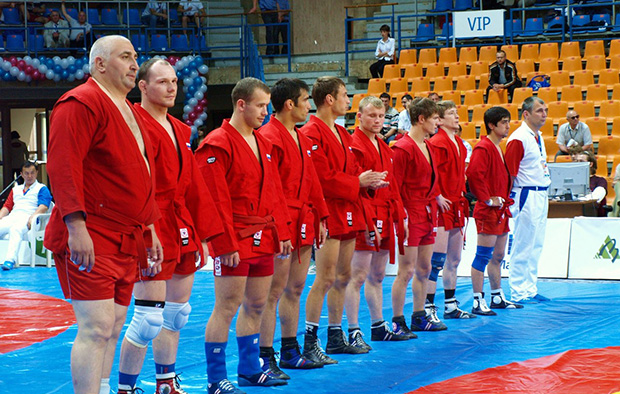 About the victory that inspired him
As a child I was always losing, but it didn't break me — I always knew I would be a champion. I studied my mistakes, and tried to concentrate on fighting and take setbacks calmly. If you want strong performance, you need to believe in victory, to endure and keeping on training. Luck was with me at the World Youth SAMBO Championships — in the semi-finals, I fought with an Azerbaijani, and at first, I was losing to him 3:0. I don't know what happened in my head then, but I rallied and defeated him. After that, I won the final match easily, with a score of 12:0. I won the Grand Prize and was insanely happy about this victory. This was probably the most important turning point in my sports life, and for nearly a year afterwards, I never lost.
About his plans
"Beslan is at the height of his career," Baboyan said in an interview with TASS. "He has a very responsible attitude to training, and I have to kick him out of the gym. I sometimes tell him: "Beslan, learn to slack off, you need to rest." At the same time, he has passion, potential and motivation. I have no doubt that he'll compete in the Olympic Games in Tokyo."
Prepared from materials of ТАSS News Agency tass.ru, People and Times Magazine peopleandtimes.ru and sports media portal news.sportbox.ru