Irina Rodina's rules of life
Competitions
10 April 2013
Sergei Grishin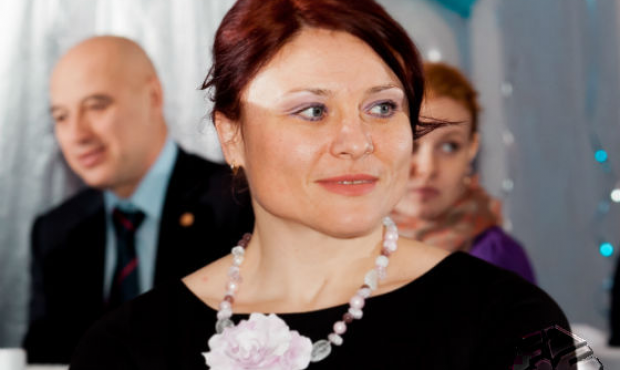 Irina Rodina, 11-time World Champion in SAMBO:
I am in good physical shape. It elongates life and fills me with energy. I try to get the message across the youth. It is also a part of my job which comes easily to me. I have accepted this lifestyle as I desire to live this way. I do sport with pleasure and I want everybody, both the youth and the adults, too understand this.
It is now when I can effortlessly do an overleg throw with an underhand grip, various leg show throws on the heal ("bychok") or breaking balance by twisting ("skrutkas"). I was calm and modest at school while my friends came to the defence of me. My SAMBO started since I was thirteen.
To tell the truth, I do not know what brings girls to combats today. In my time wrestling just got permitted and many teenagers registered for sports sections just being motivated by their interest to something that had been a forbidden fruit not long ago. I saw girls who were considerably bigger than I was (and it is me who has always been a chubby girl), who were walking with their heads high and were not ashamed of their chubbiness while not having such a problem as low self-esteem. And I started to want to understand what gives them self-confidence. I started to want to become like these girls and to walk just like they do.
When I came home and announced to my parents that I am going to do wrestling I faced such a negative attitude, such prohibitions: "You are not allowed to do it! It is so unfeminine! It is so terrible…" But after getting to know and after drawing attention to other types of sport I can say that, for example, rhythmic gymnastics is feminine only when sportsmen perform at competitions. It is very hard to withstand the training process itself. Any type of sport requires strain and stepping over yourself.
Of course, our type of sport is not rhythmic gymnastics, for example, where 40-year-old sportsmen have no chance to win compared to grace and fervour of younger competitors. While in our type of sport it is not your appearance which brings you valuation. They are those technical actions which you do at the mat. Of course, they already start talking about my age and asking why I am still doing it. But what if I like it? How could it be otherwise?
I probably simply like the combat. I do not get tired of it. I do not intend to quit it yet. I do not fill yet that I have translated all my possibilities into action. Every victory brings additional self-confidence to me. It is probably like studying at a University, i.e. passing an exam with flying colours after studying a topic makes you feel even better and more pleasant.
I do not think that wrestling is a purely men's type of sport. It is probably free-style classic wrestling where endurance determines everything. While in SAMBO it is not a game of endurance, it is a game of feelings as we must feel each other and the competitor's next actions. The most beautiful throws turn out when you feel the situation and work depending on the partner's actions. I can say that SAMBO is not an endurance sport, it is an intellectual one.
Once in my youth I was offered to participate at competitions in mixed marital arts. When I asked what it was, they told me that it was just a wrestling where holds from different types of combat were allowed. I thought that I knew the rules of judo, SAMBO and Greco-Roman wrestling and decided to give it a try. We went to Japan where we were warmly welcomed. They told us that the Women Championship was carried out just for the second time and offered to watch a "movie" of the first Championship. They started up a CD and I saw already in the first shot how a woman was lying sideways at the mat while the other woman was sitting on her and beating her from above, then the first woman got to throw off the second one. You could see saliva, snots, blood, her smashed face during slow-motion pictures … I said: "That's enough for me. Let's go home". The coach was persuading me to stay all night long and I, of course, came to the mat and won. But it was enough for a lifetime: I used painful holds with everyone but first I was beaten up in such a way that my mother did not recognize me when I returned home and then she started to cry. At that moment I understood that I do not like fighting at all!
If a person lacks intellect and acumen then he most likely won't come off with flying colours in sports. You have to think here. You have to work on yourself. You have to know psychology in order to understand yourself and to evaluate actions of the contestant. You have to know even biomechanics not to blankly use your strength but to anticipate the results of using this or that precisely hold. Of course, you have to accumulate strength during the training process, to work out and to run, but the competitions themselves are exactly an example of intellect prevailing over strength in wrestling.
I am proud that SAMBO was recognized as a National endowment of Russia. It is pleasant to represent a national type of sport and to bring glory to your country. I would like SAMBO to develop and to receive well-deserved recognition in the world.
Combat gives you moral certainty, endurance. I can do something. I succeed. I work. I feel inner satisfaction!
If I do not participate at competitions for a long time, then I start missing something. Even such thoughts as "that's it, I can not do this anymore, I am going to quit it" start creeping into my head. But I just simply feel bad without the coaches, trainings and competitions. That's what keeps me in SAMBO.
I am happy for myself, for person who can win a medal for her native city or her country. And there is also a possibility to see the world, meet different people as these are also a huge cherry-pie. Therefore, I will stay in SAMBO until I have strength and desire.
Of course, I had a thought to quit, but I am not a kind of person who jumps in feet first, who gives up everything and starts a different life. But how could I even think about a different life when it has always been the only my life? When I had a long-term break to recover after trauma, I had a chance to think everything over and everything clicked into its place. I started exercising once again. Well, I can not quit.
Yes, my age is being to tell and many training loads which a young body can withstand are already beyond my power. But I was probably training well in my youth as the obtained background gives me today a chance to perform and show results in more attenuated mode.
You normally go to sleep at 11:00 p.m. as the next day is just like the previous one. And if you go somewhere, let's say, to party, the tomorrow which has already come will not be as successful for your professional skills as it could be, I think. I personally consider that if you are a professional sportsman and you are interested in your job and results, then you won't afford it at two-week training camps. As only one person becomes a champion out of many and it is precisely she who goes to sleep at 11 p.m.
It is probably because of sport, where I have achieved some results, I know that nothing comes easily in life. You have to necessarily strain after something and work a lot. Only then there will be a result. In my opinion, aspiration, persistence and hard work are the qualities which sport has cultivated in me.
I have a farm house in the village on the riverside. I go there, melt into nature and go to banya. I go there all year around. Only people who are close to me come there.
There is about two thousand kilometres from Perm to Tula. I am an experienced car enthusiast. I like driving a car. I feel confident at the wheel of my Renault Laguna. Moreover, Russian roads change for the better nevertheless.
In our country we could observe a failure during the transition period. People were not doing sport. But they have already got tired of drunkenness and tobacco smoke. People want to take a good care of themselves and their health. And I am especially gladdened that many people have found themselves in the niche of combats.
It came out of the blue for me that so many people take care of themselves and give much attention to their health. And I wish we developed it so that our nation could finally get out of this beer-smoke clucking. You can often hear at the first trainings: "No, I won't do this. I can not do this the same way…" But already in a month these people get involved and change… And it is so pleasant to realise that these changes are possible thanks to your team and you among them!
I consider that intellect and speech are given to a human being so that he could avoid conflict situations. A human being is called Homo sapiens so that he could intelligently handle problems.
They say that I have a very patriotic last name (Irina's last name means "Motherland" in Russian). I try to live up to it. I have always been struggling to win medals for Russia. I am going to keep doing it even further!
Based on the materials of Mass Media and Internet-resources