Rules of life. Stepan Popov
Personalities
15 August 2014
Sergei Grishin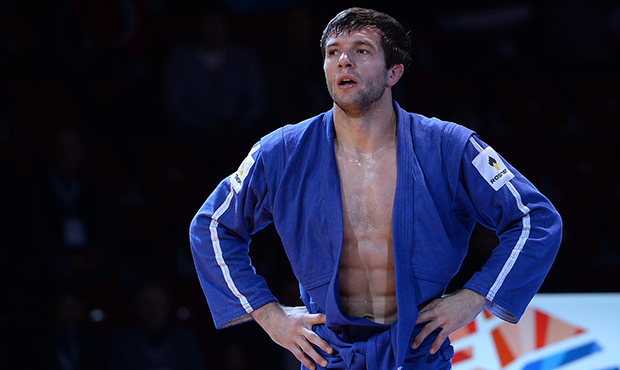 World and European Champion in SAMBO
Championship didn't drop from the clouds unexpectedly – such a mad and crazy joy. I have long aspired to it, prepared for this World Championship especially carefully. On my way to St. Petersburg, I already felt that I was ready to show the best that I had. With the starting fight, I felt that I would be the first, so I went forward and didn't stop.
20 seconds prior to the end of the fight meet I was down, but then risked and performed a throw. It was a very controversial moment, the rival was dissatisfied, but afterwards everybody told me that the score was mine.
After the fight there wasn't even awareness of the fact that I became the world champion, although you're waiting, go for it the whole lifetime. Well, I have become the world champion – it is good. My parents were happy most of all, they are my coaches.
After the championship, I called my daughter, who was with her grandparents. I asked her: "Please tell your grandparents, that your dad has become the world champion". And hung up.
My father has always been the principal adviser in fighting, sometimes he wants to advise even too much. He came to the World Championship, where I took the second place, in Vilnius. He didn't manage to come to the World Championship in St. Petersburg. Actually, there were a lot of friends in St. Petersburg, I felt that support and it helps greatly.
It's typical of sports – today they pay, tomorrow they will stop paying, it doesn't make sense to hope for it. So I'm trying to do some business. I have to feed my family – I have a wife and two children.
I practice SAMBO for my own pleasure. Now I have two scheduled training sessions a day and it's not very convenient to combine them with my work. I come very exhausted for an evening training session, and the coach is constantly demanding.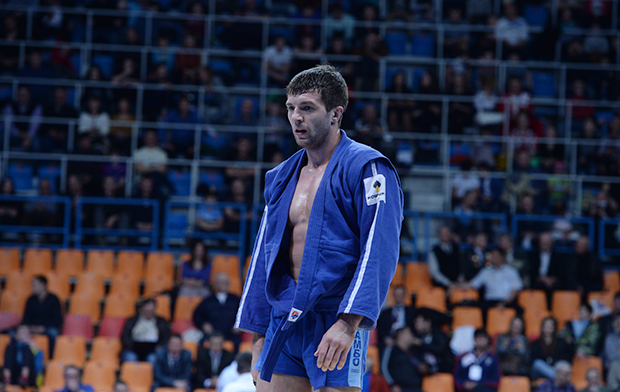 I studied at the institute together with my future wife, we started seeing each other since the first course – and we have been together for 7 years. Now we are getting the economic education online together.
I want to travel to Moscow from time to time to Sambo-70 school in order to fight with new sparring partners. Because there are few of ours and they have already been studied. Of course, the youth come in SAMBO, but basically we have an aging team. Now young people lack of incentive – especially the material one.
I used to find the pleasure for myself to take someone after training sessions and practice techniques for half an hour or an hour. I and Alexey Stepankov, the European champion, grew up in such a way. Both of us didn't have results then – after training sessions we started just fooling around: we continued fighting for 15-20 minutes. And it last throughout the year. As a result, first he became the European champion, and then I did.
"Either learn or train, my son", – my parents told me in childhood. Starting from the second form, I together with my brother began to go to the section, mostly for fun. My father was my coach, so children of other coaches became my main rivals. I mostly won them all and saw the reaction of their parents: "Oh, my son, how do you fight! What is it?", – and slapped him, and the child was in tears. When I lost, especially at any regional competitions, my father acted differently. He used to bring all of his pupils, cheer up, and ask even another empty diploma of the first place from the organisers, sign – and say: "here, look, you won".
my dad drove up to 12 people to the competitions in his car (he had a Zhiguli "kopeyka"). He has been a very big fan of fighting since childhood. He taught himself from books, he didn't perform particularly anywhere. He laid the foundation, I still listen to him carefully, though, I argue. But still we get on well with him.
In Lepel, a small city with a population of 20 thousand people, my father taught judo. At that time there were a lot of fans of combat sports. Now we also have good young people: 1-2 athletes of my father periodically "outshoot", but his enthusiasm is not the same.
I like fighting, I would like to become a coach. If I have a business, then I will be happy to train children in school.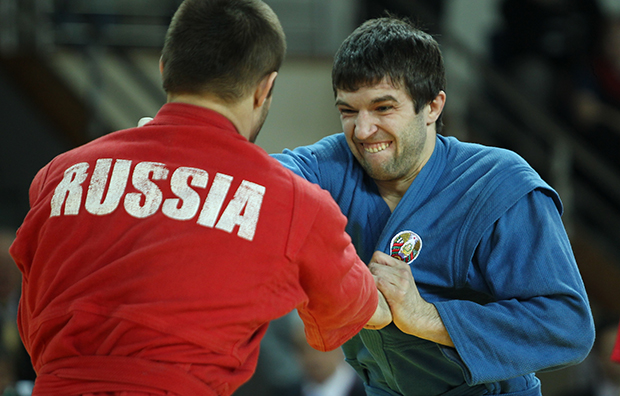 I like Belarus very much. In place where my parents live there are such beautiful lakes, and now my parents are building a dacha there. On weekends, you get in a car, have 100 kilometers away and you find yourself at parents', in the countryside.
I have a good friend who is also my rival, Yura Safutdinov. In Venezuela we had a fight in the heat of 50 degrees. Hardly you put on a SAMBO suit – and you are already in a sweat. We began to fight with him, very aggressively – we went score in score. I won on the last movement, and we just fell on the mat together. We both laid and couldn't even get up, and the judge was trying to persuade us to get up to announce the winner.
It happens sometimes so, that some of the rivals don't even come up after the fight in order to greet. It is a kind of envy or anger. But that's their business. I try to keep good relationship with everybody. On the mat of course it's different – one can fight aggressively there.
Of course, victory at the World Championship is my greatest achievement to the date. Although there was more joy when I won the European Championship in 2011. Then I managed to win with the help of a painful lock. A few days I was in euphoria, emotions were just wonderful. And in November of 2013 I won in St. Petersburg, and then we met with the team in the evening, and I had no sense of joy, but a headache.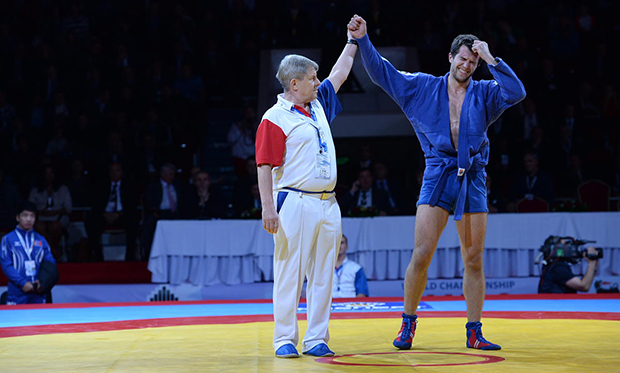 I had to apply SAMBO techniques at the street. Even though I have never provoked anyone, I try to avoid conflict. 7 years ago we had a rest in the Crimea with friends, they had a conflict with the local guys. I went to bat for them: I threw one guy neatly, then another one, but did not finish anybody. But probably I should have – it turned out that they had knives. As a result, one of those whom I threw neatly, hit me with a knife in the hip and the other wanted hit in the heart, but I managed to shield it with my hand, so he cut my biceps in halves. Of course, if I knew about the edged weapons in advance, I would not let them to get up after the throw. It became a lesson for the future: now if there is a conflict, the first thing I look at is his hands, whether a person has anything in his hands or pockets. Although in any case, when they see that the guy is sporty, no one goes fighting with bare hands.
Sometimes defeat is even better than victory. Before the World Championship in St. Petersburg, I went to the SportAccord Games in the same city. I lost in the first fight, and then draw some conclusions for myself. At that time I didn't have time to prepare carefully for the competitions: I injured a hip, and didn't go out on the mat for two weeks, and therefore the result was expectedly bad. After returning home, I began to train hard and get ready for the world Championship. I want to thank greatly Vyacheslav Stepanovich Kot, my personal mentor and Head Coach of the Belarusian national team at the same time. He did everything possible for me to prepare successfully, so my "gold medal" is, of course, our common victory.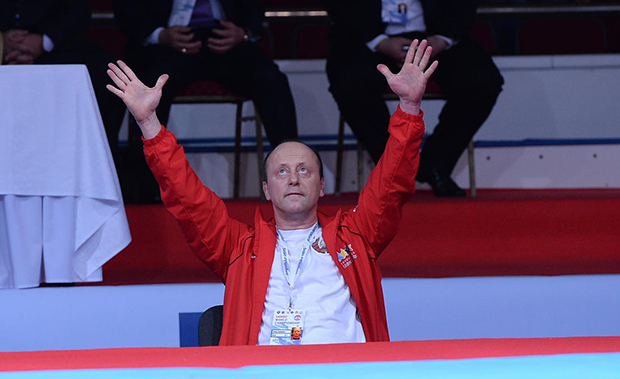 I had a very sad history in 2010. I prepared for the World Championship, I was in great shape and was going to defeat all the rivals. And a month before the Championship, at the Aslakhanov' tournament, already in the final fight, 10 seconds prior to the end, my elbow came out almost out of the blue. Moreover it came out so badly that the doctor at the hospital could not get it right. Our heavyweight Sasha Vakhovyak had to help – only he had enough strength. Despite this, I still longed for the World Championship, I asked my Coach to take me. But doctors enjoined from performing categorically. I missed the Championship, and next year I fought the good fight with virtually one hand – I made such leg throws, which I had never done before. So the next World Championship I was caught in the finals at the painful lock on that hand.
My main injury is just this elbow. My parents kept me from scathe since childhood, did not let me to practice bar for a long time. And then I arrived in Minsk, and we with guys rushed to crouch with the bar of 210 kg. And this was at the age of 19! Now I remind those times with horror, and wonder, how could my back sustain that.
I don't see any SAMBO for my daughters. I was thinking over all the time what kind of sports would fit for my eldest daughter. She is so plastic, and loves dancing. As a result, we advised her tennis. Of course, it's quite an expensive sport, but you cannot limit a child – let it try, maybe afterwards she will get interested in and engaged, and will achieve success.
I support the idea that we must either throw beautifully, or fall beautifully. In principle, I can fall beautifully. And I'm not ashamed for it. It is better to fall beautifully, and then throw than stand all the fight in the position.