Press conference of the Sambo World Cup Series "Open Championship of the Republic of Belarus for the Prizes of the President of the Republic of Belarus"
Competitions
12 February 2015
Sergei Grishin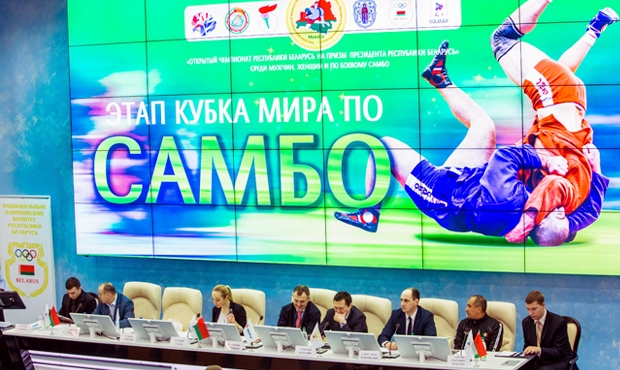 The press conference dedicated to the tournament which starts on February 12 was held in Minsk this afternoon. The journalists wedded to sambo were invited to the National Olympic Committee of the Republic of Belarus, more precisely, to its conference hall. Read about the warm welcome of representatives of the Olympic Belarus, tournament forecasts and many other things in our today's report from Minsk.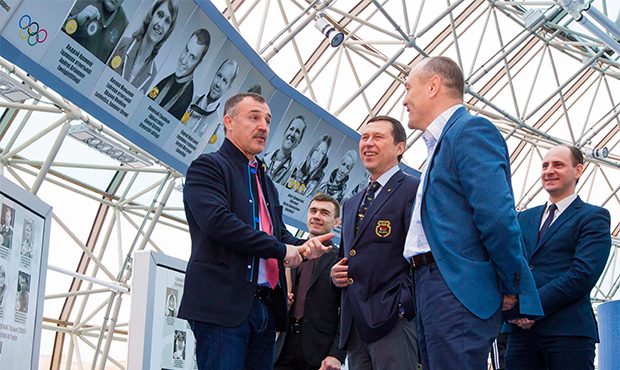 Blessed place. Headquarters of the National Olympic Committee of the Republic of Belarus
The headquarters of the National Olympic Committee of the Republic of Belarus is located in the ultra-modern building constructed in 2014 which includes, besides the Olympic "house" of Belarus, a great number of event halls, a museum exhibit and the Hall of Olympic glory. The exterior view of the headquarters raises admiration – a modern building with a huge glass dome and Olympic rings on the top. When entering the building, admiration significantly increases. A light and airy building, it is filled, above all, with the spirit inherent to sport. Spirit of pride, glory and honor. The quintessence of all this is definitely a museum exhibition which was visited prior to the press conference. The museum's collection contains unique exhibits selected with love and care. Among them is the Moscow Olympics torch that was carried along the Minsk streets by Alexander Medved, a famous Belarusian wrestler who is a three-time Olympic champion. The invaluable torch and the gold medal of the World Wrestling Forum were presented to the museum by the legend of the world freestyle wrestling.
Press conference. Belarusian sport leaders about sambo and the tournament
The press conference was attended by the President of the Belarusian Sambo Federation, a member of the FIAS Executive Committee Vladimir Yaprintsev, Deputy Minister of Sports and Tourism of Belarus Alexander Dubkovsky, Adviser of the NOC of the Republic of Belarus George Katulin, President of the Bulgarian Sambo Federation, vice-president of FIAS Rumen Stoilov, head coach of the Russian Federation team Dmitry Troshkin, Assistant Chairman of the President's Sports Club Ksenia Golub, 6-time world sambo champion Dmitry Bazylev from Belarus, and the coach of the Mexico team Martinez Ignacio Garcia.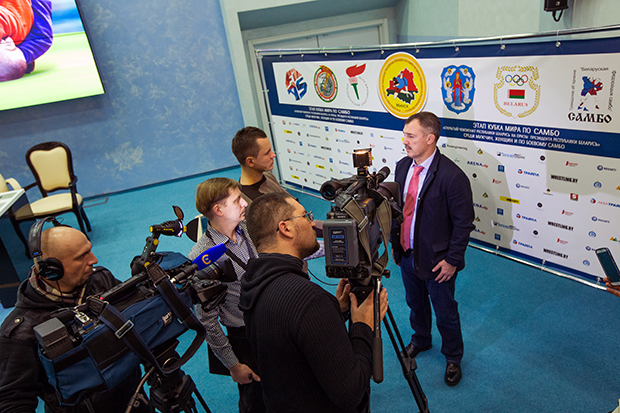 Vladimir Yaprintsev: "This tournament is held as part of the World Cup, that's why it's the first time we organize it among men and women in sports sambo and among combat sambo athletes. As for the girls, such a format of the tournament is promoting us, makes us move up our sambo girls. This ultimately gives us an incentive to develop women's sambo in the country. If to talk about combat sambo, the performances of combat sambo athletes featuring expression, mix of stroke and wrestling techniques are always a real holiday for the audience, for sure."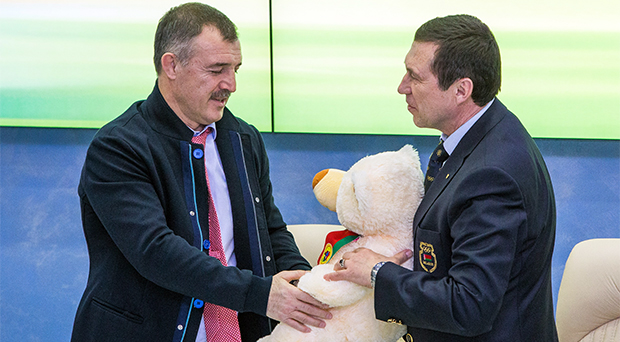 George Katulin awarded by the Belarusian Sambo Federation with the tournament talisman – a sweet white bear, noted: "I think the bear will feel comfortable in our Olympic Museum (smiles). Seriously though, we are truly glad to see today's tournament guests and journalists here, in the new building of the headquarters of the Olympic Committee. This is not by accident, believe me. They said today that sambo is a non-profit sport. It's true but... sambo has two constant adjectives – favorite and popular. And I would like to mention that very few sports can compete today with sambo by the great influence on young people. Sambo is in the top five sports."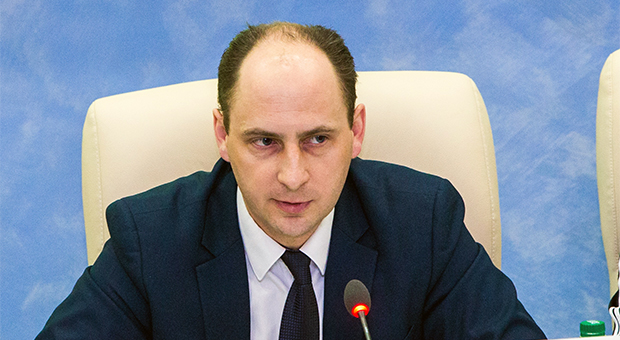 Alexander Dubkovsky: "It's a very serious tournament for us, one of the most important contents that are held in the territory of the Republic of Belarus. The tournament is held for the prizes of the President, which also stipulates a high degree of responsibility to be borne by the organizers. Traditionally, the tournament's Organizing Committee is headed by the Minister of Sports and Tourism of the Republic of Belarus, which certainly provides more successful coordination of the overall work. This year's tournament gathered 18 member countries. This is a very significant figure that stipulates the expansion of the tournament geography. The Minsk tournament will be first attended by Mexican athletes. I hope they'll become our regular guests."
Forecasts of Belarusians and Russians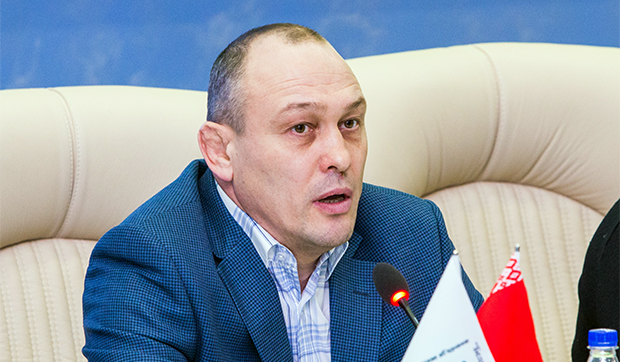 Dmitry Troshkin: "We are regular participants of this event which is always a serious challenge and strength test for us. We even have a belief. If an athlete receives a gold medal here, in Minsk, we can expect a gold medal from him at the World or European Championships, with almost 100 percent probability. This time we took a team consisting by half of young people under 23 years old who won the Russia's Championship, and the other half of the team consists of sambo athletes of the adult team, some of whom are defending world and European champions and winners of the top awards of the previous years' tournaments. Whom can I distinguish? Vladimir Prikazchikov, the defending world champion in the 82 kg weight category (sports sambo) and his equally severe "colleague" in the same weight category – 2-time European champion Sergey Kiryukhin."
Vladimir Yaprintsev: "Our team consists of both young athletes, and already famous and experienced athletes. Each year we have different "stars" in this tournament. All newcomers pass the furnace of the World Cup, harden, increase their athletic skills, which, of course, help them to perform decently in future world and European championships. What are my forecasts? I don't like such questions. Only the mat will show who can do what. I certainly hope that our sambo athletes will perform decently. We plan to take half of gold medals in 9 weight categories for boys and girls."
[Photogallery] Press Conference OF THE WORLD CUP SERIES FOR THE PRIZES OF THE PRESIDENT OF THE REPUBLIC OF BELARUS