Omar Lopera, the President of the Colombian Sambo Federation
Personalities
5 July 2013
Sergei Grishin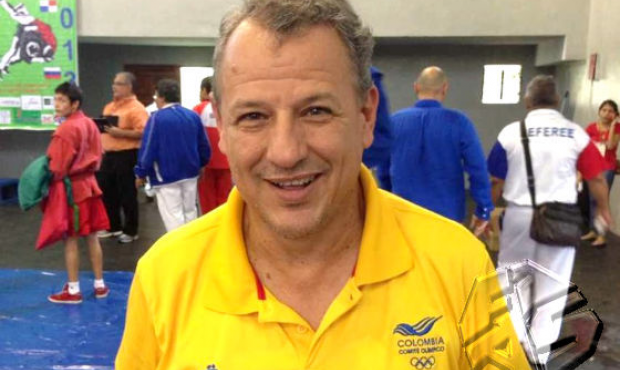 In this article-portrait you will learn how SAMBO in Colombia develops and why the largest telescope in the country is located in the SAMBO centre being built here. We will also tell you about how Omar Lopera, the President of the Colombian SAMBO Federation, get in SAMBO, and what he would change in it to make this combat sport even more attractive.
Omar Lopera is not only the President of the Colombian SAMBO Federation, he also works in the Judging Committee of the National Olympic Committee of the country. This charismatic and experienced sports functionary has already headed the Colombian SAMBO Federation for 5 years.
How did Omar Lopera get in SAMBO? The hero of our report tells about it personally: "Everything started from wrestling. I was doing it until 1965, then I was a judge and worked at the Colombian Wrestling Federation. Then there was a period when SAMBO was introduced at the American continent and my acquaintances got me interested into this still new for Colombia sport. I liked SAMBO and now it dwells within my heart. I believe that it is an extremely dynamic and spectacular kind of combats. If I were offered to conduct some complex competitions with bouts between sambists, wrestlers and judoists at 3 mats in the same sports hall, I am sure that SAMBO would be much more advantageous".
Considering experience of the character of our report at sports affairs, we ask: "Omar, what would you change in SAMBO to make it even more bright and spectacular?" Lopera answers in a very interesting way: "I would change the course of a competitive bout in SAMBO. The point is that generally sportsmen get tired by the end of a bout. Fighting ceases to be spectacular and interesting. That's why I would create 2 rounds lasting 3 minutes with 1 minute break between them. I am sure that it would add tension and dynamics to the course of bouts in SAMBO".
Let's move from sambo bouts to construction works, patronship and Colombian plans for the future – all the abovementioned is surely related to SAMBO. The point is that the construction of a unique SAMBO Centre is being terminated in Colombia right now. It is a complex which unites a sports hall with a developed infrastructure which includes a hotel, saunas, changing rooms and utility rooms. The future SAMBO Centre is located 6 km from Cali, at a height of 1500 km above sea level.
The word "patron" was not mentioned in our report accidentally. The construction works are carried out at the cost of Omar Lopera's personal savings. As soon as the construction works are terminated, it is planned to use the centre for conduction of various seminars, gatherings and training camps. Precisely this – Colombian - SAMBO Centre is likely to become a "Mecca" for all the admirers of this combat in Pan-America.
After discussing the plans on construction of the SAMBO Centre in Colombia, we already wanted to terminate our interview and continue with a simple conversation with this fascinating person, when Omar said with a smile: "I cannot but tell you about one detail. There is the biggest telescope in Colombia in our Centre. The fact is that our Centre is located in the ecological territory which I own. My house is located there too. As astronomy is my second passion after SAMBO, I own the biggest 25-inch telescope in Colombia".
While terminating our report on this interesting detail which curiously unites SAMBO and astronomy, we would like to wish our spiritual, clever and interesting interlocutor luck and patience for execution of the set plans as well as further success to the Colombian SAMBO.
Muchas gracias, Señor Omar Lopera!
Natalya Yukhareva
Nadezhda Sarsaniya
www.sambo.sport