Russian President Vladimir Putin at an International Tournament in professional Combat SAMBO in Sochi
Official
18 August 2013
Sergei Grishin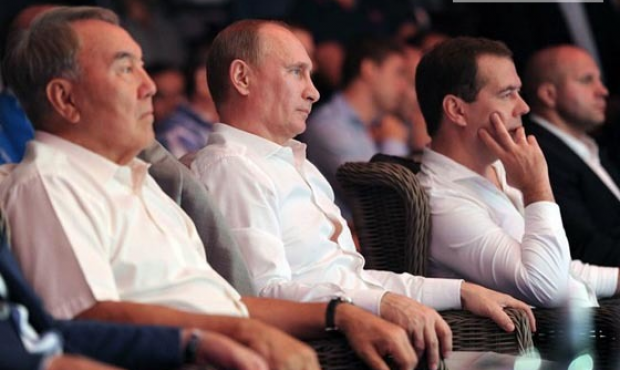 President of Russian Federation Vladimir Putin visited the International Tournament in professional combat SAMBO in Sochi. Fights between strongest Russian SAMBO wrestlers and representatives from other countries took place at the site of a sports and leisure complex "PLOTforma." Putin is not the first time on a professional combat SAMBO tournaments held in this city. The current competition "Platform S-70" is the fourth event of the Center of Education "Sambo-70" and «League S-70." In 2013 organizers changed the format and focus of the tournament by placing at the forefront traditional Russian sport - SAMBO.
Together with the head of the Russian state competition was observed by Russian Prime Minister Dmitry Medvedev, President of the Republic of Kazakhstan Nursultan Nazarbayev, the head of the International Federation of Sambo Vasily Shestakov, President of European and Russian Sambo Federation Sergey Eliseev, Senior Vice President of FIAS Klyamko Andrew, head of the Center of Education "Sambo-70" Renat Laishev, the legendary Russian SAMBO wrestler, a four-time world champion in Combat SAMBO Fedor Emelianenko, and other distinguished guests.
The tournament brought together representatives of the host country - the Russian national team, as well as athletes from Ukraine, Bulgaria, Kazakhstan, South Africa and other countries. In the main event of the evening met Vyacheslav Vasilevsky and an athlete from South Africa Trevor Prangley, who scored many brilliant victories in various forms of martial arts. 2013 champion of Russia in Combat SAMBO Vyacheslav Vasilevsky, who in August 2012 won a super fight within finals of Russian Championship of mixed martial arts, turned out to be the strongest at this time. He endured a lengthy attack by Trevor Prangley at the beginning of match, and then was able to change the course of the meeting and dictate the rest of the match, winning by technical knockout. As a result, a meeting between Russia and the rest of the world ended in a home win with a score of 4:1.
Vladimir Putin presented the award to the strongest and thanked all athletes for the show. "Strength, courage and nobility - that is what distinguishes men who are now in the ring and sporting fraternity, combat brotherhood. Exactly combat, because they represent the martial arts in the most striking manner"- said the president of Russia.
After that Vladimir Putin is once again brought to the center of the ring captain of the defeated team Trevor Prangley and thanked him for the fight. The president said that Russia has always appreciated and respected men who know how to fight until the end. The former U.S. Marine was really touched.
Prepared by Alexander Solomahin
www.sambo.sport