CISM President, "Sambo deserves to be a part of the military sports system"
Personalities
18 March 2015
Sergei Grishin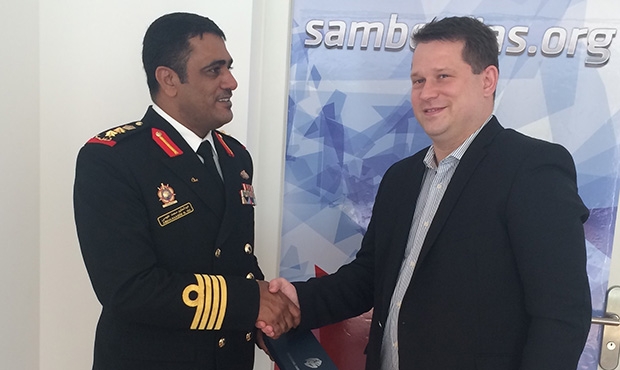 At the office of the International Sambo Federation (FIAS) in Lausanne, yesterday the March 17th, 2015 a meeting was held between Mr. Michal BUCHEL, the FIAS Chief Executive Officer and the most important person in the world of the military sports, Colonel Abdul - Hakeem AL-SHINO, the President of the International Military Sports Council (CISM) and Mr. Olivier VERHELLE, the CISM General Secretariat - Director of Administration and HR. 
CISM was created in 1948 and currently unites 134 countries. Its motto "Friendship Through Sport!" uniting military forces athletes and organisations to promote and ensure the peace by organising the sporting events. 
The visit was held in very open approachable atmosphere as the parties discussed the opportunities related to inclusion of Sambo sport into the CISM system. It is worth to mentioning that CISM President highly appraised the Sambo world-wide development and recommended immediately to the CISM Director of Administration to invite to the FIAS representatives to the CISM General Assembly 2016 to Tartu, Estonia. Moreover, CISM President is supporting the idea of hosting Sambo as the demonstration sport within the programme of the upcoming CISM multi-sports events. During the meeting the CISM President also informed FIAS about the projects and plans of the military sports, while some of them might be interesting particularly for the group of the Martial Arts and the Combats Sports.
Whereas for the CISM calendar, currently Military World Games took place every four (4) years, including individual and team Olympic sports and specific military sports in their sports programme. CISM Summer World Games debuted in 1995 (Rome) and next edition will took place in Mungyeong (Korea) in October 2015. While the first Winter Games debuted only in 2010 in Valle-d'Aosta (Italy), and its last version was organised in Nancy (France) in 2013. Moreover, the International Military Sports Council arranges World Cadet Games and CISM World Football Trophy. 
Further meetings will continue in Sochi, the capital of the Winter Olympics 2014, on April 19 to 24 during the SportAccord Convention.