Nice to meet you! Vito Leone Sebayos
Personalities
8 September 2013
Sergei Grishin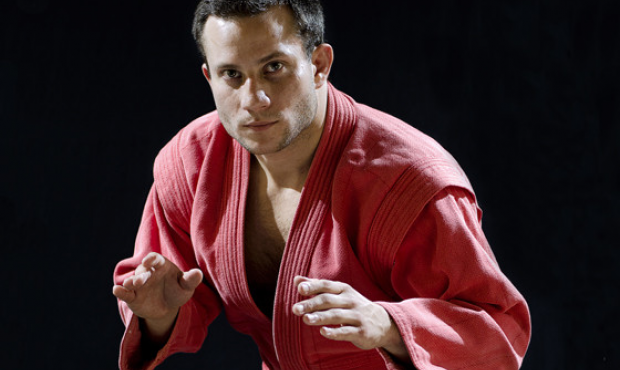 Full Name: Vito Leone Sebayos
Country: Ecuador
Date of birth: 22.04.1984
When did you start practicing SAMBO: I did when I was 16, but I started practicing such contact sports as boxing and wrestling in early childhood.
Sporting achievements:
Ecuador Adult Champion 2009-2010-2011.
President of the Association of SAMBO clubs in Ecuador.
Representative and President of Ecuador SAMBO sports organization.
Combat SAMBO Director of the Pan American SAMBO Federation (FEPAS) 2011-2012.
Treasurer of the Pan American SAMBO Federation 2013-2014.
First representative of Ecuador who is a member of the Executive Committee of the Pan American SAMBO Federation (FEPAS).
First representative of Ecuador who participated in the Pan American Championships, as well as in the World SAMBO Championships.
1. Why do you like SAMBO? Why did you start practicing martial arts?
SAMBO drew my attention, because it is a martial art that combines a number of different techniques of contact sports. Later, when I started training, this kind of sport surpassed all my expectations, and now this is a martial art I am really fond of.
2. Why have you chosen SAMBO? How does it differ from other martial arts?
As opposed to other styles of martial arts, SAMBO is a variety of techniques that require high physical fitness and develop acrobatic skills.
3. Are there many sportsmen involved in SAMBO in your country?
Yes, there are, although it is rather new sport in Ecuador. We are a big family. We constantly work out and raise the level of our training.
4. Do disinterested people in your country know about SAMBO? Is it covered in the media?
A lot of people know about SAMBO thanks to the participation of Fedor Emelianenko in MMA. At present, the media write about us, but this sport is still not prevalent in the media.
5. What achievement do you consider most important? What tournament was the most memorable?
No doubt, the greatest achievement is that FIAS noticed Ecuador as a country where SAMBO is practised, and nowadays Ecuador is a candidate country for membership in FIAS. The most memorable is the World Championship in Vilnius (Lithuania), as it was the first World Championship in which our country participated.
6. What is the most painful failure, something that you regret?
I had no failures in SAMBO, but I am very sorry that I can no longer continue training. At present, there are many younger and more capable sportsmen in Ecuador who possess necessary qualities to represent their country with dignity. Besides, I do not have enough time for professional sports training because of my managing activities.
7. Who is your main fan?
My parents are. Their support has always been support and basis for me, which allowed me to continue training.
8. Where do you work out? What conditions for training do you have?
There are a few private clubs for training in Ecuador. My schedule is not very flexible, and the place of my workout always depends on my schedule. Mood and qualities are the basic conditions, but I think the place where you are working out and your "mat" comrades are even more important factors.
9. Did you use SAMBO techniques in everyday life? How do you resolve conflicts?
SAMBO is not just a contact sport. SAMBO combines such concepts as respect, punctuality, discipline, self-control, commitment, tolerance, etc. These qualities are essential in everyday life, this is the way to resolve conflicts. So I did, I used SAMBO in everyday life.
10. What would you tell about SAMBO to a person who never heard of it before?
The same things I was told about SAMBO some years ago. It is a demanding sport, both physically and mentally. It is a sport that combines the best techniques of contact sports (judo, wrestling, boxing), where dexterity and technique prevail. The main objective is to earn more points with the help of technique or complete the fight, having subdued an opponent.
11. Do you have a sporting dream? What is it?
Yes, I do. I want sportsmen from Ecuador to climb the podium of the World Championship.
12. What do you do in real life besides SAMBO?
I work in a very important and well-known in my country financial institution.
13. Do you have any hobbies? What do you do in your spare time?
I teach SAMBO to sportsmen and enjoy spending time with my family.
Prepared by Nadezhda Sarsaniya and Aleksander Solomakhin
www.sambo.sport