Nice to meet you! Yaiza Jimenez Lopez
Personalities
1 September 2013
Sergei Grishin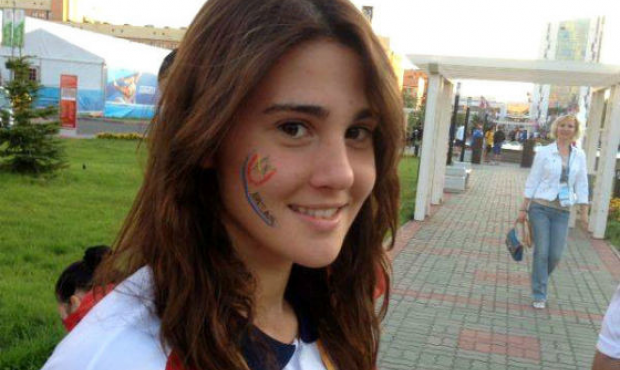 FIAS website opens a new section "It's nice to meet you!". Herein we will introduce you to SAMBO athletes from across the globe. They field the questions of our questionnaire themselves, and we present their answers to your attention. Yaiza Jimenez Lopez from Spain opens the section.
Surname, given name, patronymic: Yaiza Jimenez Lopez
Country: Spain
Date of birth: 25.07.1994
When did you begin to go in for SAMBO: I have been going in for SAMBO since 15, but I have been going in for contact sports, such as judo, since 3.
Sports achievements:
Junior Champion of Spain in 2010 and 2012, the silver in 2011.
Champion of Spain among adults in 2013 in the category of 64 kg.
The gold of the Grand Prix of Paris (France) in 2012 in the category of 60 kg.
The silver at the International Tournament (Madrid) in the category of 60 kg.
The 5th place at the World Cup Stage in Kazan (Russia) in 2012 in the category of 60 kg.
The 7th place at the European Championship (Italy) in 2013 in the category of 64 kg.
Participation in the 2013 Universiade (Kazan) in the category of 64 kg.
1. What brought you to SAMBO? Why did you begin to go in for this combat sport?
I wanted more competitive practice. Since I don't have many opportunities in judo to enter the competitions, I began to fight SAMBO, because these disciplines are similar. SAMBO opened my doors to more tournaments.
2. Why did you choose SAMBO? How does it differ from other combat sports?
I chose SAMBO, since I like contact sports. I think that they instill self-confidence. You can compare SAMBO and Judo, but they have a lot of differences both in rules and techniques.
3. Are there many athletes involved in SAMBO in your country?
Yeah, a good many. Moreover more male athletes than female. And the strongest categories are typically: 60 kg, 64 kg – among women and 68 kg, 74 kg – among men.
4. Do people in your country, far removed from sports, know about SAMBO? Is it covered in the media?
In our country there are some people who know this sport like soccer, for example. However, the media covers SAMBO competitions, especially big tournaments – such as, for example, the World Cup.
5. What your achievement do you consider to be the most important until now? What tournament was the most memorable?
The Universiade is the tournament, which was the most memorable for me. It is already an achievement to go to the Universiade, many dream about it, but, unfortunately, don't achieve. Although I did not reach the desired result, I always try to find something positive. It was a really valuable experience for me.
However, national championships also stuck perfectly in my mind. It is at the national championships you go all-in, all-or-nothing to get the opportunity to travel to the international competitions, so they are the most important for me.
6. What is your most painful setback, something that you regret?
The failure at the European Championship became my most important setback. I didn't manage to concentrate on the carpet. I had a bad day.
7. Who is your main fan?
My father, Manuel Jimenez, who, as a coincidence, is also my coach. He was a great wrestler with a good sports history. He always accompanies me at all the competitions and training sessions – as well as my uncle, who is also a coach.
8. Where do you train? What conditions for training do you have?
I train at my club every day, except weekends, when we go to the center of sports training to supplement our training sessions. Punctuality, persistence, self-sacrifice and a strong desire are necessary to train in this mode.
9. Did you have to use SAMBO holds in everyday life? How do you resolve conflicts?
Fortunately, I didn't have to apply SAMBO techniques in everyday life. I resolve conflicts with words.
10. How would you tell about SAMBO to a person who has never heard anything about it?
SAMBO is a beautiful sport that requires flexibility and quickness of mind, agility and great desire. This is a contact sport in which technique is the basis, however, and strength should not be forgotten. The goal is to throw, immobilise or to fight on the contrary, but the sooner it's done – the better.
11. Do you have a sports dream? What?
The dream is, perhaps, as another athlete has, to become an Olympic champion.
12. What do you do besides SAMBO? In real life?
In addition to SAMBO, I also go in for Judo, I study the English language and coach children judo.
13. Do you have any hobbies? What do you do in your spare time?
I dedicate my spare time to my friends and family, we go out together to dance, sing, or to the cinema...
Prepared by Nadezhda Sarsaniya and Alexander Solomakhin
www.sambo.sport