"Direct speech": the brightest sambists' quotes at the I European Games in Baku 2015
Personalities
24 June 2015
Sergei Grishin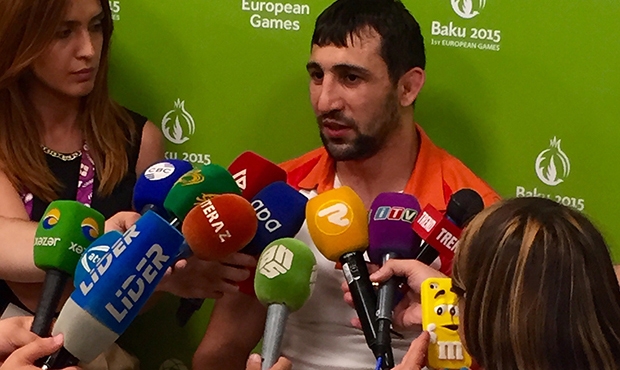 During the finals of the sambo tournament in the program of the I European games in the IT-area of the arena named after Heydar Aliev something incredible was happening. Dozens of reporters with tape recorders, cameras and camcorders attacked the winners of the competition asking them all kinds of questions. FIAS's site has participated in this "attack" and offers you the most interesting answers of the sambists.
Magdalena Varbanova (Bulgaria), bronze, 52 kg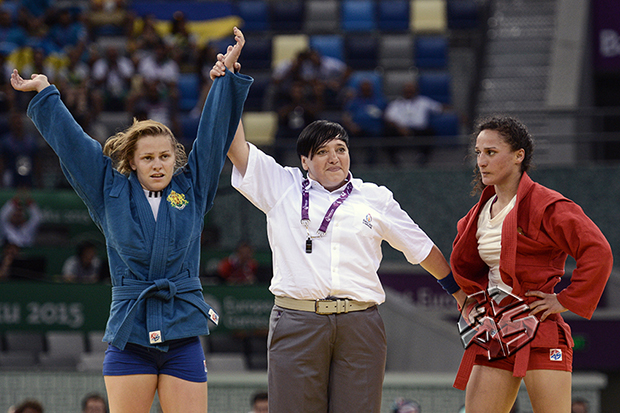 "I was one step away from the victory and only one mistake didn't let me win. I hope that during the following European games I will be able to implement all my plans. Today, all Bulgaria was watching my fighting and I am very grateful to everyone for their support."
Ruta Aksionova (Lithuania), bronze, 52 kg
"I'm a licensed psychologist though I work at the immigration office. Colleagues have always supported me and they arrange great feasts when I leave for a competition or come back. We also play football at work and if somewhere our team wins, it's a holiday for all of us. Football helps my development in sambo. I do not like to run but in football you need to, and it turns out well all by itself."
Nazakat Khalilova (Azerbaijan), silver, 52 kg
"My opponent in the finals Anna Kharitonova from Russia was so much more experienced and stronger than me. Although I watched all her bouts and was well set for it, but alas ... And still I am happy and grateful for this silver medal and to my coach."
Anna Kharitonova (Russia), gold, 52 kg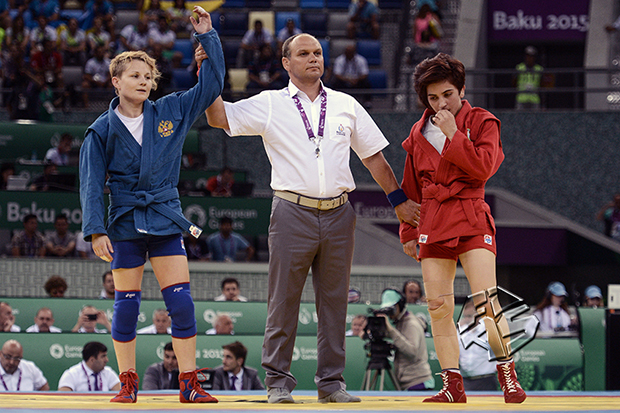 "I have a lot of medals and only lack one - the Olympic one. I'm ready to fight to the last till I can. Maybe someday I will even perform at the Olympics?"
Vladislav Burd (Belarus), bronze, 57 kg
"Before the competition I felt a little excitement but then I turned off all the emotions. I felt much more nervous about another thing: before the tournament I was interviewed for television for the first time. For me it is a strange experience as I just recently turned 19 years old."
Aymergen Atkunov (Russia), gold, 57 kg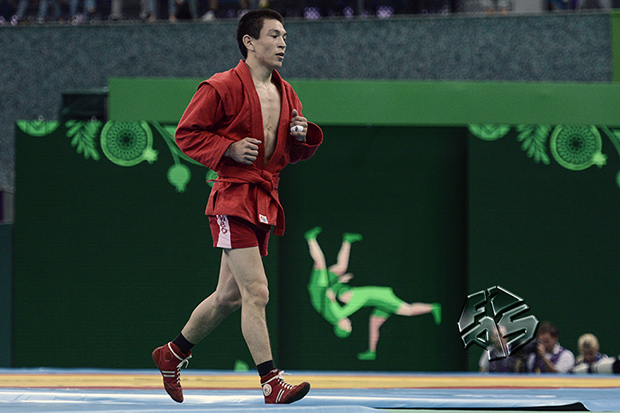 "When I heard the roaring of the tribunes I felt a bit jittery. But then I realized it was helping me, giving me extra strength and helping me to set up for the bout."
Daniela Hondiu (Romania), bronze, 60 kg
"The key point to this tournament for me was the semi-final match. The referees gave the victory to my rival Kalina Stefanova from Bulgaria but I'm sure that it was necessary to give her some remarks for leaving the mat. The fact that in the final she lost on remarks and could show nothing against her rival from Russia proves my point. After the semi-final the coach reassured me saying "Go eat and sleep". Setting up to fight for the bronze was easy: I knew that I would be faster than my rival and win. And so it happened in the end".
Kalina Stefanova (Bulgaria), "silver", 60 kg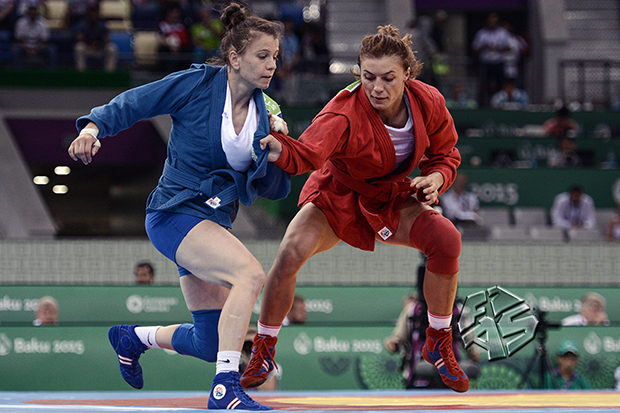 "I managed to win over an athlete from Romania who outfooted me at the European Championship in May. Of course I'm glad I was able to take revenge. But the Russian sambist Yana Kostenko is too strong a rival. I didn't do enough today and of course I'm upset."
Yana Kostenko (Russia), gold, 60 kg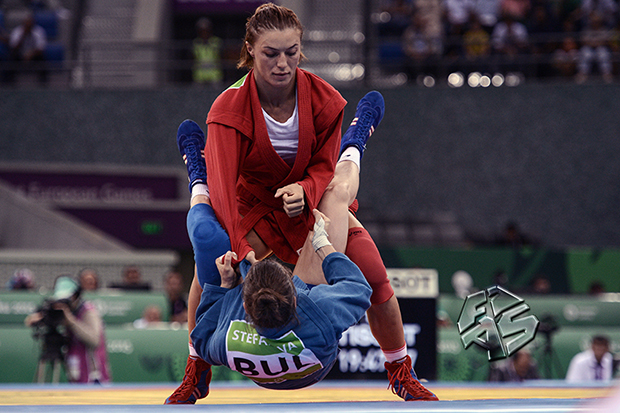 "I'm a lucky person. What is luck for me? Being with people who believe in you, being in the right place at the right time and most importantly, putting a lot of effort into accomplishing your dreams."
Kakha Mamulashvili (Georgia), bronze, 74 kg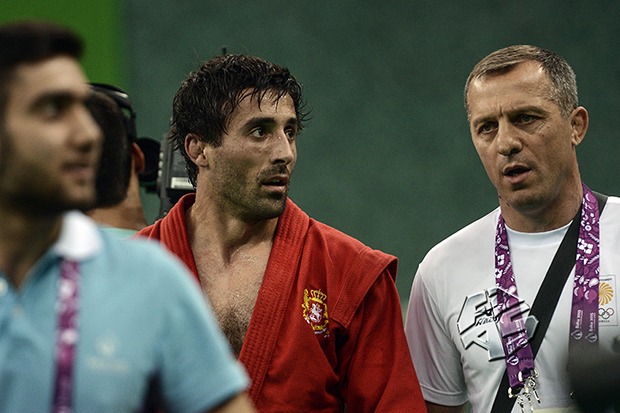 "My bronze is a reason for me to prepare for the next competition even harder. I look forward to taking the gold at the World Championship in Morocco. Now for me the most important thing is to grow as a sambist, win new medals and titles. This is one of the reasons why I'm not married."
Amil Gasimov (Azerbaijan), silver, 74 kg
"After the final when I was injured my opponent Stepan Popov from Belarus lifted me from the mat by doing a "mill". I simply wasn't able to stand on one foot where I had an old injury. Popov is a real athlete and a great man. I am sure everyone among sambists would have done the same in a similar situation."
Stepan Popov (Belarus), gold, 74 kg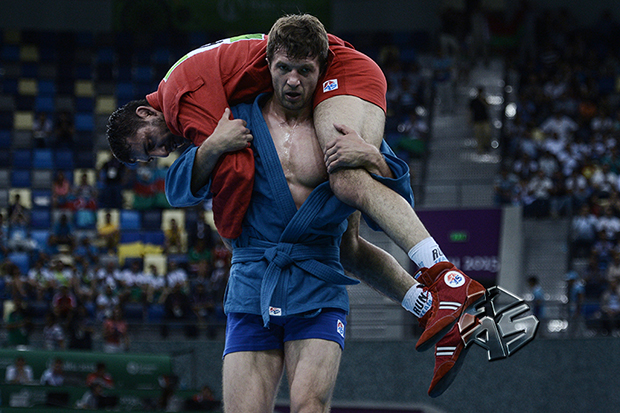 "I've had a similar situation. I lost by submission at the World Sambo Championship in my homeland, in Minsk. And in the first match too! I left without a medal and injured. It was my most humiliating World Cup. I also did not give up until the last and I know what it means to leave the mat after this. So I lifted my rival and took him off the mat. It helped him to cool down a bit after the defeat, calm down. It was a gesture of friendship as we're only rivals on the mat. And I have great respect for that athlete."
Anna Shcherbakova (Russia), bronze, 64 kg
"When I was preparing to fight for the bronze, the Russian national anthem sounded. I covered with goose bumps from head to toes. It gave me a big positive charge to win the battle for the third place."
Sarah Loko (France), bronze, 64 kg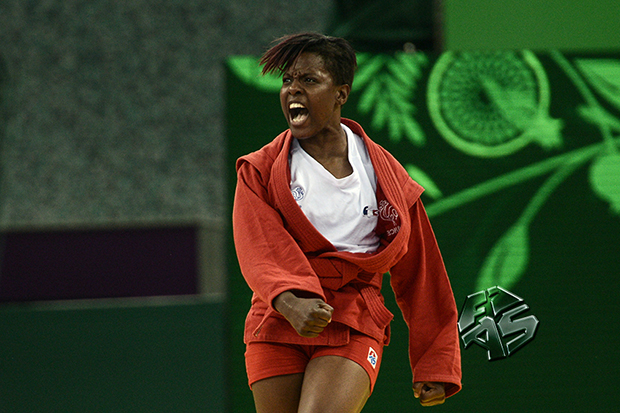 "If in the morning I felt really good and was ready to tear everyone up, after the first fight I started hating myself because I was fighting awfully bad. After a five-hour break which preceded the final it's hard to go back to the tournament. I couldn't imagine how I would do it. I said to myself: "You can't lose because your family, your country, your fans are looking at you!" And I'm very proud to have succeeded."
Elena Sayko (Ukraine), silver, 64 kg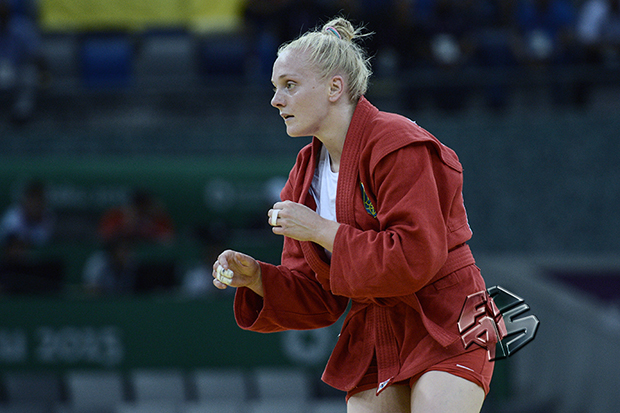 "I prepared a lot for this tournament hoping to win gold but failed. At the end of the fight I may have even injured my rival's elbow but she still didn't give up. We arrived one day before the tournament, fought in the evening and are already leaving. I would like to stay in Baku to see the city because we saw nothing except for the dining room and the sports hall. This is my second time in Baku and last time I also saw only the competitions and still do not really understand what the city is like."
Tatyana Matsko (Belarus), gold, 64 kg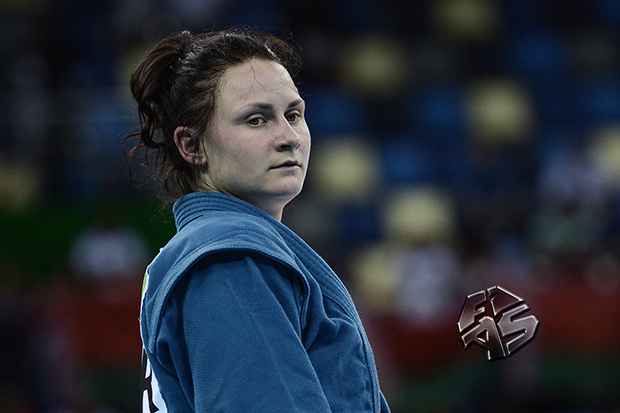 "I'm in such a state that I do not remember what techniques I applied in the final. At the end of the meeting the Ukrainian tried an armbar on me. I heard a slight crunch but gathered all my will and suffered the last seconds. There were literally 10 seconds left. This tournament was like mini-Olympic games that are sure to become the next step for sambo to the real Olympics."
Radvilas Matukas (Lithuania), "bronze", 90 kg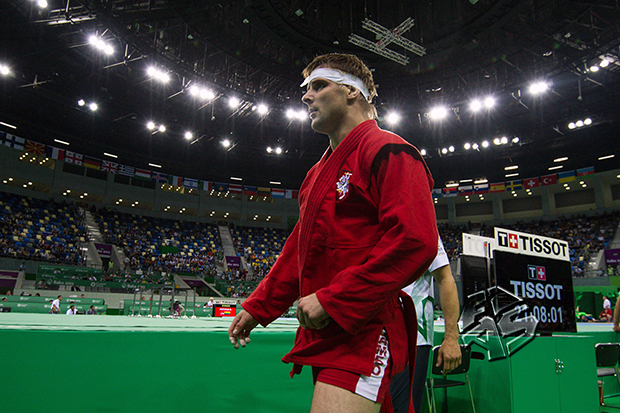 "A prize at the first such games in history: of course I'm glad I won this medal! All fights have been very complicated; I am incredibly tired but also extremely happy. "
Andrey Kazusenok (Belarus ), silver , 90 kg
"I wanted to sew my country's coat of arms on my jacket. Because at a difficult moment you can look at it and it cheers you up and gives you strength. It's nice that this time the organizers have provided such a detail on our uniform. I was at the judo competitions in Beijing during the Olympics and I can say that the atmosphere in Baku is exactly the same. And although I have serious experience I'm still nervous arriving at the Games. I tried to give 200 percent of myself fighting because if you relax for a moment you will never forgive yourself this weakness later."
Alsim Chernoskulov (Russia), gold, 90 kg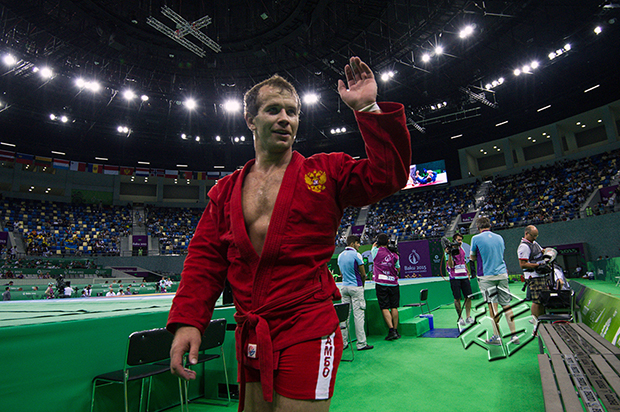 "The sambo tournament in the mark of the European Games was unique. You can see for yourself, in our weight category we had 4 world champions and in the final I struggled with three-time world champion. I want to say that as well as Anna Kharitonova I'm ready to fight, suffer and receive traumas but wait for the inclusion of sambo in the Olympics."
Céline Condé (France), bronze, 68 kg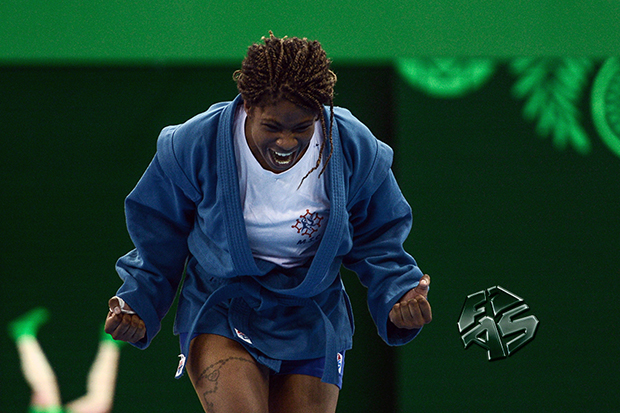 "For the French sambo two medals at the European games are an incredible achievement! I believe this will contribute to the development of sambo in our country. Sambo is a sport with a huge arsenal of tricks. In addition you can defeat the opponent by applying psychological pressure. It's all very complicated and very interesting."
Olga Zahartsova  (Russia), bronze, 64 kg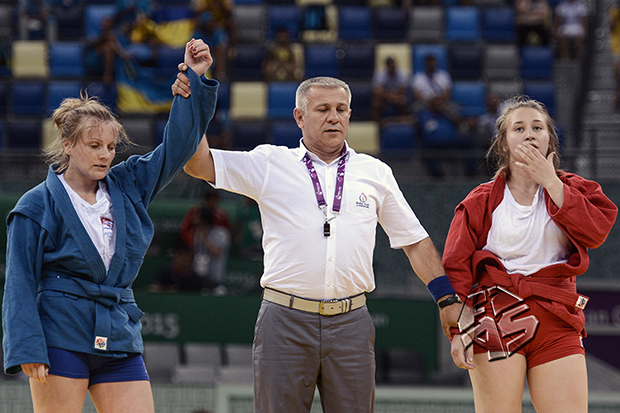 "In the semifinals I didn't fully appreciate how well the Serbian Ivana Yandrich was trained and paid for it. I really wanted to win because the rank of the tournament was high and the atmosphere here is beyond all praise."
Ivana Yandrich (Serbia), "gold", 68 kg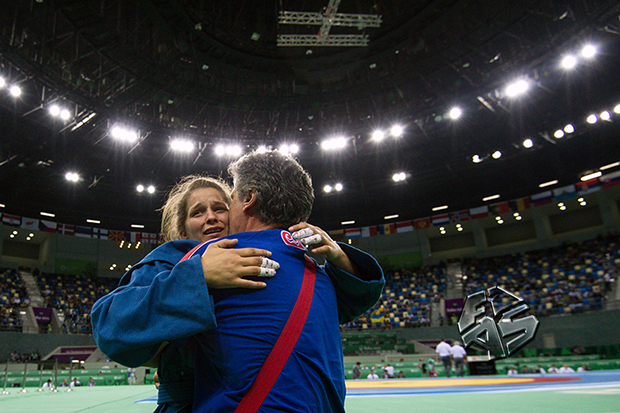 "It is difficult to convey the emotions of a person who stands on the podium with a gold medal listening to the national anthem playing in their honor and with tears of joy and happiness on the cheeks. I am very proud that I was able to win a medal in the I European Games, and in such a bitter struggle. After the victory I have not yet seen my phone and do not know who congratulated me first apart from the coach. But I think the phone is burning and tearing up from the calls and messages. My immediate plans? Celebrate my birthday with a great feast!"
Artem Osipenko (Russia), gold, +100 kg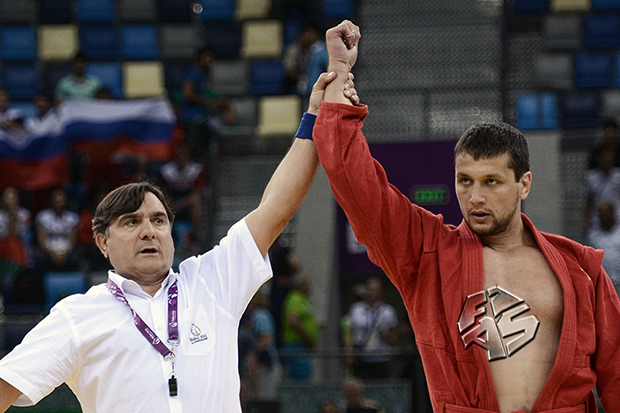 "I'm very proud to have defended the honor of Russia and brought the country a gold medal. We have proved that we are the world leaders in our favorite martial art. Sambo was presented at a competition of this level for the first time and I believe that we have made nearly the final step towards the inclusion of our sport in the Olympic family."
[Photogallery] Sambo at the European Games in Baku 2015. Finals