Joy of "Pobeda": traditional SAMBO Tournament was held in St. Petersburg
Competitions
4 May 2014
Sergei Grishin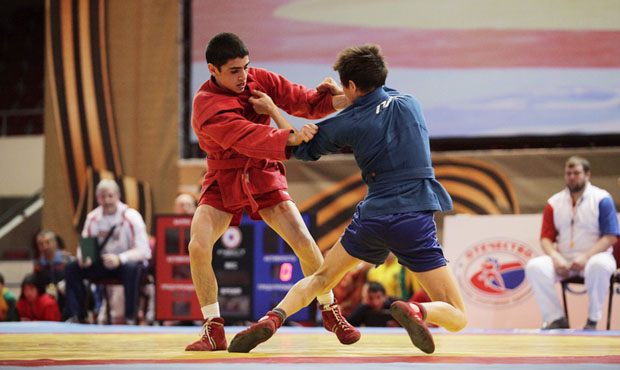 The Pobeda International Youth SAMBO Tournament was held in St. Petersburg (Russia) from 3 to 4 of May. This is the annual competitions, organised on the eve of the grand holiday – the Victory Day. The Tournament helps young athletes not only to perform and test their strength in the fights against strong opponents, but also carries a special meaning and is aimed at the patriotic education of young people from different cities and countries. This year the competitions gathered 255 participants, members of 26 teams.
At the opening ceremony of the Tournament Georgy Poltavchenko, St. Petersburg Governor, Vasily Shestakov, the President of the International SAMBO Federation, Sergey Eliseev, the President of the All-Russian SAMBO Federation, Yury Avdeev, Chairman of the Committee for Physical Culture and Sports of St. Petersburg, and other distinguished guests spoke.
– This tournament has a wonderful name – "Pobeda" ("Victory"). It is dedicated to a saint for every citizen of our country date – the Victory Day in the Great Patriotic War. Young people must remember about the feats of our fathers and grandfathers, – said Governor of St. Petersburg. Georgy Poltavchenko called succession of generations as the most important feature of the Tournament, emphasising that the best seats in the hall are traditionally provided to veterans of sports, labour and the Great Patriotic War. It should be noted that Georgy Poltavchenko has been Chairman of the Organising Committee of the Tournament for fourteen years already.
This year SAMBO athletes, representing 26 teams: from Moscow, St. Petersburg, Novorossiysk, Tula, Murmansk, Kerch, Sevastopol, Volgograd, Brest, Minsk, Smolensk, Rostov-on-Don, Anapa, Vladikavkaz, Yelets, Kovrov and others, took part in the competitions. Traditionally, the Tournament is held among the teams of the Hero Cities, Cities of Military Glory and federal districts of Russia. And this year teams of Latvia, Moldova and Finland also took part in the competitions as guests.
Traditionally, the Tournament begins with an important ceremony. Early in the morning young SAMBO athletes went to the Piskarevskoe Memorial Cemetery to lay flowers on the graves of soldiers and civilians who died in the Great Patriotic War. After that the guys moved to the Yubileyny Palace of Sports, where the fighting for awards and prizes has begun.
The Pobeda Tournament is a team competitions, athletes participate in the line fight. Emotions overwhelm guys, they root for each other, being aware of the responsibility for the overall outcome. And in this case the joy of victory is ten times stronger, because it is the quantity of fighters in the team.
As for the sports component, the final results were as follows:
Ranking among the Hero Cities teams:
1. Moscow
2. Volgograd
3. St. Petersburg
3. Tula
Ranking among the Cities of Military Glory teams:
1. Anapa
1. Kovrov
3. Yelets
3. Rostov-on-Don
Ranking among teams of the Russian federal districts:
1. CFD
1. PFD
3. SFD
Ranking among teams from foreign countries:
1. Latvia
2. Moldavian Republic
3. Finland
Superfinals:
1. CFD
2. Moscow
[Photogallery] International Youth Sambo Tournament "Victory" 2014