Results of the second day of competition of the World Sambo Championship among cadets in Limassol
Competitions
6 December 2014
Sergei Grishin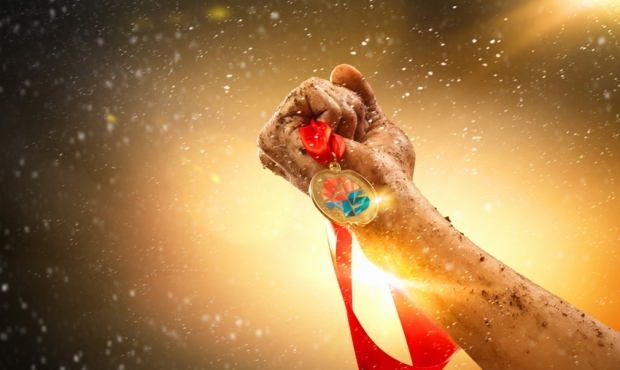 Champions and winners were named in another ten weight categories of samboists aged 14-16 years in the second and final day of the World Sambo Championship among students. Read about all the results and impressions of the tournament from some of the champions of today's competition held at the Spyros Kyprianou Athletic Centre in our report from Limassol.
The main thing was the right start
Zelym Kotsoiev of Ukraine won a landslide victory in the over 84 kg weight category with several throws with hold-down under one leg and a throw with two-leg snatch over Tajik samboist Khurshed Madzhidov. "The main thing for me was to start the fight right, to try and make my signature move and take the lead in the match. I knew if I could do it, my opponent would start to make mistakes, and I could take advantage of it. And that's what happened. The pickup is my signature move, and I practiced it a lot before this tournament. The two-leg snatch was pure improvisation; he rushed at me, and I just took advantage of the situation."
I just tried to squeeze my legs and do the painful hold right 
"I wasn't thinking about winning. The important thing was the right technique, in this case a painful hold. I was actually thinking: "Yeah, now I have to squeeze my legs and pull my hand." It worked. What's next? The Championship of Russia among boys and girls, where I'll be chosen for the national team, and try to make it to the World Championship for this age group in Riga," said Tatiana Shuyanova from Russia in commenting on her win in the final in the 48 kg weight category. 
I knew I would win today
"I knew I would win today. My confidence was reinforced by the work I did just before the start. I just said to myself: 'I've worked, I can, and I have to win today.' The challenge for the match was simple – to be on top – and I succeeded. I dedicate my win to everyone, and representatives of the International Sambo Federation too (laughs), because we're all a great Sambo family, and I want you to share my joy today and joy of all of Greece," said Greek samboist Vasili Balampashvili in his comments on his victory in the final over Russian Timur Bekmansurov. 
I scored two points and decided to hold onto my advantage
David Abdullaev, a new world Sambo champion among cadets from Russia, talked about his victory in the final over Belarusian Aliaksandr Panasenia. "I scored two points and decided to hold onto this small, but still significant and important advantage by gripping. And it worked for me. I had three tough fights before the final. I got this bruise on my nose in a match with a Bulgarian competitor, but of course the main and most difficult fight was the final. I'm very happy today."
Results of the second day of competition of the World Sambo Championship among cadets in Limassol:
Men, 74 kg                                                    
1. GLADYSHEV Petr RUS                    
2. SARKISIAN Artur UKR                    
3. OTOGONOV Asanbai     KGZ                    
3. AIDARBEK Zhanibek KAZ                    
Men, 90 kg                                                        
1. MATUKAS  Radvilas LTU                    
2. POLIANSKOV Mikhail RUS                    
3. PIPONAS Costas CYP                    
3. GULYAYEV Artem UKR                    
Men, + 100 kg                                                        
1. NAZHMUDINOV Magomed RUS                    
2. RUDELSON Gregori ISR                    
3. SHEVCHYK Oleksandr UKR                    
3. GAJIC Vladimir SRB    
Women, 48 kg                                                    
1. KHRAMOVA Anastasiia RUS                    
2. JUMABAEVA Uldaulet UZB                    
Women, 56 kg                                                    
1. ALIEVA Diana RUS                    
2. HONDIU  Daniela ROU                    
3. BLEIN Estelle FRA                    
3. STELMASHCHUK Ruslana UKR                
Men, 52 kg                                                        
1. KUBARKOV Andrei RUS                    
2. YUSUPOV  Temur  malik UZB                    
3. NOROV  Kayumars TJK            
Men, 62 kg                                                        
1. BEREZOVSKII Vladimir RUS                    
2. JOLY Cedric FRA                    
3. NAM  Hai-Milan GER                    
3. KAMCHIBEKOV Arsen KGZ        
Women, 64 kg                                                       
1. FOPA Bibiene  Makuete CMR                    
2. PANTALEEVA Tamara BUL                    
3. BODANOVA Ekaterina RUS                    
Women, 72 kg                                                        
1.ALEKSEEVA  Irina RUS                    
Women, + 80 kg                                                        
1. CHIRAC Elena FRA                    
2. ZABIC Milica SRB                    
3. AKHMEDOVA Tamara RUS                    
3. KYRYCHENKO Vasylyna-Iryna UKR
[Photogallery] World Sambo Championship among Cadets in Limassol. Day 2