Results of the second day of the Sambo World Cup for the Prizes of the President of the Republic of Kazakhstan N. Nazarbayev
Competitions
25 January 2015
Sergei Grishin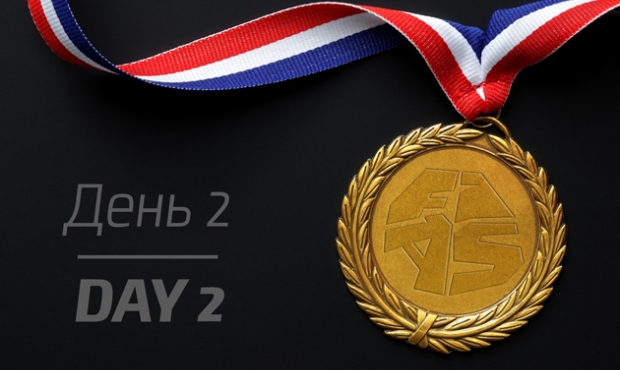 We're going to share the names of all champions and medalists of the second day of the Sambo World Cup taking place in Almaty. Besides, we'll tell you about their emotions, impressions, expectations and future plans. Read in this report who has become owners of the grand prize (a car) and other cash prizes.
Gulbadam Babamuratova, Turkmenistan, the gold medal, 52 kg 
"It happened so that I've been "free" from the first wrestle today. And overall I've had 3 wrestles (including the final one) during this tournament. I'm not the one to feel happy about this lot. Your competitor has already had one wrestle and she isn't nervous anymore while you just start the struggle. We've got an uneven playing field in this case. Notwithstanding the seeming easiness and the score 8:0, it's been difficult to win the final. I've already had one wrestle against Leila before. It's always difficult for me to wrestle against someone you know perfectly well as it's hard to surprise your competitor. My head starts of this year are the Asian Sambo Championship and the Sambo World Cup. And by the way, I like the idea of fighting till there's a difference in 8 scores; such changes in rules are really pleasing. I feel good about the idea of the fast path to victory."
Ali Kurzhev, Russia, the first prize, 82 kg, sports sambo 
"What is a coach not happy with? He's not happy with the end of the wrestle. Well, overall I'm dissatisfied with it too. I don't know why this happens  - I breathe, functionally I'm ready and I feel I can easily have 3 more wrestles, but I've got some block in my head. I don't know what the problem is but I'll surely cope with it later. I'm in a good form now (after a remark that Ali got a second wind one minute before the end). The point is that our club spent 1 month in Kislovodsk. And I can confidently say now that highlands' training is a great thing. I feel perfectly well after spending some time here. And I've received a good motivation from my coach. He knows how to do this correctly – some "right" words, loosing up my muscles when it's needed. And there's one more thing he usually does – just before going to the mat he always cheers me up flattering a bit. And this works (smiles). Have I come up with the weight category? Not yet. I'm still upon the look but frankly speaking I understand that I don't have enough weight here. But I feel well in this weight category. I don't like ground fighting; I've always thought it's too exhausting for me though I'm currently working hard, for example, at a painful hold. So in the near future you may see a different me – not only Kurzhev fighting in a stand-up fighting but also Kuzgelev who comes after a competitor in ground fighting." 
Rakhmatjon Akhmedov Uzbekistan, the gold medal, 52 kg, combo sambo
"The thing is that yesterday I participated in sports sambo in the same weight category (52 kg) and got a bronze medal. But I specialize in combo sambo. And I expected to get a gold medal here. You won't believe me but the day before a competition I dreamt that I would be the first. It was easy to fight for two days running. We've had a lot of training, and I'm ready for such loads. I'd like to thank my coach, my team who cheered for me and the president of our country who strongly supports sambo. And we try to fight and get medals for our Uzbekistan and our president (by the way, we like him very much)."
Samvel Ayrapetyan, Turkmenistan, the first place, 74 kg, combo sambo
"I was losing 3:1. But frankly speaking I believed in my victory and desired it. Probably this is the reason I got it in the end. I like ground fighting and consider a submission hold (that helped me to win in the final) to be my favorite technique. And it's great that it has helped me today as I haven't been too successful in stand-up fighting. I dedicate this medal and victory to my father, my coach and my country." 
Special tournament prizes:
As in the past year, the tournament Organizing Committee has initiated a special prize drawing among all sambo athletes participating in the Sambo World Cup.  Davit Loriashvili got the "Discovery of the tournament" prize. Akmaldin Karimov was given a cash prize "For the will to win". Asylbek Alkey received a cash prize "For the best technique". And the tournament's grand prize – a car – was given to Armon Ospanov, the best sportsman of this year's Sambo World Cup.
---
Women:
52 kg
Gulbadam Babamuratova Turkmenistan
Leila Konuspaena Kazakhstan
Zhansan Zhasyzakova Kazakhstan
Nazakat Khalilova Azerbaijan
60 kg
Ekaterina Prokapenka Belarus
Sovia Kabulova Russia
Nastasya Akipova Belarus
Zuhra Madraimova Turkmenistan
68 kg 
Olga Zakhartsova Russia
Aigerim Myratali Kazakhstan
Aelita Sherbakova Kazakhstan
Rano Uzakova Turkmenistan
80 kg
Svitlana Tsimashenka Belarus
Aliya Jikibayeva Kazakhstan
Akto Smagambetova Kazakhstan
Iulia Loseva Russia
Men:
57 kg
Akmaliddin Karimov Tadjikistan
Almaz Suleimenov Kazakhstan
Tolmas Tukliev Uzbekistan
Isatay Askanbay Kazakhstan
68 kg
Yeldos Zhumananov Kazakhstan
Nyrbol Serikov Kazakhstan
Aleksandr Matais Russia
Anton Klinov Russia
82 kg
Ali Kurzhev Russia
Ashot danielyan Armenia
Zaur Gagnidze Georgia
Denis Suhanov Russia
100 kg
Davit Loriashvili Georgia
Vitaliy Shulga Russia
Alexandr Gorbal Russia
Yauhen Siomachkin Belarus
Combat Sambo:
52 kg
Rakhmatjon Akhmedov Uzbekistan
Novruz Atayev Turkmenistan
Erkin Kylychbekov Kyrgyzstan
Asilan Rahimzhanov Kazakhstan
74 kg
Samvel Ayrapetyan Turkmenistan
Tihomir Blagovestov Bulgaria
Furkat Ruzhiev Uzbekistan
Temirlan Ishangaliev Kazakhstan
+100 kg
Martim Marinkov Bulgaria
Islomjon Azimov Uzbekistan
Kubanychbek Kokumov Kyrgyzstan
Shalkar Karataev Kazakhstan
[Photogallery] World Cup Stage For the Prizes of the President of the Republic of Kazakhstan N.Nazarbaev. Day 2