Roman Novikov: 'We are Trying to Develop SAMBO for Visually Impaired Children'
Кaleidoscope
7 February 2018
Aleksandr Solomahin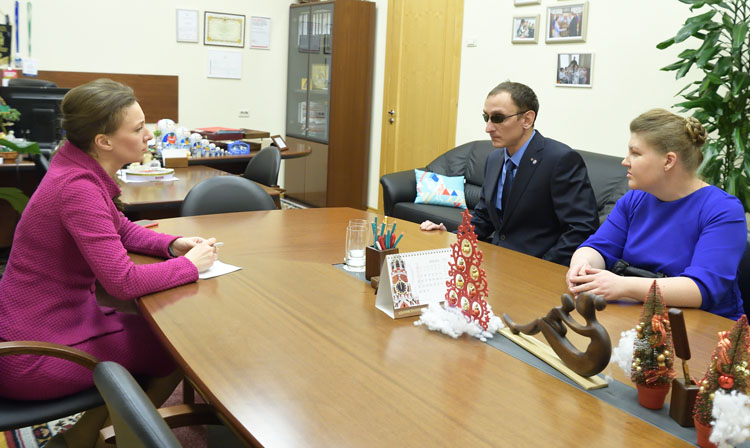 Roman Novikov, member of the FIAS Commission for Promotion of SAMBO among the Disabled, who is in charge of Sports for the Visually Impaired and Blind is confident that in time he could establish a model system of SAMBO for visually impaired and blind children that would form an international basis for working with juniors suffering from visual disabilities. He claimed this in the course of the meeting with Anna Kuznetsova, Children's Rights Commissioner for the President of the Russian Federation.
Roman Novikov appealed to the Children's Rights Commissioner for help and support in the development of SAMBO for visually impaired and blind children in Russia. He emphasized the fact that SAMBO is officially adapted for the grown-up visually impaired athletes, with special SAMBO regulations regarding sportsmen with visual disabilities having been developed and approved.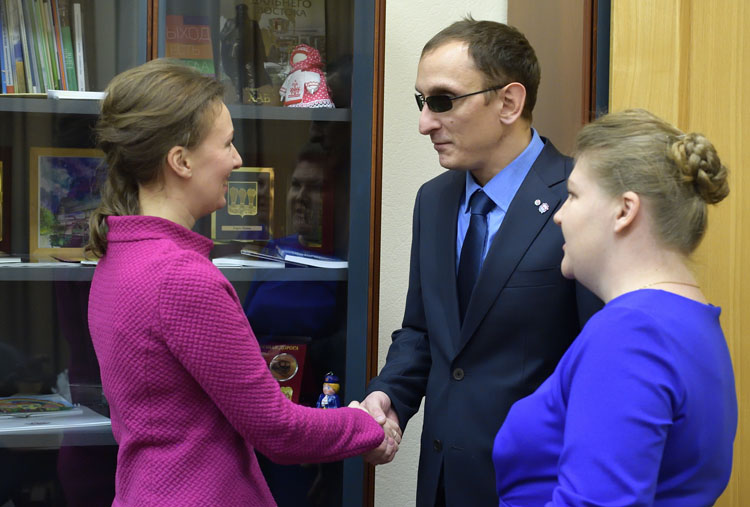 'Over years, I'm trying to develop SAMBO for visually impaired. Now we are trying to propagate SAMBO for visually impaired children by attracting boarding-school students to our clubs and by proposing SAMBO training courses in the frame of PT lessons at schools. Regrettably, the practice of coaching SAMBO at special boarding schools is still rather embryonic in Russia. Therefore, we are keen to garner your support in this effort,' stressed the athlete.
Roman Novikov is one of the leading organizers of open tournaments in SAMBO for the visually impaired in Russia. Thus, the first SAMBO Championships of Russia among visually impaired was held in May 2017, and the first SAMBO tournament in Russia among Juniors with visual disabilities was held in Tatarstan in last December. Moreover, the athlete himself has got a large family, and being a father of seven, he is quite experienced in coaching kids, so the issue of bringing physical education to children is especially close to him.
'I'm quite confident that we would achieve this goal, yet we ought to step up our efforts to involve children in sports,' argues Roman Novikov.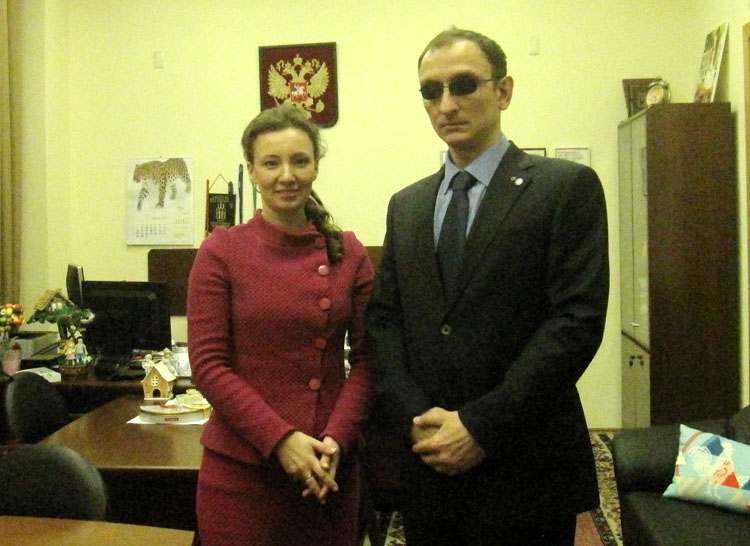 The Children's Rights Commissioner endorsed the athlete's initiative and noted the significance of the introduction of various sports into educational establishments for children with disabilities.
'What you are doing is of paramount importance. It is essential for children with disabilities who study at special schools to have a wide range of sporting activities to choose from. Besides, it is often rather compelling for graduates of such schools to find their place in adult life, and at this point enthusiasm for sports along with the caring attitude of a coach could play a decisive role,' underscored Anna Kuznetsova.