Sambo seminars in Cameroon in their pride
Federations
16 August 2013
Sergei Grishin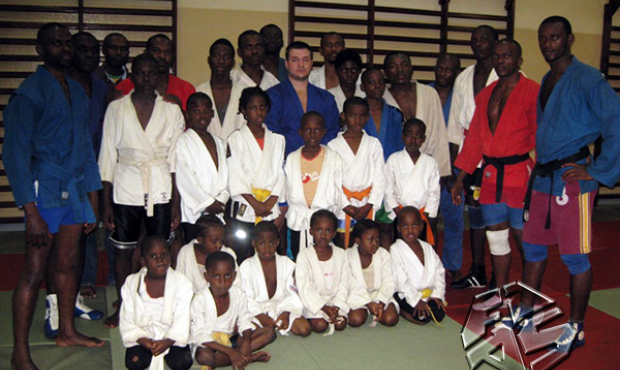 Sambo seminars in Cameroon are in full play, and Viktor Kuznetsov, master of sports and International Sambo Federation coach arrived there the other day. Our today's report will tell you some details of the present Cameroon sambo events. 
The seminars for coaches, sportsmen and referees in Cameroon started in the city of Douala, the economic center of the country which was Cameroon's capital for 6 years in the middle of the 20th century. 
The seminars held by a coach from Russia, sambo's birthplace, are a great success in Cameroon. It should be mentioned that many of the sportsmen who are now enjoying Viktor Kuznetsov's trainings and workshops and acquiring new knowledge, skills and experience will participate in the world championship in Saint-Petersburg (Russia) in November. 
Some of them, those who are 15-16 years old, will start competing in a month already. From September, 13 till September, 16 they are expected in Riga (Latvia), at the Open European Junior championship, to determine the strongest sambo wrestlers under 16. This Open European competition will be a great opportunity for them to try participating in such international championships, as the next year FIAS will hold the first World championship for sambo wrestlers of this age division. 
Viktor Kuznetsov's seminars are varied and intensive as usual: they combine theoretical courses which mostly deal with the subtleties of sambo rules and the main aspects of a sambo wrestler's training – and practice, of course: a very rich par terre, major elements, and, for advanced sportsmen, the nuances of technical holds in standing position.  
The seminars will be hosted in Douala for two days, and then will move to Cameroon's capital, the city of Yaounde. The Russian FIAS specialist's workshops will be held in the newly opened sambo club in Yaounde, "Body Fitness". 
It is nice that there are more and more sambo clubs in Cameroon, and after Viktor Kuznetsov's visit we can expect a new strong wave of interest in sambo among the Cameroonians.
Natalia Yukhareva, 
www.sambo.sport