Fifth Asian Beach Games SAMBO Tournament in Da Nang, Vietnam: interviews and winning finals of the champions on the first day of the tournament
Competitions
1 October 2016
Sergei Grishin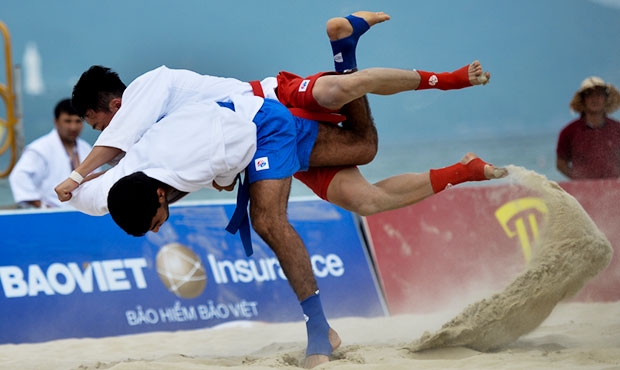 Begli Meretgeldiyev (Turkmenistan) — 62 kg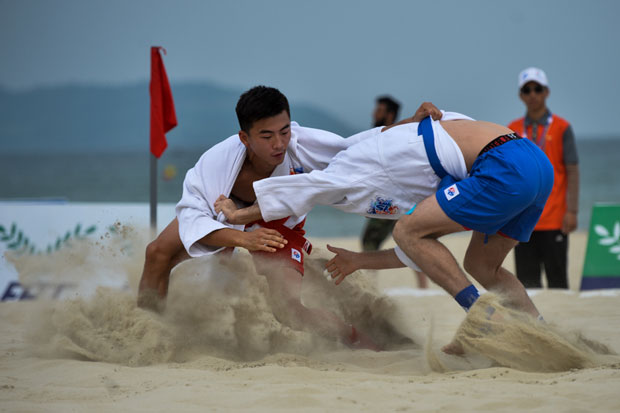 In this final, there were no throws and the winner was determined by the judge after 2 minutes according to beach SAMBO rules. The remaining minute of the fight did not change the balance of power, and in the end, the best in this weight category was Begli Meretgeldiyev.
"We trained a lot, and there were serious meetings in preparation for this tournament. Probably, this medal was a good result of this work. I am very grateful to the coaches. I was unable to throw in the final, but I followed the directions of the coaches and still won. The Vietnamese man was strong and today beat the Kazakh world champion. Of course, it was a plus that he was at home and the tribunes were behind him, but I believed in success and had already fought him, so was probably a little more sure of victory than him."
Ilkhomjon Yuldashev (Uzbekistan) — 90 kg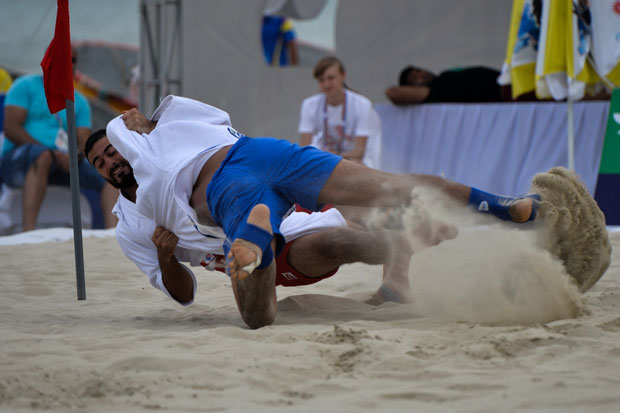 It was a very vibrant final, and Ilkhomjon only needed 10 seconds to gain the winning throw in his main fight of the day. Watch now to see how it went.
"Yes, the rules are such that a throw decides everything. I like that, it makes the fight more beautiful and faster, and therefore riskier. And in the final, that's what I needed. Sand? Well, yes, it gets in the way, but on the other hand, it's so exciting — new conditions and a new challenge."
Solongo Baatarsaikhan (Mongolia) — 56 kg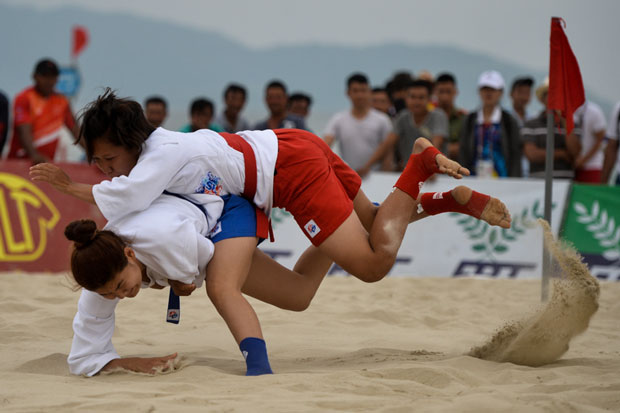 The final duel between the girls turned out to be very tense, and the Mongolian resisted the host of, let's say, the beach — Vietnam's Nguyen Thi Ngoc. And, of course, the Vietnamese, who haven't yet won gold in the SAMBO tournament, did not want to give in. But the winning throw came from the Mongolian. Watch now to see how it went.
"The rules of beach SAMBO are very interesting. Here, it turns out there is no right to make mistake here, and you don't have much time to show and display your tactics. Therefore, the more explosive, strong and fast one wins. We can say that the beach SAMBO likes the strong ones. I am very glad that I managed it today. And another thing, it is, of course, simply great fighting in such an atmosphere, by the sea, with such great organization and support from the spectators. I loved it. But, still, in ordinary SAMBO I feel more confident, and perhaps this is due to a small amount of experience participating in such tournaments. But I really liked it, and I think we will practice beach SAMBO."