Sambists Keep FIAS Flash Mob For Home Training Going
Кaleidoscope
31 March 2020
Aleksandr Solomahin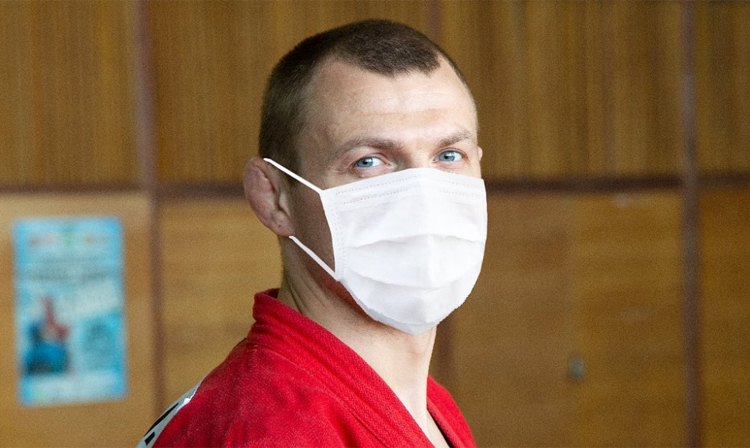 More and more sambists respond to the call of the International SAMBO Federation to exercise at home during the COVID-19 global disease outbreak. Last week, the FIAS launched a flash mob tagged "Only Together We'll Defeat The Coronavirus". The initiative was started by Chinese sambist Ge Xiaolong who in his video demonstrated how to throw the COVID-19 dummy and defeat it by using SAMBO techniques. And FIAS recommended that all sambists stay home and continue practicing there. The FIAS website has already given an account of the sambists who were the first to join this initiative; today, a new digest is brought to your attention.
Let's start with rather unusual training sessions fr om coach Vadim Kolganov. He demonstrates exercises with weights, yet his focus is on martial arts rather than on general physical training. Kolganov shows how an athlete alone can work out SAMBO techniques with this sports equipment which is not the most popular among sambists.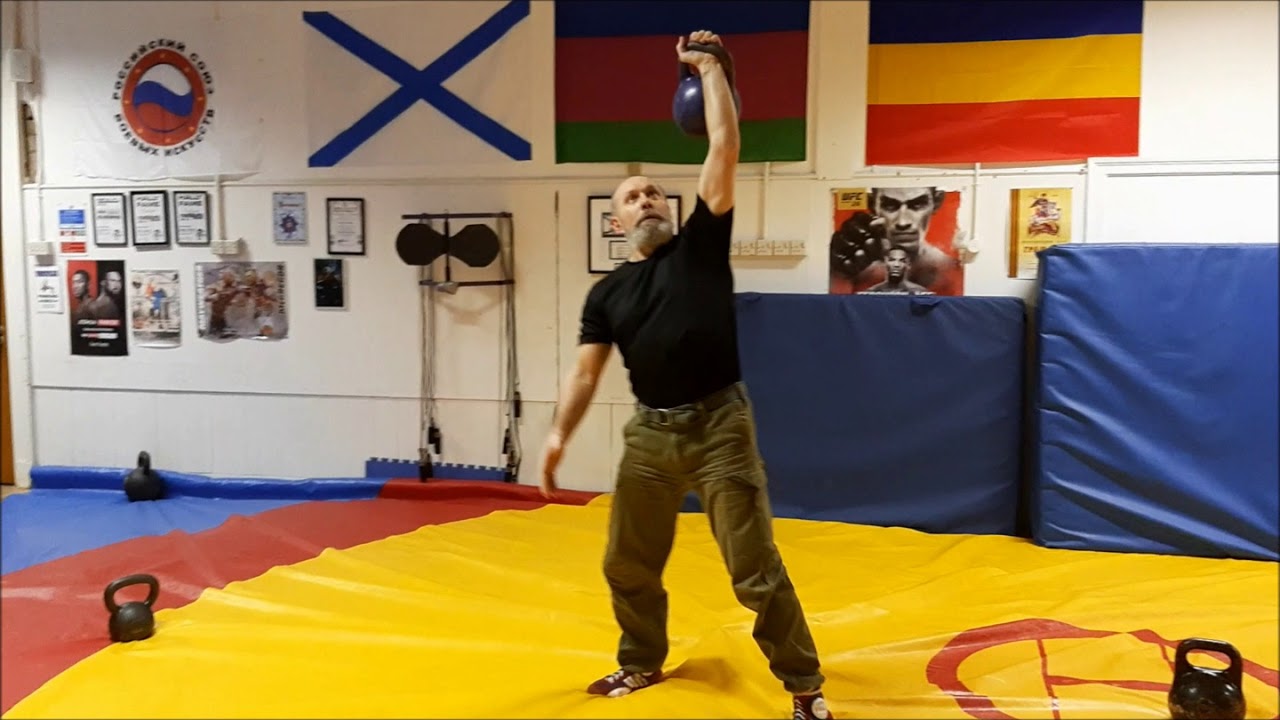 The fascinating exercises do not end there. After jogging around the house, John Clark recorded a video on how to work out with a Bulgarian bag. He demonstrates his exercises in the yard, though, of course, they can be easily performed indoors.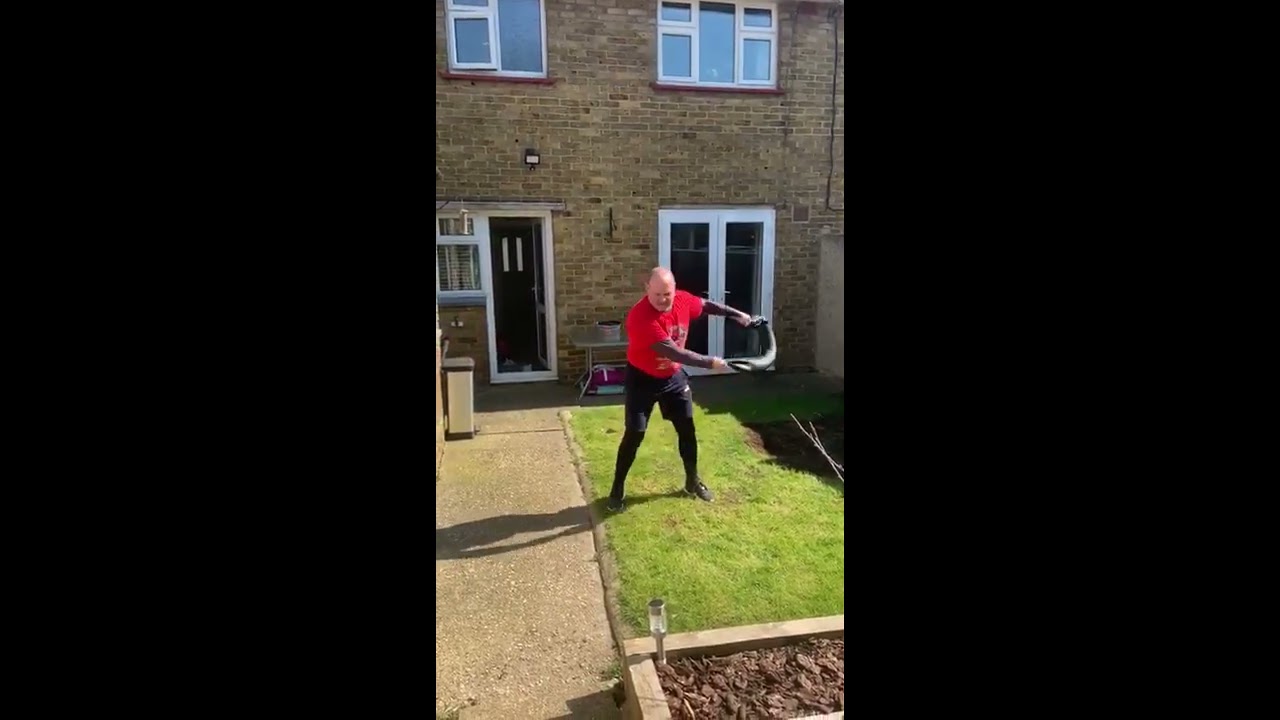 A series of videos of their domestic training sessions was prepared by sambists from the Dominican Republic. In the previous review, we already highlighted their video. Today — a few more to boot.
Venezuelan SAMBO stars Maria Guedez Sr. and Maria Guedez Jr. recorded a series of exercises that they do at home every day. Judging by their videos, the athletes are in great shape, despite the quarantine and closed gyms.
The list of spectators' interest is topped by Chinese sambists who have supported the Ge Xiaolong's initiative, in defeating (at least, the dummy of) COVID-19. Athletes from China regularly post videos in which they invent new methods of training. They not only keep themselves fit but also generate a lot of likes and views.
Tashkent sambists (Uzbekistan) appear active as well, and for the most part the younger generation. The guys exhibit their zeal and desire to practice SAMBO no matter what. The young sambists' imagination works great! You can watch all videos at @ sambo.tashkent account on Instagram.
Whereas in Kazakhstan, home SAMBO training is propagated by eminent athletes. A number of sambists who represent the national team demonstrate their activities in the context of the coronavirus pandemic. The full set is to be found at @sambo.qaz account on Instagram.
"Factory of Champions, the Cradle of Invincible Warriors" claims a description of the Colombian club «Liga Antioqueña De SAMBO». And indeed, this factory regularly cuts its trainees' home training videos. There are video pieces for every taste: @sambo_antioquia
The coach of the «Kuban SAMBO» sports school recorded for his students a set of training exercises that can be performed outside the gym. And he supplemented it with a motivating quote: "The restriction of the strong in spirit give rise to their resistance! Quarantine is not a reason to stay passively at home. To the opposite, [this] is an opportunity to test oneself, one's discipline, perseverance, and desire to improve oneself."
A sports club of Folkestone in the English county of Kent also joined the FIAS SAMBO home-training initiative. Thus, the local SAMBO coach posted a training video with the hashtag #samboagainstcovid and encouraged the children to practice at home, thereby contributing to the fight against the disease.
Azerbaijani sambist Fuad Mammadov posted on Instagram his training session on the coast. Along with his friend, they are engaged in general physical training and honing of some technical actions. It looks pretty impressive.
The Uzbek "fireman's carry-technique king" Nemat Yakubov recorded his video in the gym, although he tried to focus on those exercises that can be safely performed at home.
While some sambists are practicing by themselves or recording lessons for their students, a coach under the nickname @samboffs posted a video entitled "Time to Train My Son". Sport and family care go together well.
The Spanish sambist Yaiza Jimenez Lopez who in the summer of 2019 became the bronze medal winner of the European Games in Minsk, these days stays home in forced isolation. In the course of her domestic training sessions, she decided to concentrate on practicing par-terre techniques, and chose a guy as her sparring partner. Yaiza signed her video: "Let's keep life going on, despite the circumstances."
Members of the "Sambist" sports club of Mikhailovka, Volgograd Oblast, Russia, prefer to practice in the woods. It is not surprising, though, because there are trees to which you can attach an elastic band and practice throws and grips. You can also run crosses in the forest, which, as you know, is one of Fedor Emelianenko's favorites.
The "SAMBO-80" club's coach in Vladivostok posted a video in his account with a whole range of exercises and recommendations for training at home. In their comments, his students thank the coach and show off their achievements. In response, the coach promises to record new exercises, in order to provide children with domestic sporting activities for a week.
Romanian SAMBO idol, two-time European champion Daniela Poroineanu posted a photo of her classes in an impromptu outdoor gym. She supplied her picture with #believe hash tag, and we all understand what she believes in and what she hopes for.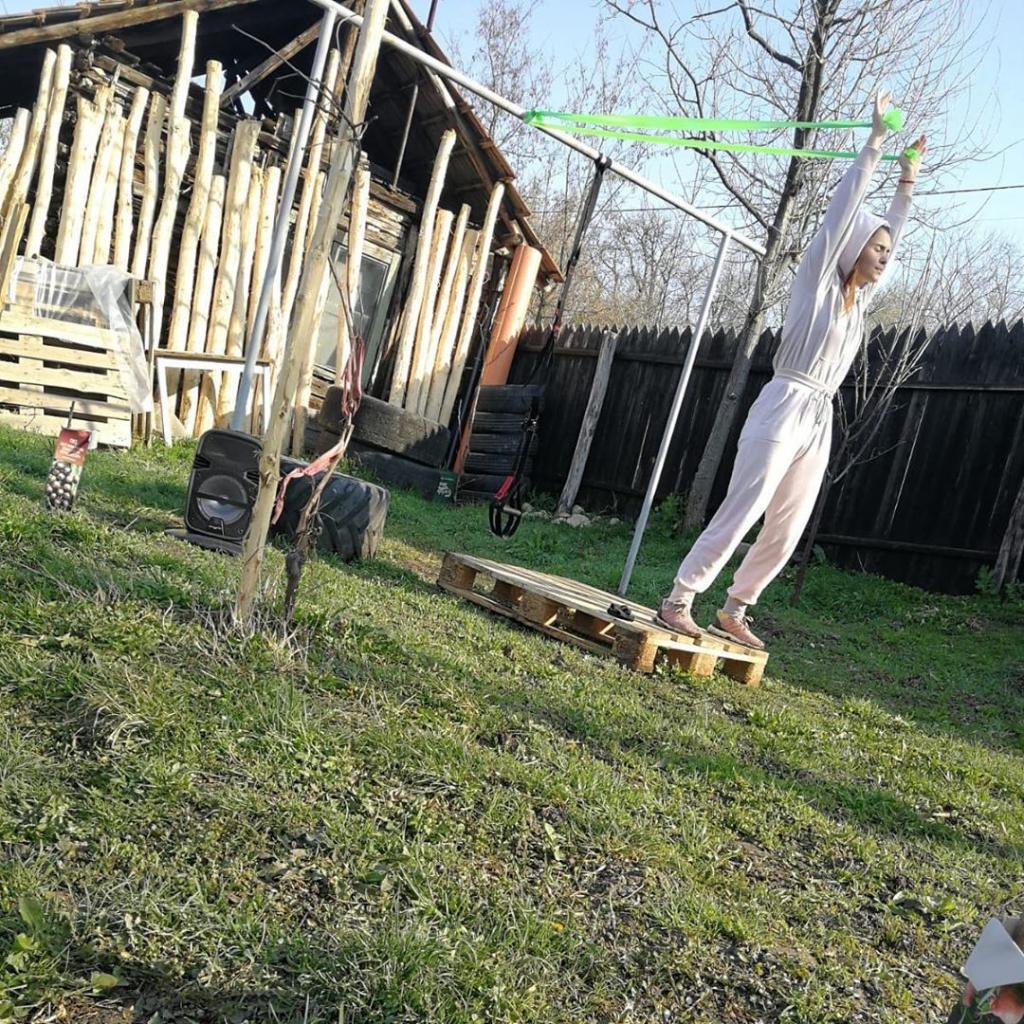 Korean SAMBO fighter Jang Jahi went to train in the park. He had chosen a place aside from the paths wh ere passers-by can still be met and engaged in practicing techniques in sparring, as well as by using a rubber band. He signed his video in Russian: "Athlete! We can defeat Coronavirus 19".
Coach Levon Matevosyan from Novorossiysk, Russia, has posted one of the cutest videos in which he is practicing SAMBO techniques with his daughter. There is a corresponding commentary to the video: "Even in seclusion you can find yourself a sparring partner! And in my case, even two, while the third one so far can act as a dumbbell. Make sports, not war!"
The World SAMBO champion, Russian Anastasia Shinkarenko is on maternity leave now, so she has long been used to training at home. The athlete teaches fitness classes, and in the present situation recommends staying home. "Go in for sports in a form that is comfortable for you! Though in conditions of quarantine, you haven't got a big choice," she remarked in her photo caption.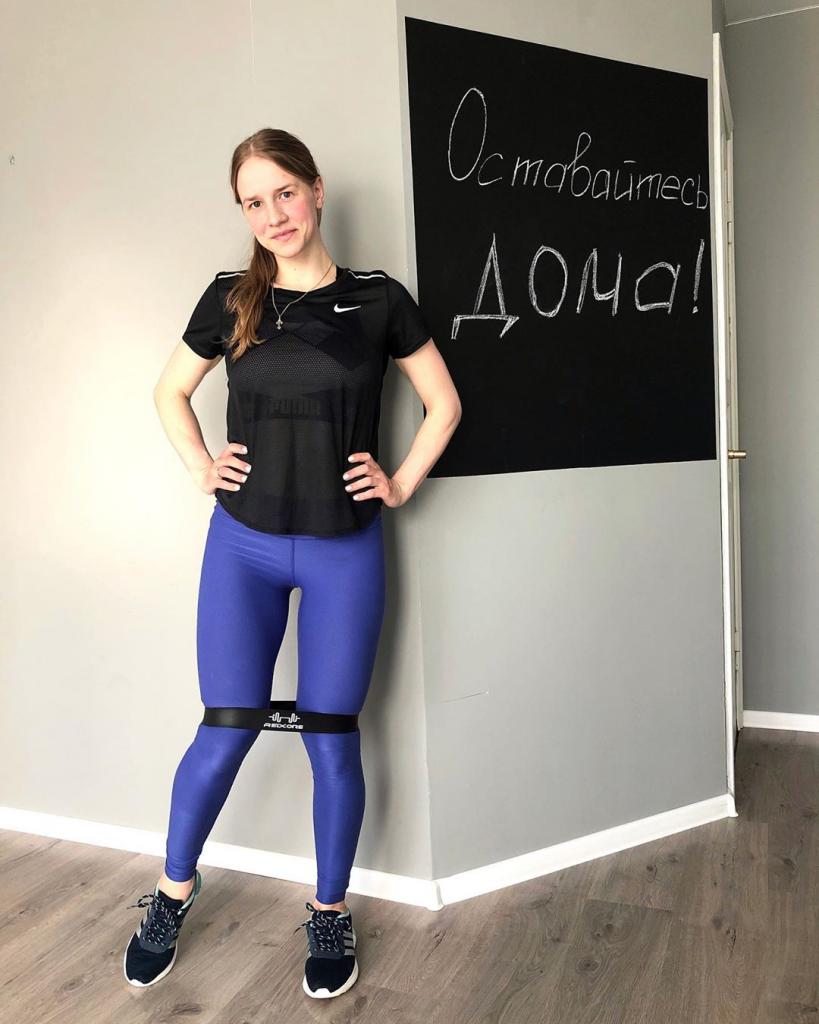 At the Ufa School of Sports and Combat SAMBO, the practice of home training during the quarantine is put on a regular basis. The club regularly publishes videos of how their members practice outside the gym. The number of their videos is so huge that we will publish only one of the latest. See more in the profile of @sambo_ufa on Instagram.
Russian World SAMBO Champion Sayan Hertek built a mini-gym in the forest and alongside his sparring partner shows an example of how one can practice SAMBO in any conditions. Training sessions in nature help not only hone the technique but also contribute to raising one's mood.
Ukrainian sambist, one of the most popular online SAMBO coaches Ivan Vasilchuk has recorded a series of video tutorials on home training. "What to do during the quarantine? You don't have to fret that the coronavirus is spreading everywhere, I propose to increase your immunity through everyday sports," said Vasilchuk in his signature to the first lesson. If you wish to watch all the videos, welcome to the @sambovasylchuk account on Instagram.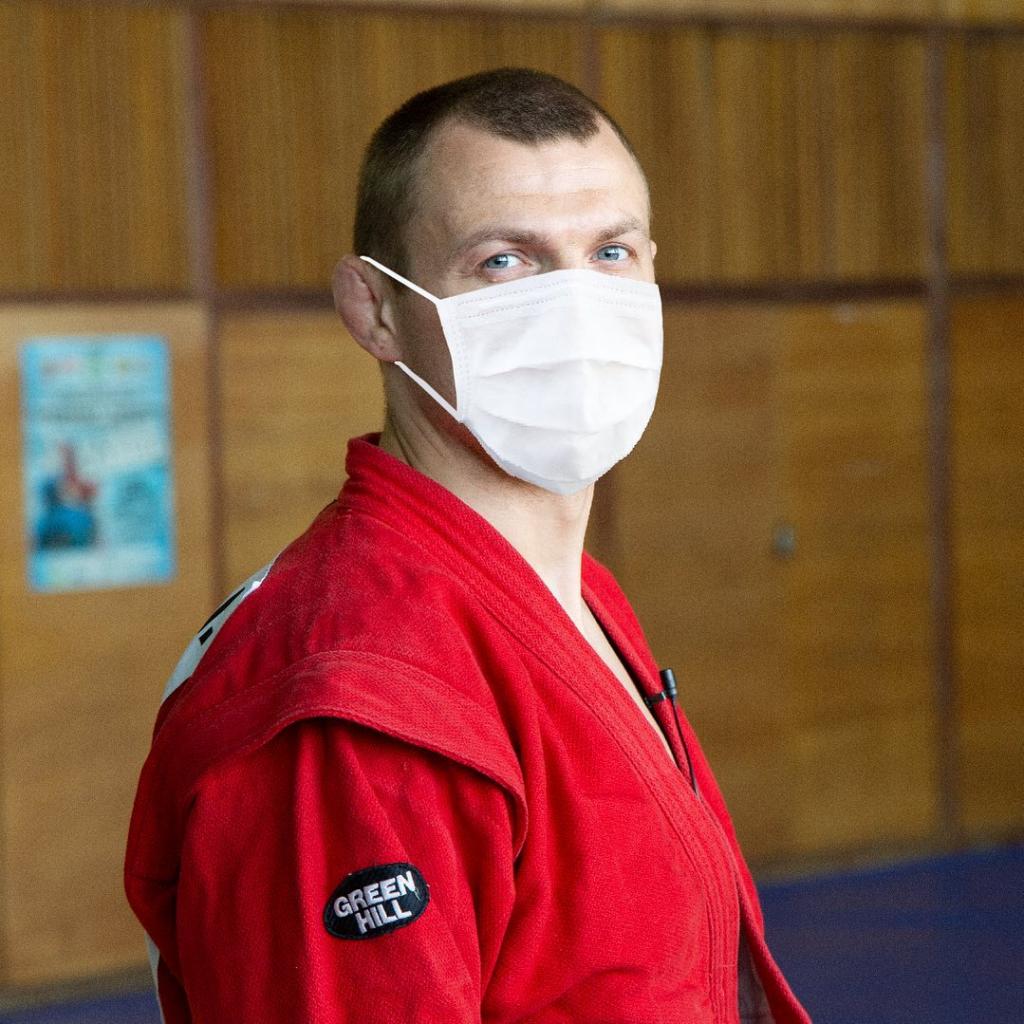 "Choose clothes that fit the weather and go ahead — to strengthen the immune system," such a call was placed in the caption to their video by members of the «Master» sports school that works in the Primorsky Krai of Russia. Training session in the open air from one of the school coaches, Vasily Kovtun, received numerous positive comments by Instagram users.
World SAMBO Champion from Georgia Nino Odzelashvili set off to exercise in the mountains. Pushing up in high altitude conditions is a good way to additionally strain your body in order to prepare yourself for further performances.
World SAMBO Champion, professional MMA fighter Vitaly Minakov also encourages everyone to stay home. In his video, the athlete and member of parliament shows how one can exercise with ease in the living room, and have fun with your child who enjoys playing your weighting agent.
[[~INSTAGRAM_26~]

World SAMBO Champion Uali Kurzhev calls for practicing sports on these impelled vacations even though you do not really want to. "It is very difficult to force yourself to do a workout during an unplanned vacation ... Especially when you are outdoors and it is much more pleasant to fry kebabs, go to the bathhouse and swim in the pool. However, yesterday night I managed to overpower my laziness and did exercises on statics. Never forget to do some stretching afterwards !!!"
The @sambo_america account has posted a video of Costa Rica sambist Reina Cordoba's work out. Apparently, the athlete has introduced her son to the exercises. The main slogan in her commentary on the video: "Stay home!"
International SAMBO Federation encourages athletes to keep on taking care of themselves during the global pandemic. Stay home for the good of your health and the health of others! And keep practicing actively while posting photos and videos on your social networks with the hashtags #trainhomesambo, #trainhome and #samboagainstcovid. We will definitely notice your publications and tell the world about you!