Sambo athletes participated in What? Where? When? game show again
Кaleidoscope
14 February 2015
Sergei Grishin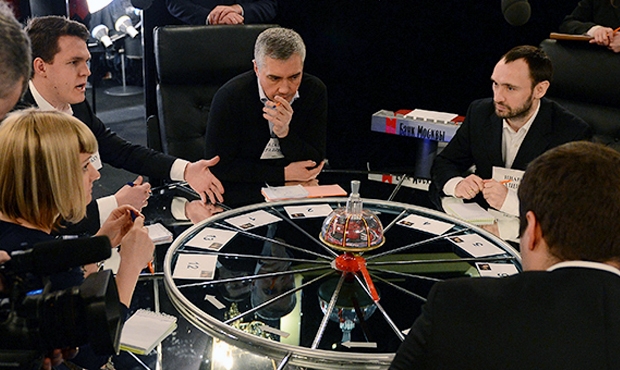 On February 14 the International Sambo Federation team participated in the intellectual game for the third time. The participants met in the well-known Okhotnichy domik in Neskuchny Garden in Moscow to answer the TV viewers challenging questions. Last year sambo athletes participated as the beginners, and now they have an experience of intellectual battle. However, What? Where? When? elite club was thoroughly prepared for the visit of sambo athletes: questions of the third game turned out to be the most complicated. 
The sambo athletes' core team formed during the two previous games. Let us recall, the International Sambo Federation team participated in What? Where? When? game show last year on June 10 for the first time and became clear winners with the score 6:2. The second game on September 22 was more difficult and spectacular, and sambo athletes-experts managed to win with the score 6:5. 
The third game started with ease and confidence: the FIAS team answered the first question ahead, and got the additional minute for further discussions. But then the situation changed and sambo athletes-experts started to lose with the score 1:3. The viewers in the hall began discussing the increased difficulty of the questions, and the experts at the table tried to overcome the game course. They managed to do so, and the sambo athletes won with the score 5:4. One would think that there was the last gasp, but the question was very difficult, and the score became 5:5. And the time for decisive question came, during its discussion the experts had 2 answers that would fit, but only one of them should be chosen. Unfortunately, the correct answer offered during the discussion was not spoken to the host, the chosen answer was not correct. That meant the first failure of sambo athletes in What? Where? When? game show.
It is well known that there is no victory without a failure. Every sambo athlete knows it. Many champions were inspired by their failures and achieved the best results. This is the way sambo athletes admitted the results and promised themselves to prepare harder for the next intellectual challenges of What? Where? When? game show. Sambo athletes are going to continue their trainings to measure their strengths in the experts' elite club.