SAMBO in Guatemala is an everyday adventure
Competitions
7 March 2013
Sergei Grishin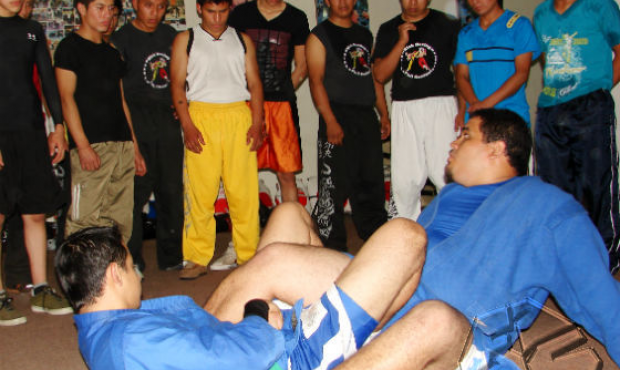 Guatemala follows the example of its neighboring countries: Salvador, Honduras and Nicaragua and joins the SAMBO family of Central America. In the middle of February an official workshop on SAMBO was held in the capital of the country. During 5 days everyone who had already become a SAMO fan had an opportunity to learn a lot of new things about this combat sport, as well as to see it in action. More than 50 sportsmen and coaches took part in this event that was held in one of the combat sports clubs TABICO Tigers which is well-known in Guatemala.
The workshop was held by Guenadi Galvertz, the President and Head Coach of the Federation of Salvador SAMBO. He has a coach and instructor diploma of prestigious Havana National Institute of Sport (Cuba). During 5 days he generously shared his knowledge and experience. He was assisted by Rene Monge Cordova and Jimmy Tabico, famous people in sports, together with distinguished MMA athlete Raul Salmenoron. SAMBO has already attracted these people and they are ready to work with this combat sport and become leading coaches of the newly-created SAMBO Federation in Guatemala.
– We are very thankful to FIAS for the support that it gives to development of SAMBO in our country where, generally, till last year there had been no SAMBO traditions at all. Today we know that we can count on FIAS cooperation and support, which gives us an opportunity to set high goals and have no doubts about their attaining, - Mr. Tabico says on SAMBO in Guatemala.
The newly-created Sambo Federation in Guatemala will promote this combat sport in two official SAMBO clubs. The first one, already mentioned TABICO Tigers (Head coach is Jimmy Tabico), is situated in the capital of Guatemala, the city with the same name as the country. The second club is situated in the oldest historical city in Guatemala – Chichicastenango. This unique place has been known since the pre-hispanic times as the largest trading centre of the Maya Empire. At this oldest centre of the country modern SAMBO will be developed by Head Coach Rene Monge.
Five productive days under the auspices of SAMBO in Guatemala were full of many things, such as meetings and negotiations with Top management of the Ministry of internal affairs of Guatemala as it had been applied to for the registration of a new SAMBO authority. The issue of SAMBO development and promotion in the country and the ways of the process optimization were discussed at the main Guatemala sports authority, the Ministry of Sport.
– As for me, Guatemala has a serious potential for SAMBO development, we liked it and we are ready to work for it. Right now we have certain difficulties but we are trying to overcome them. A month ago we participated in the unique workshop on SAMBO in Salvador where we found out a lot of new information on SAMBO thanks to the efforts of Andrey Moshanov, FIAS Development Director. Current events in Honduras are already the second step on our way to learning SAMBO and one more opportunity to get in touch with this interesting and exciting world of combat sports. For us every day is something like a SAMBO adventure, - Mr. Monge shares his opinion.
As for us, we are glad to accept one more new definition from Guatemala for our favorite sport: SAMBO is an everyday adventure!
Natalya Yukhareva
www.sambo.sport