SAMBO in Panamerica: from Trinidad and Tobago to Saint Lucia
Federations
27 September 2013
Sergei Grishin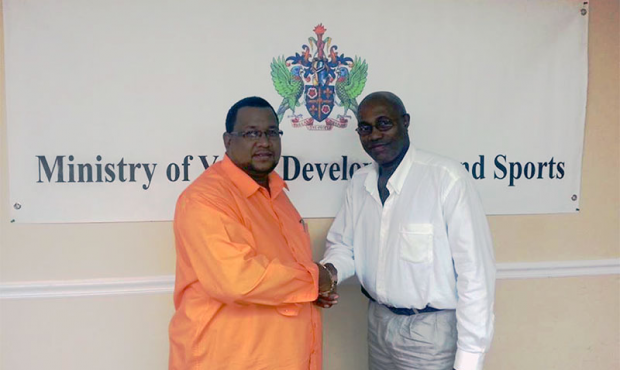 In picture: Jason Fraser, President of SAMBO Federation of Trinidad and Tobago, and Victor Reid, Sports Director of the Ministry of Youth and Sports of St. Lucia
An issue of new FIAS members – European, Asian and Pan-American National SAMBO Federations - will be on the agenda at the upcoming Congress of the International Sambo Federation held in St. Petersburg (Russia) on October 5. The most impressive number of new federations will represent the Pan-American continent. Six SAMBO Federations of the continent have already sent all the necessary documents and applications to FIAS.
Why is SAMBO developing so rapidly on the continent? There are a lot of answers to this question, but one of them appeared to be in the land of Trinidad and Tobago. By the way, SAMBO Federation of this country will also become a member of the World SAMBO family very soon. Thus, our report is about how Jason Fraser, President of SAMBO Federation of Trinidad and Tobago, with his enthusiasm, example and certain actions develops SAMBO not only in his home country but in other countries of the Caribbean region as well.
SAMBO in Trinidad and Tobago has been developing not so long, for 2 years only. For such a short period sambists of this country managed to achieve strong results. At the 2013 Pan-American Championship in Panama the national team of Trinidad and Tobago took the second place, having won a total of 10 different medals. By the way, the 2014 Pan-American Sambo Championship will be held in this country.
Both sports and organisational achievements of Trinidad and Tobago are obvious. And, of course, when we talk about achievements, we always assume that there are certain people and team of associates behind it. Jason Fraser, President of SAMBO Federation of Trinidad and Tobago, managed to gather and unite such a team, a real SAMBO family.
Anyone who sees this cheerful and smiling man catches his energy and positive mood, and many national team sportsmen lovingly call him "Daddy". He is a mentor, friend and helper for them. "The life in Trinidad and Tobago is not easy, sometimes it is hard. Therefore, I believe that sports and, in particular, SAMBO may offer us a way that will help us build our character and become people who will cope with any blow of fate and will accept any challenge. For me and my sportsmen SAMBO has become our favourite activity, an activity of our calling. That is why we have achieved great results in such a short time. It was hard to believe and imagine, but we have become one of the strongest SAMBO teams in Panamerica in just two years," says Jason Fraser.
SAMBO progress in Trinidad and Tobago lies "on the surface" and is visible to everyone, namely, sportsmen, coaches, experts. But Jason Fraser does not set simple tasks, so he decided to "infect" other Caribbean countries with SAMBO. For this reason Trinidadian sambists organised joint trainings and exercises, as well as took part in competitions in various martial arts in different parts of the Caribbean. Mostly, his sportsmen won having drawn attention to SAMBO by showing its advantages over other martial arts. Realising that SAMBO should develop, Jason Fraser also visited other Caribbean countries, he met with enthusiasts, the world of sports authorities, negotiated on the issue of SAMBO development and told the success story of SAMBO in Trinidad and Tobago which was most important. This success story told everyone that was possible in any country.
That is what happened in St. Lucia, the state which is a member of the Commonwealth of the British Isles. SAMBO has come here at the beginning of this year, when Trinidad SAMBO Federation invited several sportsmen and coaches of St. Lucia to take part in the first coaching seminar and the Open Trinidad and Tobago SAMBO Championship. That is when Thaddeus Francis from St. Lucia won a SAMBO medal in the weight category of 90 kg, the first one in the history of the state. A bit later, only six months afterwards he won the first in St. Lucia bronze medal in the continental SAMBO Championship in Panama.
It was a great result for St. Lucia, where SAMBO only starts developing. The success of the sportsmen was continued by the leaders: a group of enthusiasts decided to create and establish SAMBO Federation of St. Lucia on the island. This fact was decisive and important for the Ministry of Sports of St. Lucia. Organisational and sporting achievements of sambists were noticed and SAMBO has been approved and recognised by the National Ministry of Sports of St. Lucia.
This is how SAMBO came to St. Lucia from Trinidad and Tobago.
Natalia Yukhareva
www.sambo.sport