The national team of Russia won the Cup of the President of the Russian Federation for the sixth time
Competitions
9 September 2012
Sergei Grishin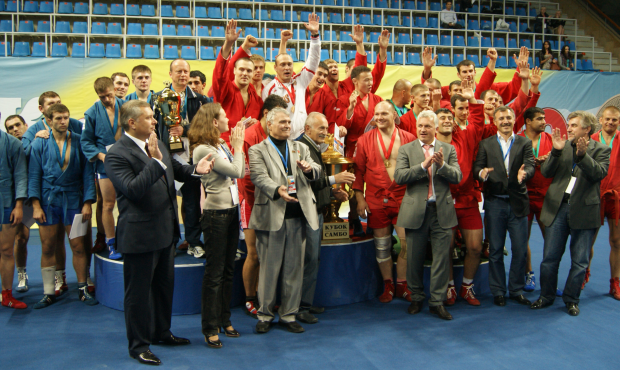 During the final the Russians proved to be stronger than the Belarusian team which eventually came in second. The sambists from Ukraine scored third on the podium.
Representatives of 8 teams, currently leading in the FIAS world ranking, were supposed to get together for the tournament held on September 8 in the Druzhba Palace of Sports in Moscow. The national team of Venezuela became the only exception, which gave up the Cup of the President of the Russian Federation in SAMBO. The sambists from Armenia participated in the tournament instead.
The acute struggle for an honorary prize predictably took place between the national teams of Russia and Belarus. The team hosting the tournament with no trouble won the preliminary round, confidently claiming two victories over the national teams of Armenia and Kazakhstan. The Belarusians started with a whitewash victory over South Korea, and then had a tough struggle to get ahead of the Ukrainians.
All in all, the final was a traditional one for this tournament. The "frenemies" Russia and Belarus again competed for the Cup of the President of the Russian Federation. The beginning of the match occurred to be equal, however, the Russian sambists then took the lead and managed to fight out for the sixth time in the tournament's history. The final score was 7:2.
Earlier, the national team of Ukraine surviving close competition came from behind to beat Kazakhstan and won third prizes in the competitions. This time the game ended in the team total of 6:3.
Final team ratings:
1. Russia
2. Belarus
3. Ukraine
4. Kazakhstan
5. Armenia
6. South Korea
7. Moldova
8. Tadzhikistan