Seon Adhar: "I won in MMA – and want to win in SAMBO"
Federations
11 September 2013
Sergei Grishin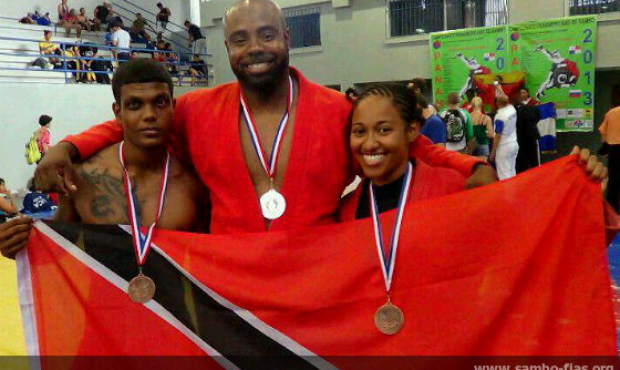 Expecting the start of events of the International Sambo Federation's SAMBO calendar, namely the World Championship in Greece and the World Championship in Russia, the FIAS web page narrates about different ways and methods of training chosen by SAMBO athletes of the world in order to win planetary forums' medals in October and November. These ways are different: seminars, mountain training, joint training with representatives of other martial arts and so on and so forth.
As we previously mentioned, SAMBO athletes from Trinidad and Tobago gain experience in technique and tactics at the joint training camp with wrestlers and representatives of Mixed Martial Arts. Thus, in August the SAMBO team of this country had a training camp of such a kind in Brazil. Our today's report covers training details of Seon Adhar, one of the representatives of the SAMBO national team of this country, a bronze medalist of the Pan American Championship 2013 and winner of the Trinidad and Tobago SAMBO Championship this year.
This young man is only 20. 6 years ago Seon came to the coach Kerry Grant, who has been teaching martial arts and combat sports for almost ten years at the Southern Warriors of Mixed Martial Arts School in San Fernando. At that time he was a thin boy and approached his future coach with the request to teach him to fight (then he thought that it was not reasonable a priori because of his delicate figure). Grant answered: "I will not teach you to fight but I'll teach to feel confident and powerful. The rest will come along". These words became the start for sports wins, victories of mind, and afterwards victories of body. The coach was patient and persistent; the trainee was industrious and obedient. So the results were soon to come.
In 2011 Seon Adhar achieved the right to participate in debut for him prestigious wrestling of the MMA tournament, which he unexpectedly won in an excellent and impressive manner - just within 20 seconds. The first resounding victory in the Mixed Martial Arts Tournament increased motivation, desire and working capacity both in the athlete and the coach. Their training continued and victories in different tournaments in kickboxing and grappling followed one by one. One year ago their sports life enriched with SAMBO. The thing is that in 2012 the FIAS Development Department Director Andrey Moshanov visited Trinidad and Tobago, where he held SAMBO seminars for coaches and athletes at the Southern Warriors of Mixed Martial Arts School. The seminars achieved great success in Trinidad and a lot of fans of martial arts of this country liked SAMBO.
Serious results of athletes from Trinidad and Tobago in SAMBO appeared rather quickly thanks to hard training and strong motivation of athletes and coaches. One year later in June 2013 the SAMBO team of this country won the second team place in the Pan American Sambo Championship in Panama. Representatives of the Southern Warriors of Mixed Martial Arts School won for their country 3 medals at that prestigious tournament. Kerry Grant (an "on-the-field coach") took the second place in the weight category of 100 kg in combat SAMBO, and his athletes – Sherisse Subero (52 kg) and the main character of our report Seon Adhar (52 kg, combat SAMBO) won bronze medals.
At present time they prepare for the SAMBO World Championship in Saint Petersburg. One of the training stages for the main character of our report became the prestigious MMA tournament "Broken Tridents Championship" in Barbados, where he was invited by the ММА National Association of this country.
On August 31 Adhar won his combat against Marlon Remiz from Barbados (who was actually almost 10 kg heavier and 15 cm taller than Seon): he managed to do it in the first round and it took one and a half minutes only. Furthermore he demonstrated clever tactical wrestling and perfect mat wrestling. That victory, on the one hand, is a very important step for his competitive carrier in the ММА, where the most sacred but really achievable objective is the participation in the prestigious championship of the Ultimate Fighting American League – Ultimate Fighting Championship (UFC). On the other hand, it's great experience and an opportunity to give a try before the start of combat SAMBO within the world championship of this year.
"Effective and diverse mat wrestling and wrestling position are particular things were taken from SAMBO by Seon and allowed him successfully participate in the MMA tournaments. But at the same time I am sure that there is inverse dependence. The mixed martial arts tournaments, in which Seon takes part, can help us to become stronger in SAMBO too. After impressive and important for us victory in Barbados all our efforts are focused now on preparing for the SAMBO world championship in November in Saint Petersburg. Though we started practicing SAMBO some time ago only, SAMBO is booming in Trinidad and Tobago. In my opinion, the reason is that this kind of sports due to its rich technique gives athletes and coaches an opportunity to constantly develop and progress. SAMBO is martial arts, which constantly challenges and gives the opportunity to realize the potential and improve. Improve in all aspects: in technique, in sportsmanship, in strength of mind and nature", told Kerry Grant.
The world SAMBO issued a challenge. Very soon athletes from more than 50 countries of the world practicing this kind of martial arts will take up this challenge in Saint Petersburg. In less than two months the best of the best SAMBO athletes will fight for the medals of the world championship 2013.
Natalia Yukhareva
www.sambo.sport