Slovenian SAMBO athletes improve their skills under the care of FIAS
Competitions
21 February 2013
Sergei Grishin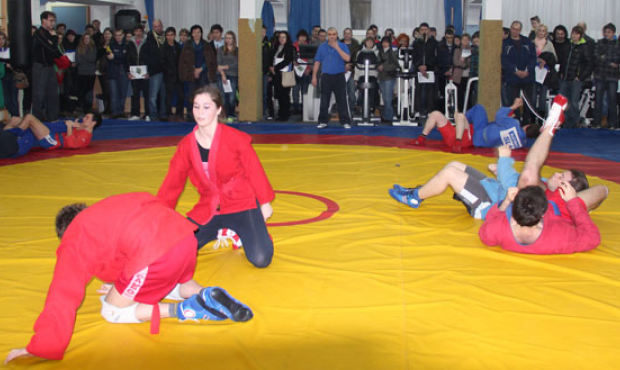 Slovenia is truly considered to be the country of first class sportsmen. According to the analysts' data, it takes one of the first places in the world when speaking of the ratio of the population of the country to its successes in sports. During the most prestigious competitions of modernity – during the Olympic Games – the total number of medals won by the Slovenian sportsmen is 73. Among combat sports the absolute leader in the country by popularity and development level is judo. Slovenia even has 2 Olympic medals won by judo women from this small European country. And what about SAMBO?
The National SAMBO Federation of this country is recognized by the Olympic Committee of Slovenia and is developing very quickly. The international tournament Grand Prix of Slovenia is held in the country annually. It is also necessary to mention that Slovenian SAMBO leaders in the near future are aiming at holding serious events of the FIAS sporting calendar. To be more exact, in 2015 Maribor is seeking to become the capital of the World Youth individual championship and Slovenia has already applied to FIAS for staging The World Championship among adults in 2016.
This is what is connected to the organization of championships. As far as the results of the performances at continental and world individual championships and competitions are concerned, there is nothing Slovenia can boast of. In 2012 SAMBO athletes from this country didn't manage to win any medals at all at the championships of such kind.
In order to change the existing situation by improving the level of coaches, as well as the level of sportsmen, FIAS sent to Slovenia famous coach and sportsman Sergey Gromov for holding seminars. He is a six-time world champion among masters and alumni of the legendary Russian school SAMBO-70.
For ten days in Slovenia Sergey held seminars on SAMBO not only for the national team of this country, but also at Maribor educational center where specialists on state and private facilities security undergo training.
Pupils from several Maribor general education schools got to know SAMBO, as well. Experience of the Russian in introducing SAMBO to the school curriculum, even though not in all Russian schools is interesting to the Europeans and Sergey's exhibition performance at Slovenian schools become another impulse for introduction of this practice in Slovenia.
On February 17 the National individual Midget and Youth Championship was held in Maribor. That tournament was qualifying for European individual championship in April among sportsmen and sportswomen of this age that will be held in Limassol, Cyprus.
The youth team have already been selected and quite soon sportsmen will get a chance to struggle for the medals of the youth individual championship, as well as to prove that in February they worked diligently and carefully at the seminars of the famous master of SAMBO.
Natalya Yukhareva
www.sambo.sport