Watch Sambo and Get the Prizes 2014. Day 3
Кaleidoscope
23 November 2014
Sergei Grishin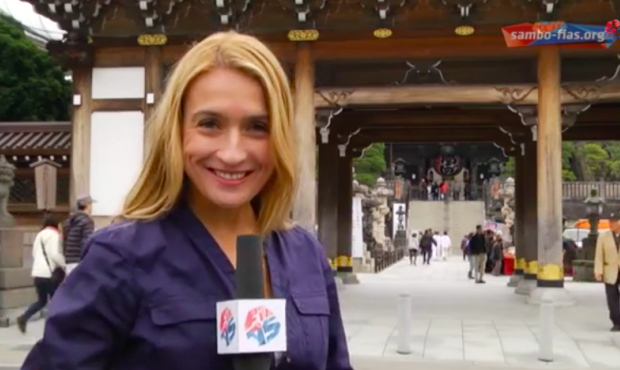 Today is the third and the last day of the Sambo World Championship in Narita (Japan). And it means that you have the last chance to win the prize from the champion in our Watch Sambo and Get the Prizes contest. The yesterday winner was identified already and soon will gain his merit prize. But today we have the new one. Watch the broadcast on the FIAS website attentively and guess the winner's name in weight category of up to 82 kg among men in sport sambo.
In order to participate in this contest, you have to be subscribed to the FIAS video channel on YouTube and leave your answer in comments to this article. You can vote up to the start of the first fight of final competition part of every day. You have to watch broadcast attentively to make the right choice!
The medal winner will choose the winner of this contest, instead of the computer program as it was last time. Right after the medal ceremony, we will offer him/her to pronounce any number for 1 to X (the quantity of the right answers). The user (the happy owner of the right answer) will get a special prize with the champion's signature for whom the user voted. The contest winner will obtain the signature after the medal ceremony, and we will capture this excited and pleasant moment on video.
November 23, 2014, Sambo World Championship, Sport Sambo Competition in Weight Category of up to 82 kg among Men, Participants:
CONLEY Travis Michael (USA)
LEE Kwang Min (KOR)
ROGE KER Jimmy Gabriel (SEY)
GAN Tuvshinjargal (MGL)
STSEPANKOU Aliaksei (BLR)
PRIKAZCHIKOV Vladimir (RUS)
HUSEYNOV Jeyhun (AZE)
POLIVKIN Dimitri (ISR)
KUCIA Niko (GEO)
SURENDER Kumar (IND)
TEJENOV Tejen (TKM)
DOUSSE Cedric (SUI)
ABU RAMAILEN Abdel Rahman (PLE)
SAVINOV Viktor (UKR)
RAKHMONOV Ulugbek (UZB)
MATUKAS Radvilas (LTU)
BAXAN Grigore (ROU)
SADOU Aboubacar (NIG)
TOROI Mika (FIN)
OSHLOBANU Sergiu (MDA)
UEDA Tatsuhiko (JPN)
FADHL MOHAMMD Salen Abdullah (YEM)
DANIELYAN Ashot (ARM)
MICELI Alessio (ITA)
FRYDRYCH Michael (AUS)
OULHAJ Marouan (MAR)
PANDOO Ravisen (MRI)
BATYR Mukatayev (KAZ)
IVANOV Ivaylo (BUL)
MORI Thibavt (FRA)
MARTINES Francsco Bruno (ESP)
ADIL ULUU Kurmanbek (KGZ)
OLIMOV Shuhrat (TJK)
The winner of the second day of the competition and the owner of T-shirts of the World Sambo Championship 2014 autographed by world champion became Anastasiya Shinkarenko. She was fifth who made a bet that the world champion in the weight category up to 64 kg among women will become Israel athlete Alice Schlesinger. The champion by himself decided that the prize would get to the fifth person who gave the correct answer. Here's, how it happened: