Stepan Popov: "SAMBO is a kind of sport where doping is not a solution"
Anti-doping
29 May 2017
Sergei Grishin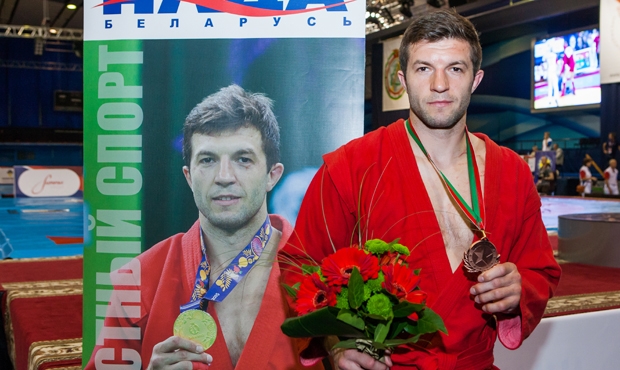 The FIAS Ambassador for Fair Play, Belarusian SAMBO athlete Stepan Popov in an interview to FIAS website told about the inadmissibility of doping in SAMBO, bringing up a worthy replacement after himself, and shared the universal secret of victory for all SAMBO wrestlers.
– I believe that in any sport, everyone should have an equal chance - without doping, without any drugs that help in training. Therefore, I fully support the fact that FIAS commonly test the athletes and make doping control, and also regularly carry out actions aimed at promoting of "clean sport". When everybody performs on equal conditions, this is correct.
It's hard to say for what doping can be used in SAMBO, as I've never taken anything like this. But, probably, if at competitions one athlete after the fourth bout is already exhausted, and another sportsman has taken some prohibited drugs and feels fresh, then, apparently, he will have more chances. But this is not fair either in respect of the opponent, or in relation to himself.
– What would you recommend to all SAMBO wrestlers to stay "clean" in terms of doping?
First of all, correctly lead your training program. Do not hope for any miracle drugs. Moreover, SAMBO is a kind of sport where doping is not a solution, there is the technique which means a lot. It is better to train as much as possible, improve and delight the audience with beautiful performances. Let everyone know that SAMBO is a beautiful sport without doping, and it's a pleasure to watch it.
– How do you usually prepare for competitions?
– Considering that I need to control my weight, I begin to prepare the body two weeks before the competition. It is necessary to exclude certain foods and maintain the ration. I do not have any strict diets. If everything is composed correctly, then the weight goes away fast in last two days and you can go to fight. I have no problems with weight loss and training in the hall. The most important is that the injuries are not disturb.
– Stepan, do you share your experience with the younger generation?
Sure, I try to share all my knowledge and skills. Young boys always find what to ask me, and I often make a demonstration for them with pleasure. I try to be a good example for them showing interesting tricks. It brings something interesting to my work and gives a good motivation.
It's not a secret that over time, there are moments when it seems that everything is boring, and becoming monotonous. But when you see that the younger generation is actively interested in SAMBO and asks for your advice, this becomes an additional motivation. I would like to see a worthy replacement, somebody who will supersede me, and then I will come to support him on the competition.
Always, especially at major competitions, there is a feeling that they are watching you. You should try to be an example for the others, even in small details: how you are getting out on the mat, how you behave during the fight ... Sometimes it is better to keep your emotions, even if everything is boiling inside. I would not like to see my favourite sportsman doing some ugly things. That is why, each SAMBO athlete must behave properly.