Margarita Filippova: "I must have hit the opponent in the ear, but that wasn't intentional, honestly"
Personalities
28 May 2016
Sergei Grishin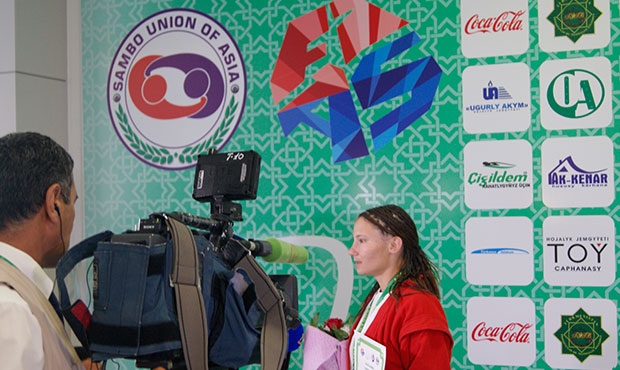 The champion of Asia in sambo in the weight category of 48 kg among women has given to the FIAS's site a short interview right after the ceremony. By the way, Margarita's final bout proceeded ambiguously, she was losing to an Uzbek sambo wrester 4 points (for a throw), and a minute before the end of the meeting Nodira Gulova after Filippova's attack on the ground (she was doing a painful hold on her arm) grabbed her ear and announced to the judges that because of an injury she can't continue the fight. As a result, Filippova is on the top step of the podium, while Gulova came only second.
"To be honest, I've been doing a lot of dieting, seven kilos to lose are a lot. It's due to the fact that two and a half years ago I gave birth to a son, Vsevolod, and fed him for six months, then I began performing again, the first competition was in the mark of the Asian Games-2014. It's been long since, but I still can't get back to my ideal weight.
The husband was sitting in the hall and supporting me, but my son, unfortunately, fell ill and never saw his mother's victory (smiles). In 2014, I performed at the World Sambo Championship and I have a great love for martial arts, in 2015 I participated in a judo tournament, in 2016 participated in competitions in jiu-jitsu.
What to say about the finale? I think I hurt her, hit her accidentally or something, I don't know. Most likely, it happened when I was doing the painful hold. But, honestly, it wasn't my intention to hurt her".