Universiade in Kazan: meeting of FIAS authorities with FISU President
President
15 July 2013
Sergei Grishin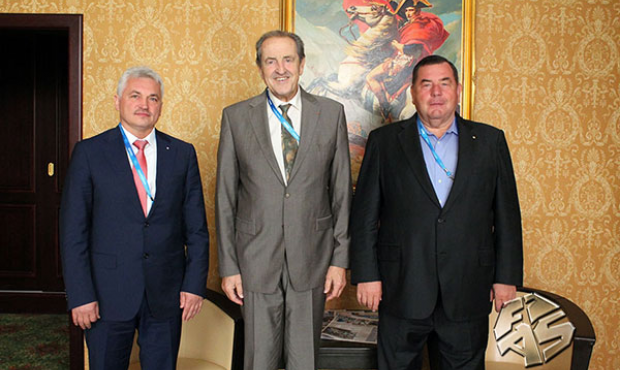 A working meeting of FISU President C.-L. Gallien with FIAS President Vasily Shestakov and FIAS Vice-President Sergey Eliseev took place in Kazan today. The major issue of the negotiations is SAMBO permanent "registration" at the International Summer Universiades and FIAS admission to FISU. The results of this meeting that is so important to sambo athletes are available in today's article.
The meeting with the main person in the world of student sport was held in a friendly atmosphere and started with the words of gratitude that Vasily Shestakov addressed to C.-L. Gallien, "The sambo competitions in Kazan are held under ideal conditions. Everything, including the hall and conditions for all participants of sambo fest, is organised in a highly professional and spectacular way. Our specialists learnt a lot and grew professionally during preparation to the Universiade while working in close contact with FISU representatives. I would like to express special gratitude for that. "
The subject matter of the discussion, as scheduled, was an opportunity for SAMBO to be included into the calendar plan of FISU sport competitions. Next student competitions will be held in South Korea, the number of sports included into the official programme of this event has already been determined as 24. But host country, as usually, has the right to include 3-4 additional sports into the programme. FIAS authorities offered to use this opportunity to SAMBO.
In the process of FIAS and FISU relationship development in the near future the International Sambo Federation will have to send an application to FISU for the World SAMBO Cup among students and to provide necessary number of participating countries. It is necessary in order to receive high FISU patronage for this sambo tournament. The next objective (and it turned to be quite a real one during the meeting) is to hold the World SAMBO Championship among students in the near future and it will also be held under the FISU patronage.
C.-L. Gallein also got interested in SAMBO opportunity to participate in the new format competitions that is to say competitions among different student Leagues in different sports. A league should include 14 world leading universities.
FISU President noted that within the framework of the Universiade in Kazan SAMBO is represented by 45 countries and 450 athletes, which is quite impressive. Vasily Shestakov spoke on FIAS work on the way of student SAMBO development, "Students are our future that is why we pay special attention to the development of student SAMBO. Many institutes and universities worldwide already have and are still opening SAMBO Departments. Our latest achievement is inclusion of SAMBO as specialisation in the University of Trinidad and Tobago."
At the end of the meeting all its participants exchanged their wishes that were connected to student SAMBO grand future.
Natalia Yukhareva
Photo by Renat Mizunov
www.sambo.sport