Emphasis on studies in the Nicaraguan style
Federations
2 June 2014
Sergei Grishin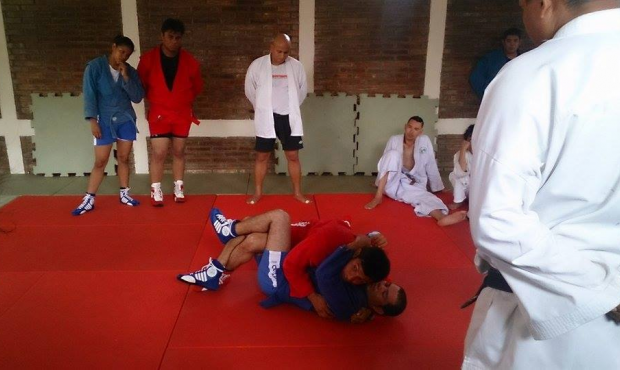 Last day of the spring became the date of conducting this year's first SAMBO seminar in Nicaragua. Athletes and coaches gathered at their traditional place – the University of Central America in Managua – to learn the basics and subtleties of SAMBO. This seminar can be regarded as the start of local SAMBO athletes' preparation for the nearest tournaments in Pan-America.
Recall that in July in Venezuela the World Cup in memory of A. Astakhov will be held, and in August the strongest Pan-American SAMBO athletes will gather at the continental Championship. That's why the teams participating in these upcoming events are actively preparing for them in various ways. The FIAS website has already informed about the Championships and organisational troubles in some countries. SAMBO athletes from Nicaragua have also chosen their walk in life.
The athletes Masaya, Granada, Chinandega, Managua and Karazo gathered at SAMBO seminar at the University of Central America. Jose Lanuza, Byron Talavera and Miguel Lopez served as coaches at the event. Amaru Canales, Sports Director of the University of Central America, as well Carlos Perez, the President of the National SAMBO Federation also attended the seminar.
Passion for SAMBO in Nicaragua is combined with an avid desire to learn. It is Nicaragua became the place where last year coach Vladimir Dutov worked for several months preparing local SAMBO athletes for the World Championship. The acquired knowledge was enough for a decent performance, but significant results were not achieved at the global Forum. Now the Nicaraguans continue to train, having a stab at tournaments of the continental importance already.
We will know very soon of what are the learning outcomes. "Exams" are scheduled for the Astakhov World Cup and Pan American Championship. It will be interesting!