The success of the US team at the Pan-American Sambo Championship in Paraguay
Personalities
9 September 2016
Sergei Grishin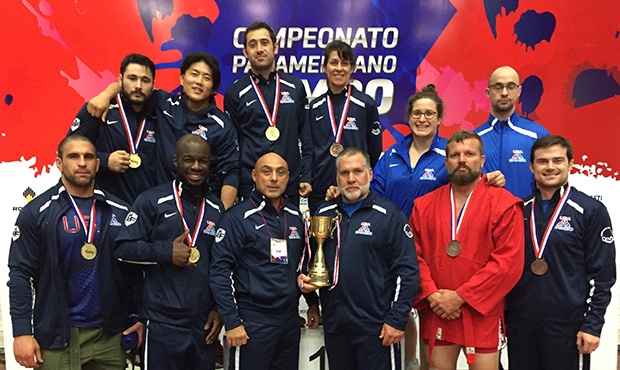 The USA sambo team at the Pan-American Sambo Championship in Paraguay has performed in a bright, impressive, and most importantly, effective manner. Judge for yourself: 6 gold and 3 bronze medals, as well as the first place among men's teams in the sport sambo and the third, in the women's category. Today we offer to your attention several interviews with the members of this team.
Nina Cutro-Kelly, gold in the weight category of +80 kg
In the final bout against Brenda Molina from Cuba Nina performed a beautiful and spectacular throw over the chest, which, incidentally, is not so common to be seen in the performance of the representatives of this weight category, and then she pursued her rival on the ground at an impressive speed. After that, she did a painful hold on the leg and got her gold.
You can see the video here: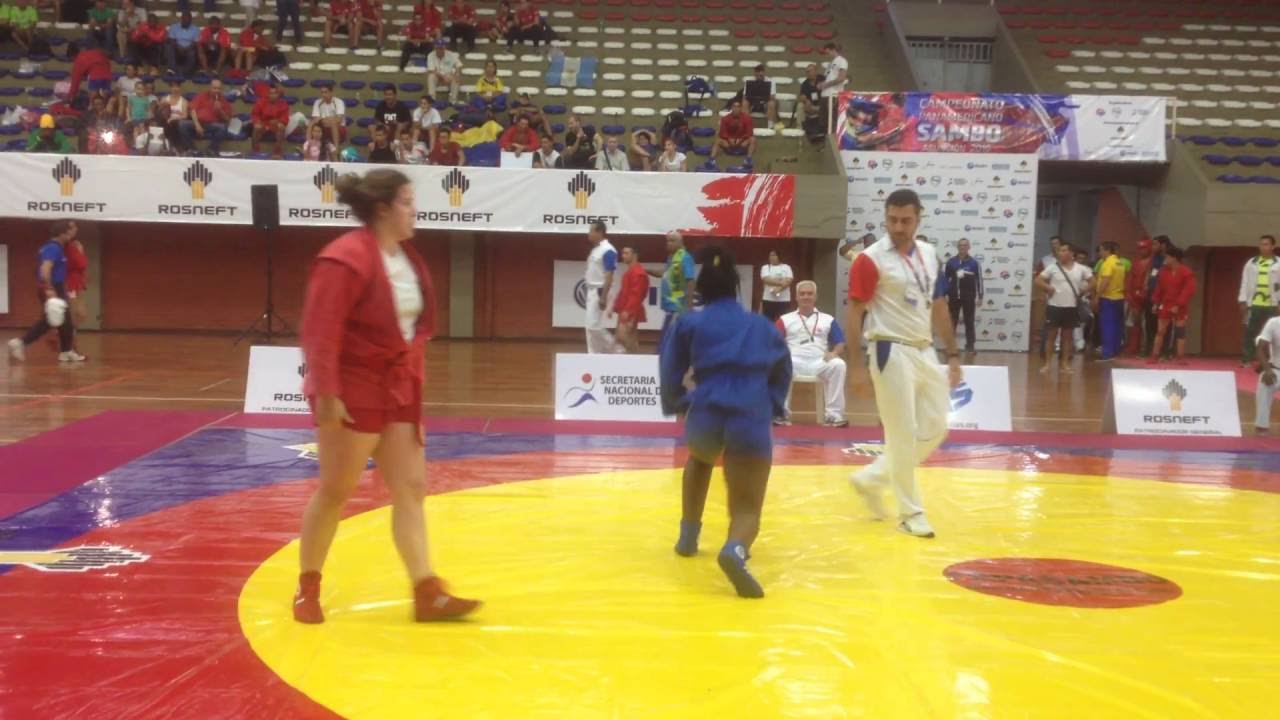 "I was already a bit angry, before that there was a slight misunderstanding with the judges, I was very motivated and spurred. You could say that I was angry and gathered myself for a fight. I made a throw and then did a successful pursuit, and it worked. It's amazing, but for me this is the first continental championship in sambo. Yes, I often performed at the world championships, but as for Pan-American Championships, this is the first time in my career. I'm especially pleased that I'll leave here with a gold. This, by the way, will give me strength and motivation to prepare for the World Sambo Championship in Bulgaria where I plan to perform. This is my first time in Paraguay and I really liked the country. Good atmosphere, great and friendly people. It is nice here!"
Johnson Jajoute, gold in the weight category of up to 74 kg in combat sambo
In his "golden" fight Jajoute fought with a Mexican Julio Espinosa. At the beginning of the bout the American sambo wrestler made a very strong blow, it was a knockdown. In the course of the meeting he also made a throw, and the final touch of this meeting was another blow that the judges viewed as a clean throw. The Mexican fell cleanly after the blow while Johnson stayed in a stand.
The video of the final throw is here: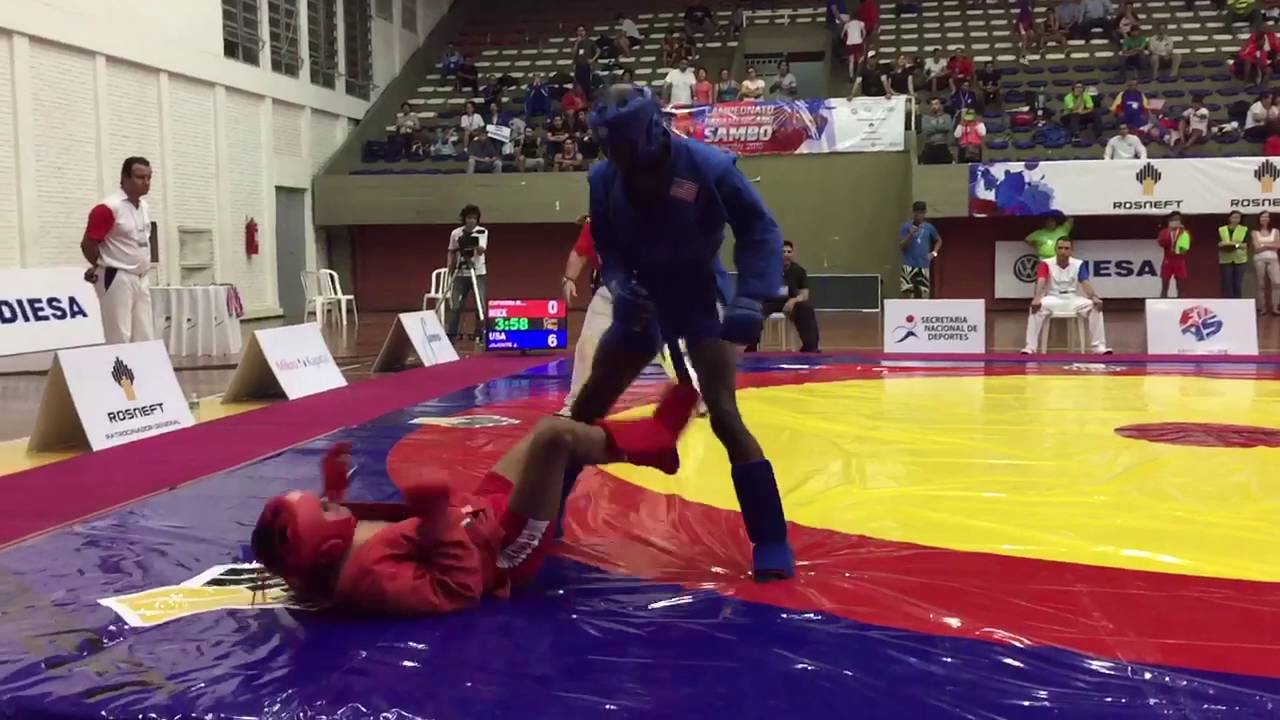 "Before the final I had a very difficult fight with an Argentinian. The final was also quite challenging, typically. It was real boxing; it was very much about punching, for me and for my opponent. I am glad that my punches have reached the goal and I won, but it was very difficult. The next start will be the world championship in Bulgaria. We are now intensively preparing to win a medal there."
Mikhail Kozitskiy, head coach of the US sambo team, first vice president of USA SAMBO Inc.
"This year we have brought the most numerous team (11 athletes) to Paraguay. Our guys performed in all categories in the sport sambo, two athletes participated in the competition in combat sambo, and in women's sambo we also had 2 participants.
Who can I mention especially? Reilly Bodycomb (68kg) is new to our team, but not to sambo. Reighly is one of the most active promoters of our sport in the United States, he holds a large number of seminars in different states of the country. He likes the fight on the ground, which he demonstrated in Paraguay winning all his meetings purely on there.
Shintaro Higashi won a gold in the weight category of up to 82 kg. Shintaro is an experienced athlete, he's 30 years old and a participant of the world championship in Morocco, 3-time national champion in judo and a participant of 2 world championships. He won all his fights in this tournament being very confident. We had expected a gold from him.
In the weight category of up to 90 kg we also had a new team member, Christian Gerlitz. This is a gold I did not expect. The fight he showed impressed me very much: a large arsenal of beautiful throws; this is a versatile athlete, both on the ground and in a stand.
In the women's sambo our country was represented by two athletes. Amy Walker (56 kg) and Nina Cutro-Kelly (+80 kg). Amy brought our team a bronze, and Nina, as expected, a gold. Although, it should be noted that this gold was not easily won. The Cuban in this weight category has been very aggressive and gave Nina a hard time, but the experience took its toll."