Dear Ladies and Gentlemen, Friends, Fans and Supporters of Sambo
President
24 December 2013
Sergei Grishin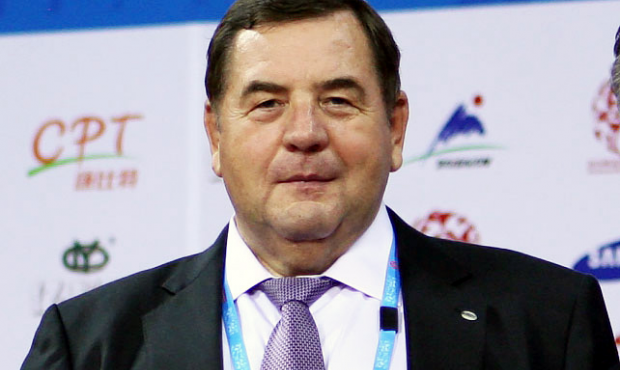 At Christmas and New Year, it is traditional to sum up what has been achieved during the last year and outline the plans for the coming year.
Tradition is there to be followed but I would like, first of all, to say a few words about other matters. There is always somebody behind any significant achievement in any sphere: somebody who, with their strength of character, bright spirit and warm heart, combined with charisma, inspiration and creativity, creates the story of victories and achievements. 
We are lucky in that our sambo is rich in such people, which is why our sport is progressing and developing as it is. And I thank my lucky stars that I have had the fortune to work side by side with Sergey Eliseyev, Dalil Skalli, Vladimir Yaprinstev, Rumen Stoylov, Lord Simon Redding, Omar Lopera, Masaaki Kondo, Nobuyuki Asai, Chon Geum Moon and many others. 
I am proud of every member of our big sambo family and would like to say a few words of gratitude and admiration to all the sportsmen, trainers, spectators, judges, partners and heads of the federations. It is your devoted work that has guaranteed that the "sambo" train is advancing rapidly and that the "Olympic Games" station will soon become a reality for us.
Speaking of the outgoing year, I am proud to say that, in 2013, we were able to represent sambo worthily in the programme of the biggest multi-sport events. For us, participation in such sports constitutes both a test and a catalyst to development. We passed with honour these examinations: the World Games in Cali (Columbia), the World Summer University Games in Kazan (Russia) and the 2nd SportAccord World Combat Games in St Petersburg (Russia). 
I would like to note also the successful world championships this year: the World Sambo Championships among Youth and Juniors in Thessaloniki (Greece) and the World Sambo Championships among Masters in Burgas (Bulgaria), as well as the apotheosis of the sambo sports world – the World Championships in St Petersburg (Russia), which was distinguished by unprecedented numbers of participating countries and major celebrations devoted to the 75th anniversary of our martial art.
In this anniversary year of sambo, I would also like to note the celebrations held in many countries: Romania, Russia, Japan, Serbia and many others. A gala evening to celebrate the 75th anniversary of sambo at Kensington Palace in London was a notable event uniting, thanks to sambo, people of different countries, confessions and political views. 
In am convinced that all our achievements and victories, the difficulties and challenges we faced this last year have brought us closer together, making us stronger and more integrated. 
I congratulate everyone on Christmas and the New Year and wish you all health, happiness, fulfilment of your dreams, and the warmth of loved ones and friends.
To the sportsmen, who I consider to be the heart of our sambo movement, I hope that, in pursuit of your calling, you continue to seek, aspire to and believe in success. After all, success, of course, comes to those who do not fear adversity and believe in themselves. 
To the trainers and teachers, whose daily work involves giving away part of their heart and soul to their students, I wish constant replenishment of the source of your vital energy and that your students outdo even you in skill and strength of spirit.
To our fans and spectators, I promise that we will continue to work to make sambo competitions even more spectacular, brilliant and entertaining. I am convinced that, in the New Year, sambo tournaments will bring you even greater memorable emotions and pleasant surprises.
The Presidents of the Continental and National Federations – you are our foundations. I wish you achievements and victories and, most important, a unified team of like-minded people to buttress and support you.
Greetings!