Bishkek hosted the Kyrgyzstan SAMBO Championships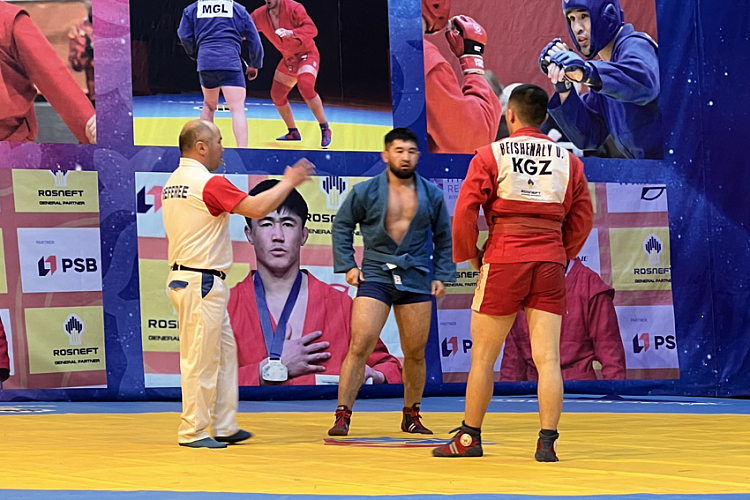 The Kyrgyzstan SAMBO Championships were held in Bishkek from 23 to 26 February. At the competitions, which took place at the Kojomkul Sports Palace, medals were awarded in Sport SAMBO among men and women, as well as in Combat SAMBO among men. Based on the results of the championship, the national team was formed to participate in international tournaments.
"During the fights, the athletes showed a high level of training, demonstrating spectacular and effective SAMBO techniques. At the World Championships in Bishkek last year, the national team of our country won the second team place, which gives us reason to hope for successful performances in the new season," said Aziz Ibraev, President of the SAMBO Federation of Kyrgyz Republic.
On the eve of the national championship, a seminar for coaches was also held in Bishkek, where changes in the rules for holding competitions were discussed. According to the National Federation, next year the Kyrgyzstan SAMBO Championships will be held in the city of Jalal-Abad.
Results of the Kyrgyzstan SAMBO Championships 2023
Men
58 kg
1. JUSUP u. Kairat (SC Zarya Chui)
2. AMANBEKOV Azatbek (Lenin SDYUSSHOR)
3. MATRAIMOV Azatbek (Osh)
3. OBOLBEKOV Kimal (SC "Alga" Kara-Kol)
64 kg
1. BARAKANOV Belek (Cholpon-Ata)
2. ABZHALIEV Farhat (Lenin SDUSSHOR)
3. KUBANICH y. Adilet (SC "Zarya" Chui)
3. SAGYNDYKOV Ali (SC "Alga" Kara-Kol)
71 kg
1. KASYMBAYEV Elaman (9th service of the State Committee for National Security)
2. MAXATBACK y. Meder (Toktogul)
3. ZHAKSHYLYKOV Bayel (SC "Alga" Kara-Kol)
3. ESENGAZIEV Zhandos (Cholpon-Ata)
79 kg
1. Felix ULANBEKOV (SC "Alga" Kara-Kol)
2. BEYSHENALY y. Akhunaly (Osh)
3. KULTAEV Aktilek (Osh)
3. KAMCHIBEKOV Arsen (SDYUSSHOR of combat sports)
88 kg
1. ASYLBEK near Zhamalbek (SC "Zarya" Chui)
2. SWAMP at. Ermek (Yssyk-Kol)
3. MAMADJANOV Farukh (SDYUSSHOR of combat sports)
3. KALMURZAEV Kozhomkul (Osh)
98 kg
1. SANSYZBEKOV Artur (SC "Zarya" Chui)
2. SHARSHENOV Tagir (SC "Bars")
3. GANCHAROV Pavel (Lenin SDYUSSHOR)
3. ADIL y. Alymbek (Osh)
+98 kg
1. ZHAPAROV Syimyk (Cholpon-Ata)
2. ALMAZBEKOV Orozbek (SC "Bars")
3. ZHOLDOSHKAZIEV Emirkhan (SC "Zarya" Chui)
3. ASEINOV Artur (9th service of the State Committee for National Security)
Women
50 kg
1. AMANKULOVA Kanyshay (Lenin SDYUSSHOR)
2. AITPOZOVA Aizhan (SDYUSSHOR of combat sports)
3. MAMYROVA Aidai (BSU)
3. APILOVA Aidai (SDYUSSHOR of combat sports)
54 kg
1. ABDUMALIK, Samara (Lenin SDYUSSHOR)
2. USON k. Akak (Lenin SDYUSSHOR)
3. ADILETOVA Zhibek (SDYUSSHOR of combat sports)
3. RYSKULOVA Ayana (KGU)
59 kg
1. ASANBEKOVA Aida (Lenin SDYUSSHOR)
2. ABDYKADYROVA Elza (FC Dynamo)
3. KARYABEKOVA Ulara (Lenin SDYUSSHOR)
3. BELEKOVA Nurila (SDYUSSHOR of combat sports)
65 kg
1. DUSHENBEKOVA Myrzaim (Chui)
2. TAALAYBEK Kunduz (SC "Alga" Kara-Kol)
3. KAMCHYBEKOVA Azemi (SDYUSSHOR of combat sports)
3. MEDETBEK K. Miraida (Lenin SDYUSSHOR)
72 kg
1. Dinara KAMCHIBEKOVA (Osh)
2. ALMAZBEKOVA Adinay (SDYUSSHOR of combat sports)
3. KARABAYEVA Aizhamal (KGU)
80 kg
1. SALIEVA Ulanay (SDYUSSHOR of combat sports)
2. MUSAEVA Ella (Cholpon-Ata)
3. ZHOTOEVA Alina (BSU)
+80 kg
1. ULUKBEK Tattygul (Osh)
2. ZIYAPOVA Aikol (KGU)
Combat SAMBO
58 kg
1. ASEKOV Daniel (SDYUSSHOR of combat sports)
2. KANYBEK Dastan (Osh)
3. KURMANALI near Kuttubek (Osh city)
3. ZHAPARKULOV Syrgak (SDYUSSHOR of combat sports)
64 kg
1. BAKTYBEKOV Ataybek (FC Dynamo)
2. BARAKANOV Sayak (Cholpon-Ata)
3. KOCHKOROV Azat (Osh)
3. AZIRATKULOV Bektur (Dynamo Jalal-Abad)
71 kg
1. ZAMIRBEK y. Kurmanbek (Dynamo Jalal-Abad)
2. KALMURZAEV Zamir (Osh)
3. ZHANYBEK at. Syimyk (SC "Bars")
3. ZHARMAMATOV Bagysh (Osh)
79 kg
1. IDIRISOV Bektur (Dynamo Jalal-Abad)
2. BEYSHENALY y. Akhunaly (Osh)
3. SAPARBEKOV Sanzhar (SOBR MIA)
3. KADYROV Bekmurza (SOBR Osh)
88 kg
1. ERKEBAI Bekten (Osh)
2. ARSTANBEK Syrgak (Osh)
3. SULTANOV Kadyraly (Osh)
3. KAYYPBEKOV Kutman (Cholpon-Ata)
98 kg
1. ZHEEYRZAEV Beknazar (Dynamo Jalal-Abad)
2. KERIMBEKOV Bekbolsun (Dynamo Jalal-Abad)
3. YRYSBAEV Kubanychbek (SOBR MIA)
3. ZHOROEV Maratbek (SOBR Osh)
+98 kg
1. PIRMATOV Maksatbek (SOBR MIA)
2. TOLKUNBEK y. Erzhan (Dynamo Jalal-Abad)
3. NURALIEV Talasbek (Dynamo Jalal-Abad)