Competitive Course of Training Completed in Chile
Federations
4 April 2015
Sergei Grishin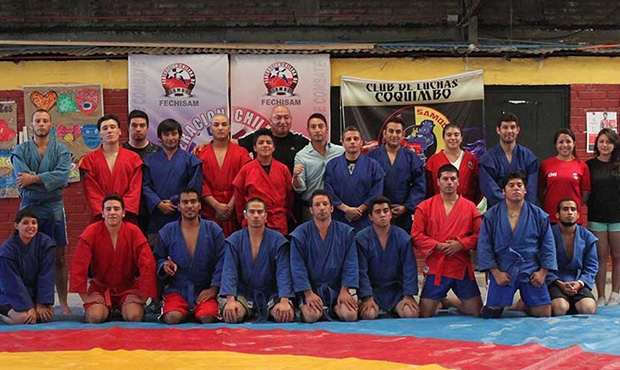 The sambo tournament was held in Santiago – one of the three competitions included in the course of athletes training for the Pan-American Championship. The first national tournament of this course was held in the previous year on December 20 in the capital gym KKFM. A little more than month after, on January 31 of the current year, the competitions took place in the cultural center El Barrero also located in Santiago. The final chord of the cycle sounded there on March 21.
21 sambo athletes participated in the third tournament; all in all 41 athletes came to the sambo mats. The competitions were held among men, women and in combat sambo category. 
"It was a good initiative from the FECHISAM Federation, which allowed us to measure achievements with other athletes and clubs, and put into practice all we had learned from our tutors. Regardless of those who won and who lose, we all got rich competition experience," shared his impressions one of the participants of the tournament Diego Godoy.
Another sambo athlete Diego Escobar also had positive thinking after the competition.
"I liked this tournament. I hope that the level of sambo athletes will continue to grow, and new athletes will join us," he said.
The president of Chile Federation Franco Bulnes commented on this tournament as follows:
"Collective goals must prevail over personal ones. The responsibility and discipline are the values which we put in the course of the last championship".
It is worth noting that during 2014 the Chile Federation held many other events, including Fedor Cup, Red October Cup, leisure days with parents and guardians of children who are engaged in sambo, as well as various public performances. 
Sambo in Chile grows at an exponential rate. Athletic technique of women and men is on very good competitive level. We have some disadvantages, and we can achieve our goals and all-American level by collaborative work of the athletes, coaches and managers of our Federation", assured the technician and treasurer of the National Sambo Federation Wilfredo Varas.