The Youth and Junior SAMBO Championships of Ukraine was held in Kharkov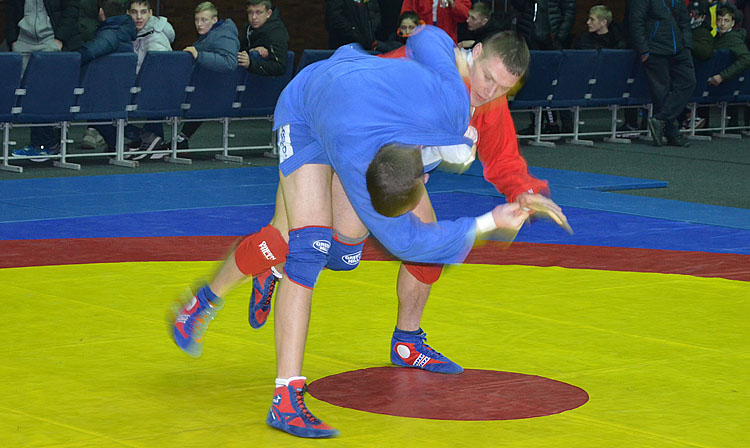 The Youth and Junior Championships of Ukraine became the first national start of the current SAMBO season. The competitions, which took place from 5 to 7 February, were hosted by the Kharkiv Sports Palace. About 600 participants from 22 regions of the country competed for the tournament awards. In the team competition in both age groups (18 and 20 years old) the victory was celebrated by the team of the Kharkiv region.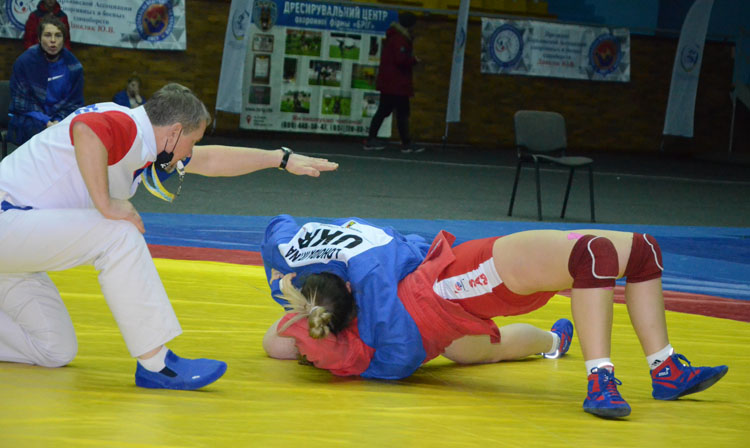 - It was the first national tournament of this level in Ukraine among all sports. Sambists once again showed how, under conditions of quarantine restrictions, it is possible to hold competitions, while observing all the requirements of medical organizations, - said Vadym Rogach, the President of the National SAMBO Federation of Ukraine.
He also recalled that "since the beginning of 2021, new weight categories have been operating - there are fewer of them, and this, naturally, increased competition."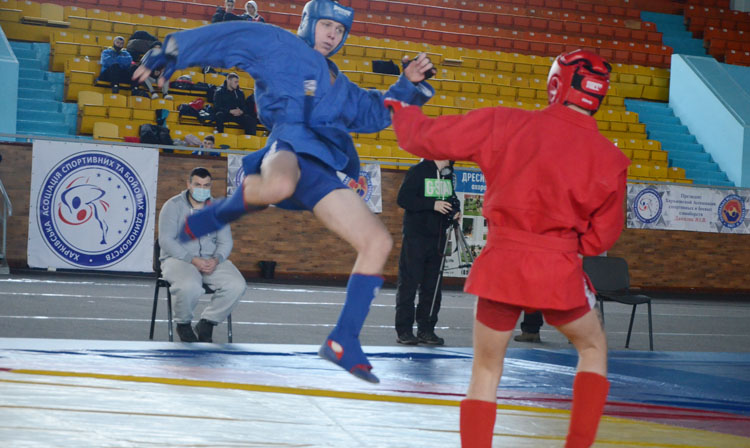 - Moreover, the competition is the main stage of selection for the national team in this age category for the Youth and Junior SAMBO Championships of Europe and the World. In Kharkiv, the coach of the youth team, Alexander Voropaev, a multiple world and European medalist, was introduced to the sambists, just a couple of months ago in Serbia he climbed the bronze step of the World Championships, and now as a mentor he will pass on his sports experience," Rogach said.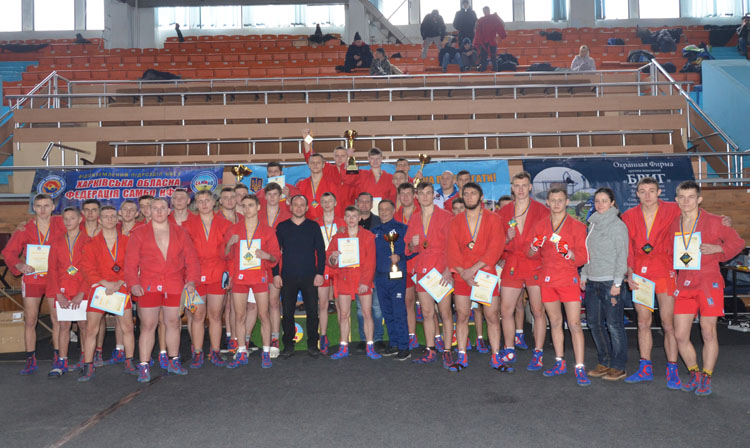 Results of the Youth and Junior SAMBO Championships of Ukraine 2021
Team classification
Youth (M&W)
1. Kharkiv region
2. Odessa region
3. Kiev
Junior (M&W)
1. Kharkiv region
2. Kiev
3. Odessa region
Youth (W) (Sport SAMBO)
42 kg
1. YURCHAK Anastasiya
2. MOROZOVA Diana
3. IVASHCHENKO Karina
3. MROCHKO Oksana
47 kg
1. SIKISH Anastasiya
2. ZASUL'SKAYA Yuliya
3. DUS Kristina
3. SHEVCHENKO Yelizaveta
50 kg
1. VOLOSHINYUK Yana
2. CHUGAYNOVA Darya
3. KOLODYUK Anastasiya
3. SHVEDYK Darya-Irina
54 kg
1. MARTINENKO Yekaterina
2. SHILO Anastasiya
3. SANDAR Yeva
3. MARCHENKO Valeriya
59 kg
1. BORDINSKIKH Sofiya
2. ABDULAGATOVA Amina
3. TULUNZHI Diana
3. POLYAKOVA Mariya
65 kg
1. KALENICHENKO Angelina
2. SHILOVA Sofiya
3. CHERNOKOZ Mariya
3. GRITSENKO Viktoriya
72 kg
1. SHIMKO Yana
2. LYSENKO Angelina
3. IVASHCHUK Irina
3. ZAROVETSKAYA Viktoriya
80 kg
1. KAZAKOVA Anna
2. PROTASEVICH Aleksandra
3. RUDKOVSKAYA Sofiya
3. SOKOTNYUK Mariya
+80 kg
1. BELKOVA Margarita
2. YUZEFOVICH Ivanna
3. MUKAN Anna
3. DEYEVA Anna
Youth (M) (Sport SAMBO)
48 kg
1. GRIGORASH Maksim
2. VESELYANSKIY Vadim
3. RYABYKH Aleksandr
3. LEVITSKIY Vladislav
53 kg
1. BABICH Maksim
2. GRUSHEV Daniil
3. POLIKHANENKO Dmitriy
3. GORBAN Artem
58 kg
1. VISKOV Nazar
2. IVCHENKO Georgiy
3. ZHURA Artem
3. RAK Stanislav
64 kg
1. POMIRKOVANYY Maksim
2. NAUMENKO Danilo
3. RASKIN Yan
3. BUTOV Viktor
71 kg
1. SOLOKHA Kirill
2. PARFENOV Maksim
3. SIDOR Vasiliy
3. ZHITARYUK Dmitriy
79 kg
1. BATYSHEV Denis
2. BIGVAVA Archil
3. KLIMENKO Ilya
3. ISHCHENKO Nikita
88 kg
1. BOLDIREV Aleksey
2. SAMEDOV Timur
3. ROZGONOV Maksim
3. SAVCHENKO Dmitriy
98 kg
1. KROKHMALOV Roman
2. PONOMARCHUK Danila-Mikhail
3. USATOV Aleksandr
3. ORLOVSKIY Dmitriy
+98 kg
1. GALAKA Aleksey
2. GRYBYK Nikolay
3. VERICHEV Dmitriy
3. FILIPCHUK Yaroslav
Youth (M) (Combat SAMBO)
48 kg
1. CHAYKUN Maksim
2. KUZMIN Ivan
53 kg
1. FILATOV Danila
2. PALAMARCHUK Anton
3. BEZSONOV Maksim
3. SMOLYAK Bogdan
58 kg
1. KHOMENKO Vladislav
2. DMITRYUK Nikolay
3. TKACHENKO Denis
3. KOSYAK Roman
64 kg
1. SAVCHENKO Vladislav
2. PUSHKARSKIY Stanislav
3. KUTSEL Ivan
3. RASKIN Yan
71 kg
1. SIDOR Vasiliy
2. SIDOR Nikolay
3. SHPAK Vladislav
3. GASIMOV Ramin
79 kg
1. PETIN Gordiy
2. SMUK Artur
3. PLAVKO Andrey
3. PAVLYUK Maksim
88 kg
1. MIKHAYLOV Yuriy
2. GEYMAL Denis
3. BIZYUK Kirill
3. RUSTAMOV Shamil
98 kg
1. MARSULENKO Denis
2. KUZNETSOV German
+98 kg
1. STRILETS Yaroslav
2. FILIPCHUK Yaroslav
3. SUMOVSKIY Aleksandr
3. BILYY Denis
Junior (W) (Sport SAMBO)
47 kg
1. GAVRILYUK Maryana
2. VYPIRAYLO Margarita
3. YURCHAK Anastasiya
3. KOZYR Anastasiya
50 kg
1. SAVCHENKO Miroslava
2. CHAPLINSKAYA Marta
3. GRIGORENKO Yekaterina
54 kg
1. PLISH Snezhana
2. SHILO Anastasiya
3. VILIYCHUK Dariya
3. YANKO Anastasiya
59 kg
1. KUNEVICH Mariya
2. DRIG Olga
3. BORDINSKIKH Sofiya
3. KRAVCHENKO Yelena
65 kg
1. BIRYUCHENKO Valeriya
2. RYBACHUK Mariya
3. STUKALENKO Olga
3. PTUSHKA Margarita
72 kg
1. CHISTYAKOVA Nataliya
2. TOROPTSEVA Vladislava
3. ZINKEVICH Anastasiya
3. CHERNENKO Valeriya
80 kg
1. LOGOYDA Irina
2. ZAKHAREVICH Valeriya
+80 kg
1. CHOVGUN Yekaterina
2. BEZOTOSNA Anastasiya
3. MORENKO Yelizaveta
Junior (M) (Sport SAMBO)
53 kg
1. KAZNACHEYEV Maksim
2. SEMENCHENKO Dmitriy
3. MARTYNYUK Vladimir
3. KLAPSHA Aleksandr
58 kg
1. YAREMCHUK Yuriy
2. ISAYENKO Danilo
3. ZHEBCHUK Dmitriy
3. KURKOYED Georgiy
64 kg
1. KIRILYUK Vladislav
2. FEDENKO Yevgeniy
3. SHIYKA Roman
3. IGNATISHIN Rodion
71 kg
1. KHOLOD Vladislav
2. STETS Vitaliy
3. DEMBOVSKIY Danila
3. ARSONOV Andrey
79 kg
1. LIPKO Aleksey
2. VITENKO Dmitriy
3. PORON'KO Kirill
3. ZUBKOV Nazar
88 kg
1. SHAPOVALOV Mikhail
2. BATIY Nikita
3. RASHIDOV Daniz
3. PUSHENKO Bogdan
98 kg
1. PANICH Yevgeniy
2. KARPOV Daniil
3. BUCHOK Aleksandr
3. BASANETS Igor
+98 kg
1. GRYBYK Nikolay
2. KOVBASYUK Sergiy
3. PLAKHOTNIK Anton
3. SMIRNOV Denis
Junior (M) (Combat SAMBO)
53 kg
1. MARTYNYUK Vladimir
2. CHORNYY Vladimir
3. DOLGOV David
3. KLAPSHA Aleksandr
58 kg
1. MAKHAYLENKO Sergiy
2. SUMSKOY Danilo
3. MARMYL Andrey
3. ZVER'KO Pavel
64 kg
1. LESHCHUK Eduard
2. PARAMONOV Ilya
3. PALYURA Vladislav
3. TKACHENKO Artur
71 kg
1. GOMELA Danila
2. ZUBENKO Danila
3. KOVAL Nazar
3. SELDTSOV Aleksey
79 kg
1. IVANYAK Vasiliy
2. IVANOGLU Ivan
3. SHKOLA Danilo
3. KILAREV Aleksandr
88 kg
1. LAMANOV Artem
2. KAMINSKIY Konstantin
3. LOZOVIY Sergiy
3. RAKHIM Danielo
98 kg
1. GNIDKO Bogdan
2. KABANETS Dmitriy
3. TRET'YAKOV Oleg
3. LOSEV Daniil
+98 kg
1. PLAKHOTNIK Anton
2. AZIMOV Timur
3. PETRENKO Aleksandr