World Sambo Cup ended in Serbia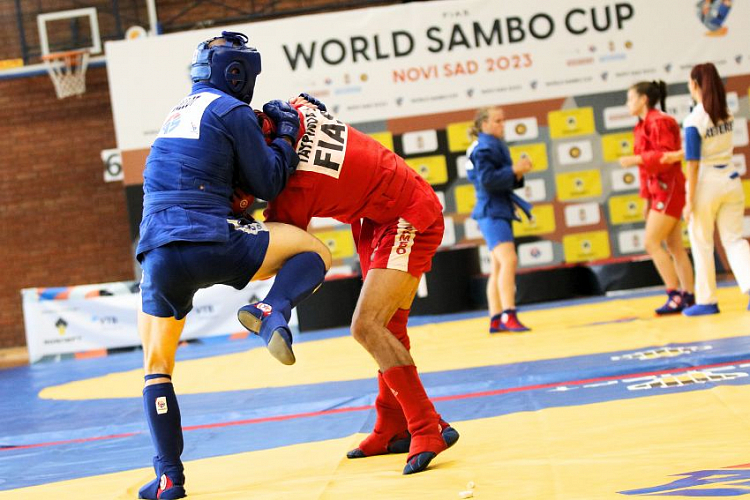 The World Sambo Cup, held on September 23-24, ended in the Serbian city of Novi Sad. During the opening ceremony, the legendary sambist, multiple world champion in Combat SAMBO, and ambassador of the International Sambo Federation Fedor Emelianenko addressed the competition participants in a video message.
He thanked the National Sambo Federation for organizing the World Cup, the successful promotion of our sport in the Serbian expanses and the noticeable growth in the skills of local sambists, and also wished success to the athletes and all participants in the competition.
Representatives from 16 countries took part in the tournament: Armenia, Bulgaria, Bosnia and Herzegovina, Hungary, Israel, Italy, Kazakhstan, Moldova, the Netherlands, North Macedonia, Serbia, Tunisia, Croatia and Switzerland; athletes from Russia and France, in accordance with the decision of the FIAS Executive Committee, competed in a neutral status. The winner of the team competition was the FIAS 1 team.
Competition results in the team competition
Women
1. FIAS 1 (4 gold, 3 silver, 1 bronze)
2. Croatia (2 gold, 1 bronze)
3. Serbia (1 gold, 2 silver, 2 bronze)
Men
1. FIAS 1 (4 gold, 5 silver, 1 bronze)
2. Kazakhstan (2 gold, 1 silver, 2 bronze)
3. Bulgaria (1 gold, 2 bronze)
Combat SAMBO
1. FIAS 1 (4 gold, 2 silver, 1 bronze)
2. Kazakhstan (1 gold, 4 silver, 3 bronze)
3. Serbia (1 gold)
"Traditionally, the FIAS 1 team performed strongly, winning first place in all disciplines. The athletes from the Kazakhstan team demonstrated a high level of technical skill and, of course, the hosts of the World Cup, the Serbian team, were very pleased. I also congratulate the Croatian national team, which won two gold medals in the women's Sport SAMBO discipline.
As for the fights themselves, perhaps the most memorable was the fight of the athlete from Bosnia and Herzegovina Marino Dugandzic in the weight category up to 98 kg in Combat SAMBO, who made a winning throw in the last seconds in the final with an athlete from Kazakhstan. I would also like to note the semi-final fight of the "fighters" in the weight category up to 71 kg, in which Serbian Stefan Župarić managed to defeat Bulgarian Emil Nezirov a few moments before the final whistle.
Separately, I would like to thank the Serbian Sambo Federation, as well as the general partner of the World Cup, the Rosneft company, and the official partner, VTB Bank, for their assistance in organizing and conducting the competition," noted FIAS President Vasily Shestakov.