Vasiliy Shestakov: «In Kazakhstan SAMBO is rising to a high level again»
President
7 July 2017
Sergei Grishin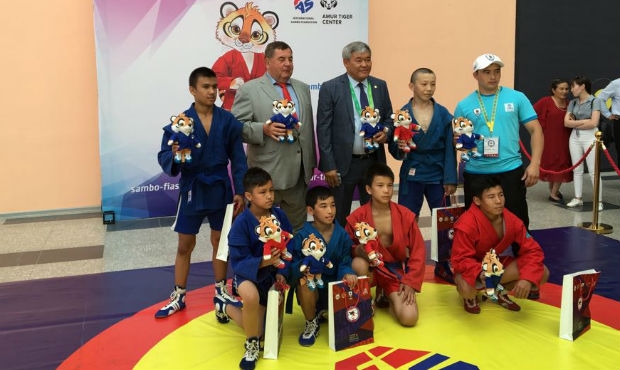 International tournament for the prizes of the President of the Republic of Kazakhstan is being held in Astana. This competition is deservedly popular among sambists from all round the world, so lots of teams have come to the capital of Kazakhstan this year. President of the International SAMBO Federation Vasiliy Shestakov voiced his opinion on the tournament itself and related events in his interview to FIAS website. 
- First, the tournament is perfectly organized: the competition hall looks fantastic, introduction and awarding ceremonies are thought out to the last detail and brought to perfection by rehearsals. Second, 300 athletes from 17 countries are taking part in this tournament, therefore these competitions are popular and very successful. I think in the future it will become one of the most important and prestigious international tournaments in the Asian region.
- This tournament has been organized by Kazakh Federation of Sport and Combat SAMBO, assistance foreign minister Rapil Zhoshibaev has just taken the charge of this institution, would you like to give him any suggestions?
- I want to congratulate him upon being elected president of this institution. Kazakh Federation of Sport and Combat SAMBO became a member of the continental federation at the Asian Sambo Union congress, now it has every chance of becoming part of FIAS. However this job is quite demanding, there is much work to be done. Kazakh SAMBO has been losing ground lately. But I`m quite sure, that such highly-skilled senior management will help Kazakhstani sportsmen improve their results.
- Besides the competitions themselves, there was also a humanitarian event, which took place within the framework of Expo-2017. Could you tell us more about it?
- All SAMBO fans know, that we advocate for protection of Red Book animals. During Expo-2017 in Kazakhstan we ran the Amur tiger protection campaign, which proved to be very successful. A huge number of spectators had an opportunity to watch exhibition fights of young Kazakhstani sambists, who had demonstrated perfect techniques. Besides that, all participators of this event could sign a huge poster in order to express their support for Amur tigers. It only took a couple of minutes to cover the poster with signatures of local residents, it made me very happy. On the one hand, this fact indicates, that FIAS did the right thing, when we started supporting Amur tigers, on the other hand, people support our animal protection campaign as well.