Viktor Pirela: "If there is a better competition than the Universiade in Kazan anywhere, I don't know about it"
Personalities
21 July 2013
Sergei Grishin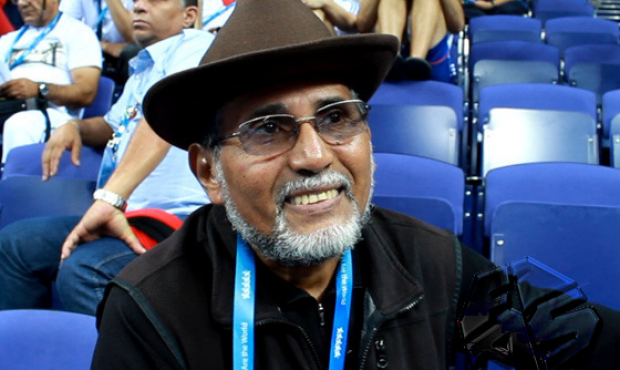 The Venezuelan SAMBO team took away a bronze medal from the Kazan Universiade which Maria Guedez put to her national team's collection. Read in the exclusive interview, which Viktor Pirela gave to the FIAS website, why the Venezuelan missed the Awarding Ceremony, due to whom SAMBO athletes from this country managed to get to the World Student Games, as well as why Viktor Pirela, the President of Venezuelan SAMBO Federation, has an addiction to wear hats.
– Viktor, how do you assess the importance of SAMBO getting into the program of the Universiade? And do they in Venezuela really follow closely everything that happens in Kazan?
– The Universiade is of utmost importance for Venezuela, as well as for other Pan American countries. Unfortunately, due to economic difficulties, our country couldn't send all the athletes who were ready to perform in Kazan. However, thanks to the help of FIAS SAMBO athletes are taking part in the tournament. The International SAMBO Federation helped three of our SAMBO athletes to participate in the Universiade, the participation of two more our athletes was at the expense of the state.
– Venezuela – is one of the strongest Pan American SAMBO countries. Did you get some specific tasks for the Universiade, or was it important just to participate?
– Of course, participation is very important, but it is also important to show the result. Because if there are no results, then proper work doesn't take place there. The Venezuelan SAMBO Federation – is the first federation, which was officially registered in South America. It is recognized by the Government of Venezuela, the National Olympic Committee of the country. We are working almost in all the states of Venezuela – both with young men and the youth, and adults. We constantly win medals at all competitions, and we are taking home a bronze medal from the Universiade. Of course, we'd like to put a precious metal award of the higher quality to our country's collection, but it is very difficult. The things which we have managed to achieve now are also a very great result for us.
– Maria Guedez, who had won the "bronze" of the Universiade, didn't come to the Awarding Ceremony...
– There was a break in the tournament, and we went to dinner to the Universiade Village. Herewith we didn't take into account the transport movement table. When we got back to the arena, the Awarding Ceremony had already begun. We saw everything happening as others saw it, but didn't interfere in the process. Later on our SAMBO athlete received the medal, so it's okay. Of course, Maria as well as all of us were upset, because every athlete dreams to be on the podium, especially at such a unique event. Everyone wants to be photographed with a medal, far less there is a lot of press there. But what is to be done – it happens so, and all that is left to do is only to move on.
– What feelings do you and your athletes have from the gym, competitions, and Kazan itself?
– The organization is just amazing. If there is a competition organized better than the Universiade in Kazan somewhere, I don't know about it. Both transport, a hall and meals – everything is wonderful. I managed to talk with representatives of the national student unions of Panama and the Dominican Republic, who are also excited of all that is happening. My goal – is to help SAMBO development not only in Venezuela, but also in other Pan American countries. In Europe SAMBO Federations are very well organized, because they have been practicing this combat sport for a long time. In America we are just beginning to develop SAMBO actively, and we have some problems. For example, not all federations have been recognized in their countries yet. But we have to deal with emerging issues in order to develop SAMBO, because when we are together, we are stronger.
– Viktor, finally, one not very serious question. Everyone knows your love of hats. Where from have you got it?
– The fact that I was born in a place in Venezuela, where everyone wears hats. When I was small, my dad had an estate, where he always wore a hat. And he always said that the first thing that a man wears, when he becomes a man, is a hat. Father put a hat on me when I was 9, and since then I have almost always worn a hat. I made the only exception at University – where I didn't wear a hat because they laughed at me. I brought four hats to Kazan – for different suits, and in Venezuela I have more than a dozen of them.
– And which hat is the most valuable and beloved?
– Once we came back from the Czech Republic, wherefrom our national team brought three medals. Then Hugo Chavez received our visit. Of course, at the reception I also had a hat on my head. Hugo Chavez took it off me, put it on his head and said: "Does it look well on me?". I replied: "Yes, of course, this is my gift to you". But he said: "No, no, it's your hat!" and brought it back – put it on my head. Now this hat is in my house – it is a special hat for me.
Prepared by Alexander Solomakhin and Nadezhda Sarsaniya
www.sambo.sport