Visit of FIAS Management to Seoul
President
23 January 2014
Sergei Grishin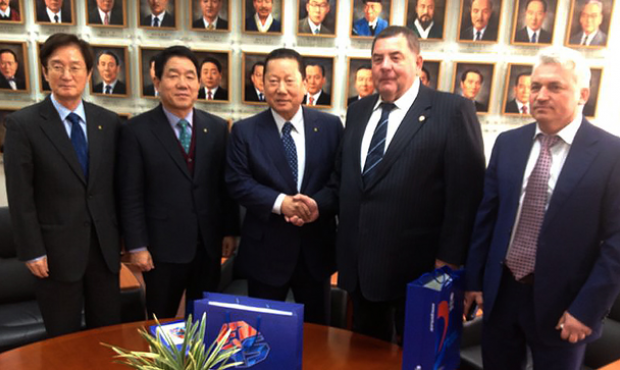 Recently, the news of the recognition of the Sambo Union of Asia and its inclusion in the programme of the Asian Games has come from the General Assembly of the Olympic Council of Asia held in the Philippines. And there is news from the Asian continent on our website again. From South Korea this time, where the delegation of the International Sambo Federation headed by Vasily Shestakov, FIAS President, had a working visit.
Today we are going to tell you about official sambo news from the country that has held the 2013 Asian Championship as never before. This year South Korea is hosting the youth world championship.
During the working visit of the delegation to Seoul Vasily Shestakov, FIAS President, Sergey Eliseev, Vice President, and Michal Buchel, Head of the FIAS Office in Lausanne, met with Mr. Yong-Sung Park, President of the Olympic Committee of Korea. At the meeting, where the development of sambo in South Korea and holding the 2014 world championship in this country were mainly discussed, Mr. Yong-Sung Park said, "Koreans are really fond of sambo. Currently, this sport is very popular in our country, and sports and organisational successes of the Korea Sambo Federation prove of my words. The Youth World Sambo Championship will be held in Seoul in October. The Olympic Committee of our country is willing to provide support and assistance to the Korea Sambo Federation in conducting this great sambo forum."
FIAS Management also met with Mr. Ju-Ho Chang, TAFISA President. The meeting with the Head of the Association for International Sport for All, which is the leading organisation in the global movement of mass sports, was very productive. The leaders discussed cooperation between TAFISA and the International Sambo Federation, as well as possible inclusion of sambo in the programme of the TAFISA Indoor and Martial Arts Games, which will be held in September 2014. The establishment of the Sport for All FIAS Committee was also discussed at the meeting. In the future the Committee could cooperate with TAFISA within the framework of numerous social sambo projects for the development of mass sports.
The media have also covered the visit of the management of the International Sambo Federation to Seoul. A news story about sambo and an interview of Vasily Shestakov, FIAS President, on KBS World - the main Korean TV channel – have pleased all fans of martial arts in Korea, who will watch live broadcasts of the World Sambo Championship among juniors, boys and girls very soon, in October.