For the first time in history - SAMBO for the cadets!
Competitions
25 September 2012
Sergei Grishin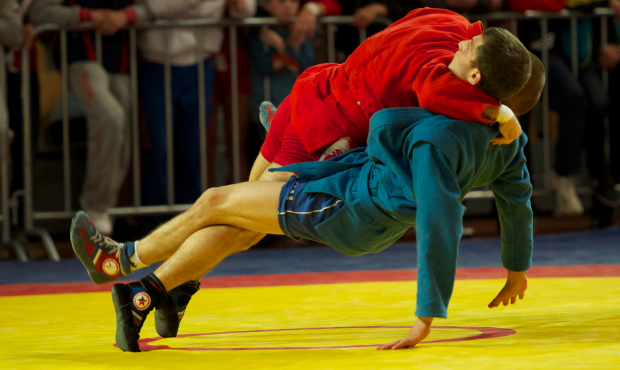 Last weekend a European Open SAMBO Championship among cadets (youths (m-w) 15-16 years old) took place in Tallinn, the capital of Estonia, for the first time in history.
There are some figures about this event: 200 sportsmen, 15 participating countries, 3000 audience and 2 competition days in order to play 20 sets of medals among youth (m-w).
"The first" – first, erste, prima, primero. This word sounds challenging, impertinently and positively in all the world languages. An occasion that takes place for the first time is always perceived with a breakthrough and new frontiers. SAMBO competitions in Tallinn are this case.
SAMBO is a type of sports where children begin training already as early as they are 5-6 years of age. Of course, by the age of 15 both children themselves and their parents and trainers that deposit money and time in their kids and students desire to hear the ringing of the won medals and to celebrate the first international victories.
The European SAMBO Federation which is engaged in development of SAMBO in Europe didn't keep children, their parents and trainers waiting. In 2012 Tallinn has become an experimental playground for international cadet SAMBO, a successful playground that has fully justified itself.
Of course, all SAMBO fans in Tallinn will remember passion, emotionality and thoroughgoingness that flew in the air of the Estonian sports centre "Kalev". Absence of longtime doubts and huddles of tactical fighting, which is not always clear for the audience, are what makes the children's SAMBO that fascinating.
In the end the team Championship of these cadet competitions among youth (m) was won in the thick of intense fighting by the team of Georgia, the Belarusian team was second and the Russian team was at the third line of the final team protocol. The first team place among youth (w) was won by the Russian SAMBO fighters, the second place took the Belarusian sportswomen and Ukraine was at the third place.
Results:
Youth (w)
Weight category of up to 38 kg 
1. Tatiana SHUINOVA (Russia) 
2. Valentina SHMAL (Ukraine)
Weight category of up to 41 kg
1. Tsvetelina TSVETANOVA (Bulgaria)
2. Olga HOHLOVA (Russia)
3. Angelina STAROLOVNIKOVA (Belarus)
Weight category of up to 44 kg
1. Kristina BONDAR (Ukraine)
2. Nataly SOSEROVA (Bulgaria)
3. Vlada STEPANOVA (Estonia) and Maria KOPYRINA (Russia)
Weight category of up to 48 kg
1. Betina TEMILKOVA (Bulgaria)
2. Elizaveta SLOBODCHIKOVA (Belarus)
3. Anastasia GALUCHENKO (Ukraine) and Viktoria OSTER (Russia)
Weight category of up to 52 kg
1. Tatiana RADOSHINSKAYA (Ukraine)
2. Kodrina Michaela IONESKU (Rumania)
3. Yuliya IVANCHUK (Belarus) and Svetlana RAIKOVA (Russia)
Weight category of up to 56 kg
1. Anastasia ZHUK (Belarus)
2. Anna BUGRIY (Ukraine)
3. Patricia PETRA? (Rumania) and Maria SUHOPAROVA (Russia)
Weight category of up to 60 kg
1. Kseniya OSTAPENKO (Russia)
2. Yana BEGANSKAYA (Belarus)
3. Anizhana DUDKA (Ukraine)
Weight category of up to 65 kg
1. Ekaterina RABTSEVICH (Belarus)
2. Valeria ABRAMKINA (Russia)
3. Karolina BERSALOVA (Estonia) and Uliana FRIDRIH (Ukraine)
Weight category of up to 70 kg
1. Violetta SAYAPINA (Russia)
2. Yana RENEISKAYA (Belarus)
3. Viktoria MIRONOVA (Estonia)
Weight category of more than 70 kg
1. Vasilina Irina KIRICHENKO (Ukraine)
2. Karina SHUT (Belarus)
3. Alvard AVAKYAN (Russia) and Akvile TITORENKO (Lithuania)
Team Championship
1. Russia — 46 points
2. Belarus — 41
3. Ukraine — 40
4. Bulgaria — 20
5. Estonia — 10
Youth (m)
Weight category of up to 42 kg
1. Nickolae FOKA (Moldavia)
2. Andrey PESNYA (Belarus)
3. Nickita PETUHOV (Russia) and Surik AKOPYAN (Armenia)
Weight category of up to 46 kg
1. Tornike NAGLIASHVILI (Georgia)
2. Daniil SHEVCHENKO (Ukraine)
3. Shamil ABDULLAEV (Russia) and Mihail DONCHILE (Moldavia)
Weight category of up to 50 kg
1. Jambuli KURDIANI (Georgia)
2. Bojidar TEMELKOV (Bulgaria)
3. Aleksandr SUCHKOV (Russia) and Maksim TOKARCHUK (Ukraine)
Weight category of up to 55 kg
1. Nikita BORISEVICH (Belarus)
2. Tural ALLAHVERDIEV (Azerbaijan)
3. Ernest AIRAPETYAN (Armenia) and Aram GRIGORYAN(Russia)
Weight category of up to 60 kg
1. Giorgi METRVELI (Georgia)
2. Dan BURLAK(Moldavia)
3. Ivan STEFANOV (Bulgaria) and Oleg NAGORNIY (Belarus)
Weight category of up to 66 kg
1. Ivan NAUMOV (Belarus)
2. Ramin MASMALIEV (Azerbaijan)
3. Aleksey FOMICHEV (Russia) and Jemal BUCHUNTELI (Georgia)
Weight category of up to 72 kg
1. Aleksandr GERASIMCHUK (Ukraine)
2. Gints BUMEISTERS (Latvia)
3. Roman YUSHIN (Russia) and Alin TESKU (Moldavia)
Weight category of up to 78 kg
1. Irakli GOGIA (Georgia)
2. Sergey CHIRICH (Ukraine)
3. Yan HALIMON (Belarus) and Timur ZAIRBEKOV (Russia)
Weight category of up to 84 kg
1. David OZBETELASHVILI (Georgia)
2. Aleksey AKIMENKO (Latvia)
3. Nikita SVIRID (Belarus) and Alex VASIVEV (Bulgaria)
Weight category of more than 84 kg
1. Sultan ABDULLAEV (Russia)
2. Mihail AHALAURI (Georgia)
3. Mahammad MAHARRAMOV (Azerbaijan) and Artur POLEYAN (Ukraine)
Team Championship
1. Georgia — 46 points
2. Belarus — 30
3. Russia — 29
4. Ukraine — 25
5. Moldavia — 18