10 months before the II Combat Games the name of SAMBO AMBASSADOR became known
Competitions
7 December 2012
Sergei Grishin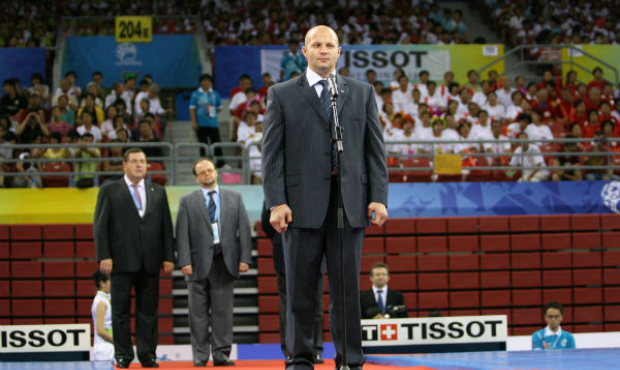 The International SAMBO Federation announced the name of SAMBO Ambassador at the II SportAccord Combat Games, which will take place on October 2013 in Saint Petersburg (Russia). Fedor Emelianenko, a renowned Sambo wrestler, face and icon of SAMBO, will symbolise SAMBO that was included into the programme of the Second Games as part of 15 combat sports and martial arts.
Fedor is a three-time world champion in mixed combats. He is the person whose name most people in the world associate SAMBO with. He was the strongest at the world SAMBO forums three times, afterwards, having achieved success in mixed combats, he showed how unique and effective SAMBO is. This technical, tactical and physical experience, which Fedor received in SAMBO always gave him advantage over any opponent and helped to have numerous victories on the ring, thus making SAMBO known to the world.
Fedor Emelianenko once represented SAMBO as an ambassador at the I Combat Games successfully held in Beijing (China) in 2010.
"It was surprising to see that the hall where the competition took place was full. And what's even more surprising is that unlike other competitions, the audience didn't leave immediately after the fights, they watched all award ceremonies, thus paying tribute of respect and admiration to the heroes of the tournament.
Of course, people reacted when they saw me, the Chinese like and watch mixed combats. I enjoyed it not only because it satisfied my personal ambitions, no. At the moment I realised that it worked for SAMBO, attracted even more attention to it, and it was most important for me", Fedor Emelianenko comments on his participation in the I Games.
Fedor was always talked and is still talked about not only with regard to his sport achievements. Many people associate an ideal image of an athlete with him – strong, modest and patriotic.
Not so long ago, Emelianenko announced the end of his sports career, but he didn't leave sport. Now he works in sport and for sport. He is an advisor of Vitaly Mutko, Minister of Sports of the Russian Federation. Fedor doesn't forget about social projects as well. Being a member of prestigious "Champion for Peace" club of "Peace and Sport" organisation, he takes part in charity actions and peace-making programmes.
Now Fedor Emelianenko helps his favourite sport SAMBO not on the mat and on the ring, but from his office and from the public stand.
"I'm proud to have the honour to be SAMBO Ambassador at the Combat Games again. SAMBO is a unique sport which helps to become nobler and stronger. I'm sure that with the help of SAMBO we will be able to change our world for the better. And I will contribute to it as much as I can ", Fedor Emelianenko comments on the choice of his candidature.
And we, SAMBO fans are sure that this fact will allow to attract even more attention to our favourite sport as well as to increase the number of new SAMBO adepts.