FIAS Executive Board meeting in St Petersburg
Official
5 October 2013
Sergei Grishin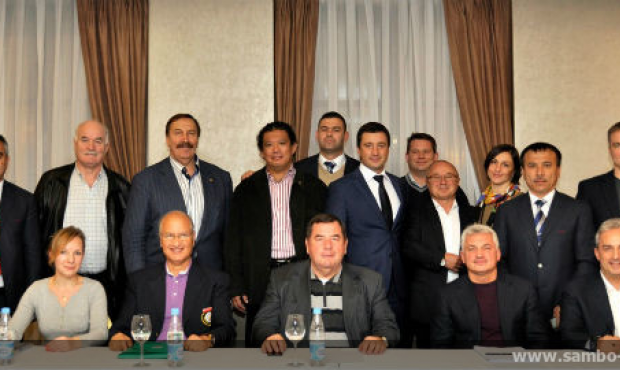 In these early days of October the Corinthia Nevsky Palace Hotel in St Petersburg has become a kind of Mecca for SAMBO. This is where the 25th Congress of the International Sambo Federation will take place today. And on the eve of its opening, the official sambo-wrestling events started here on 4 October with a congress of representatives of Asian SAMBO. Then the baton of SAMBO's "officialdom" was taken over by a meeting of the FIAS Executive Board. Our report from St Petersburg today is about this meeting.
The meeting of the FIAS Executive Board was entirely devoted to the Congress, which starts today. Just as the first thing you do at the theatre is leave your coat in the cloakroom, so the Congress of the International Sambo Federation starts with the registration of everyone taking part. As specified in point 13.2 of the FIAS Statutes, the International Federation's Executive Board appoints a credentials committee that checks the correctly formulated documents of each delegate to the Congress. The composition of this committee, which starts its work at 9.00 Moscow Time today, was decided yesterday.
In addition to a report by the FIAS President and elections for the leadership of the International Sambo Federation, the agenda for the Congress includes examination of the question of admitting new members to the FIAS. Today the Executive Board has again examined the documents submitted by national SAMBO federations that wish to become part of the worldwide sambo-wrestling family and has made its recommendations to the Congress, which starts tomorrow.
The Executive Board meeting also examined the International Sambo Federation's sports calendar for 2014 and recommended it for approval by the Congress. The Executive Board proposed that the discussion of plans for sambo-wrestling event dates for 2015-2017 be postponed, and that they be confirmed during the world championships, which will take place in November, also in Russia's northern capital.
The official part of yesterday's events continued with a formal soirée at the Nikolayevsky Palace. All the SAMBO fans had the opportunity to enjoy a folk music show with the resonant title of "Feel like a Russian", and also to spend time together over supper and discuss important contemporary issues regarding SAMBO.
The sambo-wrestling discussions, debates and elections will continue today. As mentioned, the meeting of the International Sambo Federation's main administrative body will start work at 12:00 (Moscow Time).
Natalya Yukhareva
sambo.sport