Zatoka Held Ukrainian Beach SAMBO Championships for the Second Time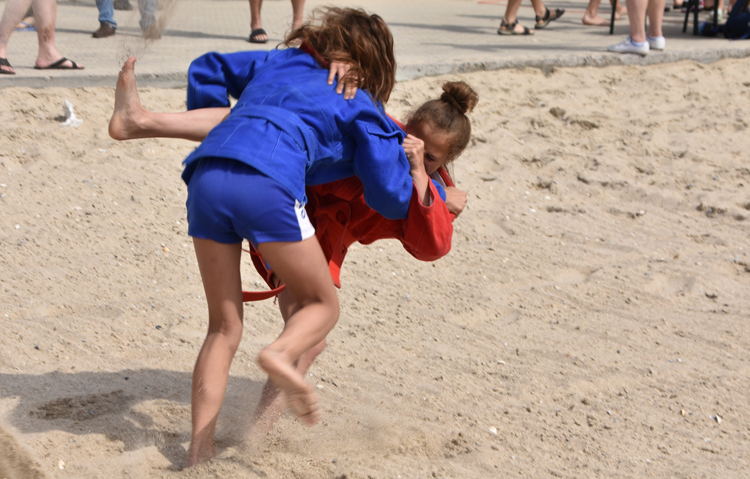 Ukrainian Beach SAMBO Championships, which took place on June 3 at the Black Sea resort of Zatoka, Odessa region, gathered 156 athletes from 15 regions of the country. This is the second beach tournament under the auspices of the National SAMBO Federation of Ukraine (NFSU).
As noted by the organizers, this time another age group was added to the competition comparing to the debut tournament held a year ago. Medals were drawn among girls and boys (under 16), men and women (over 16), as well as among masters (45 years and older).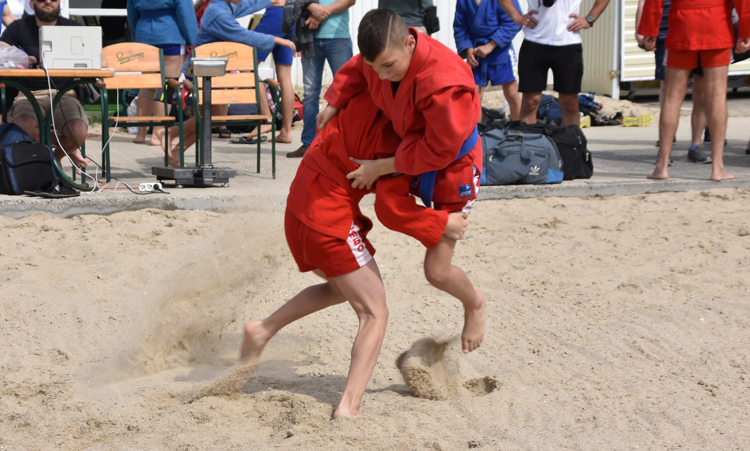 "This dynamic discipline is attracting more and more fans in our country. If in the first championships there were a little more than a hundred sambists, now the quantitative and geographical indicators have increased by one and a half times. And now we have decided to hold competitions in two arenas: it is good, that their preparation takes only 15 minutes," said Alexey Goncharuk, head of the NFSU Commission for the Development of Beach SAMBO. – "Yes, and the fights themselves, let's say, because of the substantive specifics, pass very quickly: few bouts last two or three minutes, according to the regulations, and the winner is announced by activity. Basically, the bout takes 15-30 seconds, when one of the athletes succeeds in technical action."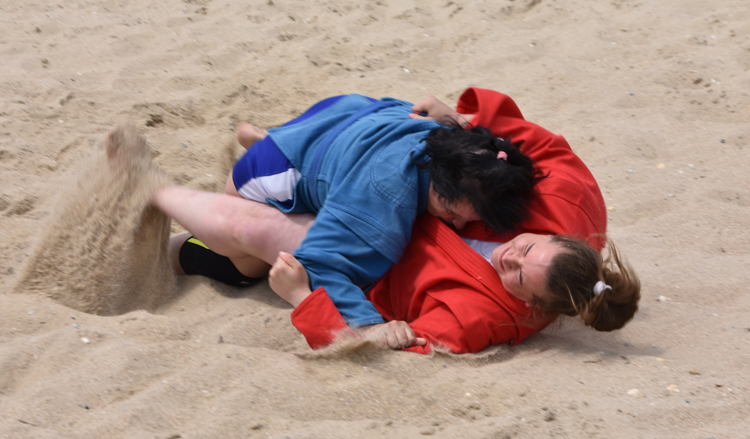 According to Goncharuk, the entire tournament, along with the award, took about three hours. He also noted that the competition was held without injuries: the doctor never had to assist. The head of the NFSU Commission for the Development of Beach SAMBO believes that this is very important, because the moth of the participants was youth.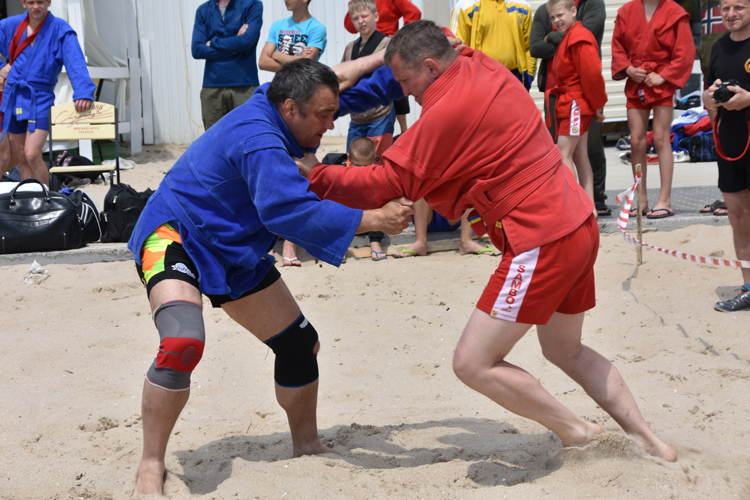 "I want to thank the Odessa Regional SAMBO Federation for the bright holiday of emotions that the organizing committee gives us for the second year in a row and personally say thanks to tournament director Mikhail Makhnev. Now – like the year before – regional open tournaments will be held for different ages. And again the lecture on Beach SAMBO will be included in the program of the annual referee and coaching seminar. We are also looking forward to the appearance of a "Beach" World Championships in the FIAS calendar, which will add to the popularity of SAMBO as a whole," said Alexey Goncharuk.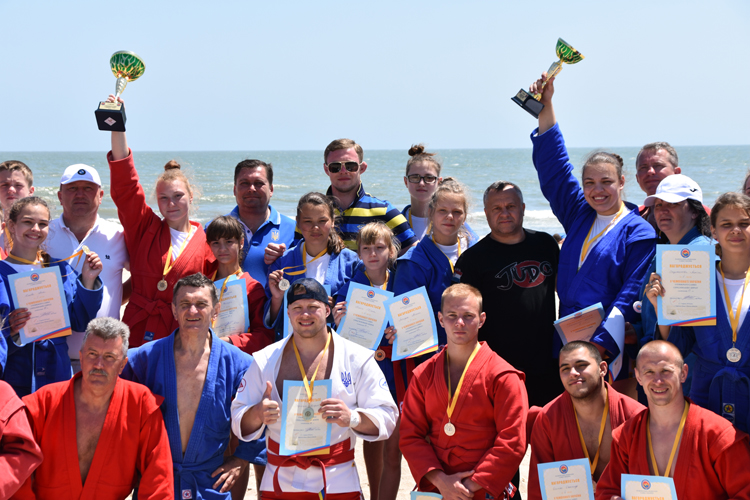 Results of the Ukrainian Beach SAMBO Championships
Team Standings
1. Rivne region
2. Dnipropetrovsk region
3. Donetsk region
Girls
37 kg
1. DEYEVA Viktoriya (Dnipropetrovsk region)
2. SHEVCHUK Svetlana (Rivne region)
3. KUZMENKO Kira (Zhytomyr region) and TANICH Diana (Donetsk region)
43 kg
1. KUKHAR Milena (Sumy region)
2. BOGUSH Nataliya (Sumy region)
3. CHIGARSKIKH Darya (Kherson region) and KUMECHKO Violetta (Zhytomyr region)
51 kg
1. KLIMENCHUK Karina (Zhytomyr region)
2. STOROZHILOVA Polina (Donetsk region)
3. KOVBAN Viktoriya (Zhytomyr region) and MIRONOVICH Alina (Donetsk region)
59 kg
1. DEYEVA Anna (Dnipropetrovsk region)
2. FEDOSIK Viktoriya (Sumy region)
3. SAVOSKO Alona (Sumy region) and CHERNOKOZ Mariya (Zhytomyr region)
+59 kg
1. POSIDYUK Milana (Donetsk region)
2. GANZHA Marina (Khmelnitsky region)
3. BULYK Maryana (Ternopil region) and PROTASEVICH Aleksandra (Zhytomyr region)
Boys
38 kg
1. SHIDLOVSKIY Dmitriy (Khmelnitsky region)
2. MAKESHIN Nazar (Lugansk region)
3. FIK Denis (Ternopil region) and PETROV Vyacheslav (Zhytomyr region)
46 kg
1. GONTARUK Stepan (Khmelnitsky region)
2. NIKITENKO Yegor (Lugansk region)
3. MALONKIN Bogdan (Sumy region) and GOROBCHENKO David (Sumy region)
55 kg
1. SIMONCHUK Nikolay (Rivne region)
2. SKRIPCHENKO Yegor (Kharkiv region)
3. MAKAROV Yevgeniy (Dnipropetrovsk region) and MASLYUK Denis (Sumy region)
65 kg
1. KURBANOV Stanislav (Mykolaiv region)
2. LYAKHOV Ivan (Sumy region)
3. TUKALO Ilya (Ternopil region) and ZHIVILO Martin (Kiev)
+65 kg
1. SAMEDOV Timur (Rivne region)
2. MIKHAYLOV Yuriy (Rivne region)
3. AZIMOV Timur (Kiev) and TERESHKO Pavel (Ivano-Frankivsk region)
Women
56 kg
1. POPADYUK Ivanna (Ternopil region)
2. SHULENKOVA Anna (Kharkiv region)
64 kg
1. YARMOLA Anastasiya (Ternopil region)
72 kg
1. ZAKHAREVICH Valeriya (Dnipropetrovsk region)
2. TOROPTSEVA Vladislava (Cherkasy region)
+72 kg
1. STATIVKINA Karina (Donetsk region)
2. MYTNIK Olga (Donetsk region)
3. KOSTENKO Tatyana (Ternopil region)
Men
62 kg
1. PROSYAN Bogdan (Rivne region)
2. MIKHAYLENKO Sergey (Lugansk region)
74 kg
1. CHMYR Aleksandr (Rivne region)
2. GORBUNOV Aleksandr (Khmelnitsky region)
3. OSIPYAN Aleksandr (Donetsk region) and SPANCHEK Ivan (Kherson region)
90 kg
1. SKRIPAL Vadim (Kiev)
2. SAMEDOV Timur (Rivne region)
3. DANILYK Viktor (Ivano-Frankivsk region) and PANICH Yevgeniy (Kherson region)
+90 kg
1. BILOUS Boris (Odessa region)
2. AZIMOV Timur (Kiev)
3. VOZNYUK Roman (Ivano-Frankivsk region)
Masters
74 kg
1. SAVCHUK Sergey (Ivano-Frankivsk region)
2. KOZLOV Anatoliy (Kiev)
3. SMOLENKO Igor (Sumy region)
+74 kg
1. ARTYUKH Aleksandr (Sumy region)
2. CHECHINOV Igor (Donetsk region)
3. PYSHNYY Nikolay (Kiev) and PAPUSHENKO Ivan (Odessa region)